Swim '05 Swim With Style
Acclaimed photographer Russell Tanoue again shoots the latest in swimsuits for Midweek, and this year finds an emphasis on design and style, for both women and men.
Wednesday - May 04, 2005
By
.(JavaScript must be enabled to view this email address)
E-mail this story | Print this page | Archive | RSS
|

Del.icio.us
It's almost summer — no school (for some), more sun, and best of all a reason to go swimsuit shopping.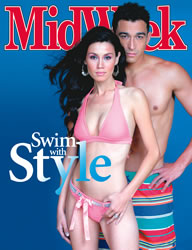 Before you hit the stores, here's a glimpse at what's hot this season. It's MidWeek's annual swimsuit issue, featuring local beauties and hunks in the latest swim wear photographed by Russell Tanoue at the Hilton Hawaiian Village.
The photo shoot consisted of more than 35 suits with 24 models on location at the Hilton Hawaiian Village Beach Resort & Spa in Waikiki. Garments featured are from Macy's, Neiman Marcus, Pink C at Ward and Sundance at Aloha Tower Marketplace.
"This year, the suits provided were an array of styles," says Tanoue. "From retro styles and prints to classic ones."
According to Macy's, the key trends for Swim 2005 are:
• Graphic artists: Graphic dots and updated Pucci inspirations seen in bold color schemes along with dramatic color blocking for freshness and vibrancy, dark borders outlining classic paisley and florals, and novel scenic and conversational prints.
• Color: Spring's "it" colors, such as pool blue,Kelly green and canary yellow accented with white and navy surface, and matched with gold hardware and belting details. Green tones and citrus hues designed with exotic cutouts, and classic white silhouettes updated with overblown florals and stencil prints.
• Shine on: Gold hardware, sequin embellishments, pailette accents and ribbon details, as well as metallic shine and foil prints.
• Feminine: Pastels and pretty florals, satin fabrics, and swimwear decorated with small touches of rhinestone inflections, eyelet details, ribbon ties and ruffle accents.
"Swimwear for spring 2005 is about personal expression," says Bill Bigler, Macy's West vice president/ fashion director.
"With chic colors and daring designs,women will exude a confidence that stops traffic on any beach."
At Neiman Marcus, detail is the fashion trend of the season. "For this moment in time, for fashion and swimsuits, it is all about embellishments," says Lucy Chelini, public relations manager for Neiman Marcus. "For swimwear, there's lots of prints. And we have a lot of cutouts in our suits — big, small, high, low. It's a way of showing more skin while wearing actually more fabric. Also, cover-ups are really important this year. Caftans, ponchos, and the little skirt are the must-haves this season."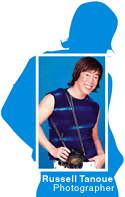 For the past five years, Hawaii's top glamour photographer Russell Tanoue has been the eye behind the lens for MidWeek's popular swimsuit issue, featuring a spread of island beauties and hunks in the latest swimwear.
Highly reputable and very much in demand, Tanoue is constantly on the go — whether to a photography assignment, his monthly Piranha Room event at the Ocean Club or other professional and community service-type projects.
His schedule may be hectic, but usually exciting. As this issue hits homes this week, Tanoue is in Las Vegas attending a special private event at the new Wynn Resort. Next on his calendar: The Piranha Room on May 28 at the Ocean Club. The event is also in its fifth year of drawing hundreds of people to the popular club for a night of dancing, trendsetting entertainment and appearances by local models and actors.
"I'm also working on my 10th annual birthday celebration, coming up on July 9," he adds. "And I'm working on a new project that will hopefully lead to a national audience. I'm also co-hosting an upcoming show called Urban 808, a sort of MTV type of show produced out of Los Angeles."
While he's already working on some future events, Tanoue says he's not a planner. He likes to live each day as it comes, and tries to make the most of it.
"If I knew what was next, my life would be so boring," he explains. "There are a lot of things cooking, but I'm sort of that person who likes surprises, and I'm also usually very lucky, too. Hey, if it falls on my plate I'll dabble in it and make it work somehow."
In his 16 years as a photographer, Tanoue has snapped a myriad of celebrities, including Kelly Hu, Laura Harring, Lee Ann Tweeden and international recording artist Anita Sawarak. But he's available to anyone wanting to feel and look beautiful. "It's all about feeling good," he says. Photo shoots start from $225 excluding commercial assignments.
According to Tanoue, the secret to those flawless photos is to get beneath the makeup, clothing and body, and bring out the person's spirit through the photo.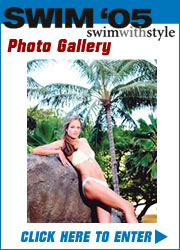 "I always tell people that everything is so temporary, never make the beauty industry your self-esteem, and never be a dime-a-dozen person" says Tanoue, a graduate of McKinley High. "The beauty/ entertainment industry can be beautiful and yet very ugly at the same time. You must be strong and able to detach your inner self from it."
Before becoming a photographer, Tanoue was an accomplished dancer, performing across North America and Canada, and even appeared on the national television show Dance Fever.
His passion for film came after his cousin got a job assisting Patrick Deimarchier, one of the top fashion photographers in the U.S. Since then, Tanoue has built a remarkable portfolio, becoming one of Hawaii's most-wanted photographers.
"I've always lived knowing that you are only as good as your last performance," says Tanoue. "And so each accomplishment is something I'm proud of. But I am most proud of creating my Project Shine that was embraced quickly by the media and people. There is nothing more joyful than knowing that you are making a magical difference in a person's life, a difference that really matters. I was inspired to do Project Shine because of this industry. To me beauty is unseen, and being able to help those less fortunate makes my life that much more beautiful."
Project Shine offers makeovers with photo shoots to people battling cancer and other related diseases, teenagers out of drug rehabs, and victims of domestic violence.
Tanoue has been a featured photographer for many national television shows, magazines, posters, calendars, CD covers and catalogs, including Wild on E!, Playboy Hardbodies, and the 1999 and 2001 Pro Import calendars. Along with his titles of photographer and founder/creator of Project Shine, his resume also lists makeup artist, personal manager and event promoter. There's also pageant coaching, but after several successful years he has decided to no longer offer this service. "Some pageants have become way too political for me, but I also believe that there are great opportunities that can come out of it should you win," he says. "But you have to go into it knowing that you can't beat the politics, so pray that you're the lucky one!"
To see more photos, or contact Tanoue, visit his fan site at www.russelltanoue.com
—Y.S.T.
Page 1 of 1 pages for this story
Most Recent Comment(s):