Taking Steps To Help The Homeless
A former homeless single mom is proof of the good work done by IHS, which benefits from a walk organized by Bank of Hawaii employees
Wednesday - June 20, 2007
E-mail this story | Print this page | Archive | RSS
|

Del.icio.us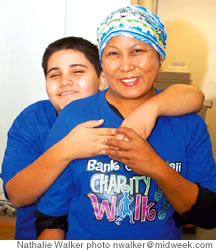 Larcy Zamansani and son Bejan
Larcy Zamansani never thought it would happen to her. Homelessness is something that happens to other people. But when her landlord raised the rent on her Dole Street apartment last year, Zamansani found herself in the scary situation of being unable to afford a place of her own. It couldn't have come at a harder time for the single mom as she struggled with the double blows of kidney failure and breast cancer.
Luckily, Zamansani and her kids were able to move into her mom's house in Waianae. But her sister and her family were living there too, which added up to seven people in the home. Zamansani and her kids slept in the living room and commuted the 90 miles every day to work and school. The transient state quickly took its toll, both physically and emotionally.
"My back was against the wall, I couldn't even think," says Zamansani.
She remembers working the night shift at the police department, where she answers 911 calls, then trying to drive back to Waianae. Her kidneys were failing, she was exhausted and often she had to pull off in Kapolei to sleep for a couple of hours because she just couldn't make it.
Then someone told Zamansani about the Institute for Human Services, the non-profit that has been fighting on the front lines for Hawaii's homeless for nearly 30 years. Within days, IHS's Wendy Yip had found Zamansani a temporary home in Kailua - rent-free - where she and her kids were able to start getting their feet back on the ground.
Zamansani's case is not unusual, Yip says. She gets as many as 20 calls a day from people who are about to go down the slippery slope into homelessness. Too many people are just one paycheck away from losing the roof over their heads, she says.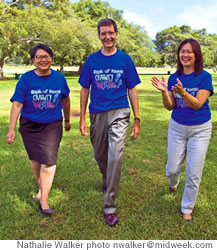 Donna Tanoue and Al Landon of Bankoh
walk with Connie Mitchell of IHS, right
IHS's mission is to end homelessness in Hawaii - and with the cost of living still on the climb that's a weighty task. The non-profit provides food and shelter for hundreds of people every day; it also works to break the homeless cycle and to stop more people from becoming homeless. Finding the money to help everyone in need is a constant struggle. So the non-profit was thrilled when it heard that the Bank of Hawaii was about to jump into the fight.
This weekend, the bank's large force of employees will put on their walking shoes to raise money for IHS. The bank's employees have always been keen on walking for a cause. They've done it for breast cancer, for the heart, for juvenile diabetes. ...
"It's been a tradition here," says Bank of Hawaii CEO Al Landon. "We were impressed by how many of our people turn out and how enthusiastic they are. They have a great time, they bring their family, their neighbors; it's the ohana kind of thing."
Landon is an active kind of person himself (although in the more extreme sense of running marathons) and one of his mantras is that work should be fun. So, it occurred to him that the bank could start its own walk and mobilize its walkers to raise money for a smaller, local organization - for a group that didn't have the manpower to do its own fundraising.
The bank's 2,500 employees were asked to vote on which organization they wanted to support. The semi-finalists were Goodwill Industries, the Children's Discovery Center, Habitat for Humanity, Teach for America and IHS. While the voting was evenly spread, IHS came out tops.
As Hawaii's largest real estate lender, Bank of Hawaii is all about people and homes; so helping combat the homeless problem is a perfect extension of the bank's role, Landon comments.
This Saturday as many as 1,000 bank employees and their family members will pound the pavement at Kapiolani Park, and organizers hope to raise in the ballpark of $50,000. (For this inaugural event, the walk is limited to Bank of Hawaii employees, although you can donate to IHS by going to www.boh.com/charitywalk. The organization will also be accepting non-perishable items - food and toiletries like toothbrushes and toothpaste, soap and shampoo - on the day of the walk.)
IHS executive director Connie Mitchell was thrilled when she
Page 1 of 2 pages for this story 1 2 >
Most Recent Comment(s):