That Homey Feeling
The 49th annual Parade of Homes is better than ever, but also shorter - because in our hot real estate market, people are anxious to buy all those properties

Wednesday - September 21, 2005
By
.(JavaScript must be enabled to view this email address)
E-mail this story | Print this page | Archive | RSS
|

Del.icio.us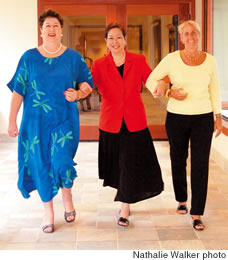 Cicely Crocker George, Mary Hakoda and
Paula Kelly are ready to go Parading
New home buyers are marching to a different drummer these days, and home builders have to be fleet-footed to keep up. This year's Parade of Homes, Oct. 1-2 and Oct. 8-9, will showcase Hawaii's newest residences in grand style. If you're in the market for a new home, don't let the parade pass you by.
Marshaling the forces of this premier open house are three knowledgeable, experienced professionals who aspire to make the 2005 Parade of Homes the biggest and best staged by the Building Industry Association (BIA).
The Parade grand marshals are Cicely "Cis" Crocker George , sales manager with D.R. Horton, Schuler Homes; Mary Hakoda , vice president of projects and administration for Prudential Locations; and Paula Kelly, director of marketing for Hawaiian Isles Kona Coffee and Hawaiian Isle Water Co.
George is head of the Parade's steering committee. Hakoda is past chair. Kelly heads the marketing and banquet committee. Interestingly, their individual years of service with Parade of Homes - George at 13, Hakoda at 21, and Kelly at 15 - add up to 49. Is there some kind of numerology magic going on in the Parade's 49th year?
Whatever the force is, the trio's collective efforts assure a high-level consumer experience at the open houses and demonstrate BIA's support for Hawaii's residential building industry and trades. That's the bottom line.
"There's always something new," says Kelly. "It changes every year. You're not going to see what you saw last year at this year's event."
"There's something for everyone," adds George. "It's the only event of its kind in Hawaii."
"This is the venue for showing brand new homes, trends, and ideas," says Hakoda. "These are not remodeled or renovated homes; these are the latest offerings on the market."
There's also a new dynamic at play because you, avaricious home buyers, are armed with more information and expectations than ever before. This puts pressure on the new home developers and builders to go all out to brand their products and to match wits with very akamai consumers.
You do your homework on the Internet and even pre-qualify yourself for the financial aspects of this investment. They can't dazzle you with flashy furniture, sexy décor, and the smell of chocolate-chip cookies baking in the oven. You're a devil for details and ask good questions.
But the Parade of Homes has come of age, and it has answers. From landscapers to mortgage lenders, the Parade is a one-stop shopping experience.
Real estate selling dynamics have changed, according to George. "Most people come to a sales center ready to buy a home. They want to know what's standard and what the options are. Once they've decided on that, they're ready to sit down and write a contract. That never used to happen years ago."
"Seventy percent of buyers use the Internet to do research," says Hakoda. "They make decisions quicker and look at fewer homes when they've done research. But you can't buy a home without going onsite to touch and feel a project."
Page 1 of 2 pages for this story 1 2 >
Most Recent Comment(s):