The JOY OF BROADWAY
Davis Gaines, the original 'Phantom of the Opera,' joins local Broadway legend Joy Valderrama Abbott in concert Saturday
Wednesday - September 19, 2007
By Alice Keesing
E-mail this story | Print this page | Archive | RSS
|

Del.icio.us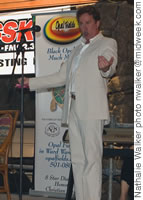 Davis Gaines, the Phantom, performs at the Perry & Price show
Broadway is alive in Honolulu and it's here in the most joyful person of Joy Abbott. This keiki o ka aina with a heart full of song is the widow of the late, very great George Abbott, whose decades-long career earned him the simple title of Mr. Broadway.
Joy Abbott over-summers in hometown Honolulu - and often with her close friend Davis Gaines, a.k.a. The Phantom (of the Opera). They're usually flying under the radar when they're here, but this summer they're lending their star power to Hawaii's performing arts. Their benefit concert "Broadway Reflections" Saturday at the Hawaii Theatre will raise money for the newly formed Hawaii Performing Arts Foundation.
It's a scoop to have them perform, says Janis Akuna, who launched the foundation when she was president of Manoa Valley Theatre. Abbott brings a direct shot of Broadway to Hawaii along with her beautiful voice. As for Gaines, well, this is the voice that performed the lead role in The Phantom of the Opera more than 5,000 times, that has sung for five American presidents and with every major symphony orchestra in North America. Encore Magazine once described his velvety baritone as "so gorgeous, he could make the Yellow Pages sound lyrical."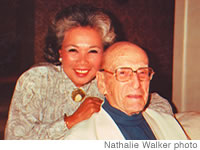 Joy Abbott with her husband George, a.k.a. 'Mr. Broadway'
Their concert will include showstoppers such Music of the Night and Old Man River, along with favorite pieces from Mr. Abbott's musicals. The audience will also get to bask in the Abbott-Gaines partnership. It's a beautiful thing to watch; theirs is a friendship that is funny, warm, sincere - and did we say funny? Abbott and Gaines are in perfect tune, bouncing off each other, feeding the perfect punch lines and, seemingly, always having a great time.
"We're like family. Really," Gaines says.
"Like my son," Abbott adds, rubbing his shoulder.
And their stories would be fun to listen to even if they weren't peppered with famous people. Like the Desi Arnaz-Lucy story ...
"Desi Arnaz and Lucy would-n't have been together if it weren't for Mr. Abbott - do you know that story?" Abbott asks. "Long story short, he saw (Arnaz) performing in a nightclub playing the Cuban bongo drums, and liked him so much he wrote a part for him in Too Many Girls. When the movie studio contracted Too Many Girls, he brought Desi Arnaz to the West Coast ... they were rehearsing and he said to Desi, 'Would you please pick up Lucy (to go to a cast event)?' ... And when the rest of the cast got there, they were already there with their eyes fixed and talking to each other, and three months later they were married."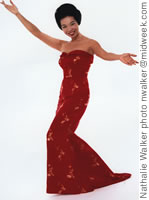 A historical photo of Joy Abbott
Abbott met her man - George Abbott - in 1959. More than 40 years her senior, he was the master of Broadway and a Pulitzer-prize winning writer, theatre producer, director and film director. His seven-decade career included such hits as The Pajama Game and Damn Yankees.
After dating for 25 years, Mister Abbott suddenly popped the question in 1983.
"It was up in the mountains," Abbott says. "I remember clearly, it was a beautiful day with the pines and everything and he said, 'Joy, I have something to tell you!' And I thought, 'Oh, dear, what did I do now?' 'Joy, I have something to tell you: My lawyer tells me that I have enough money for two to live on - it's time we got married.'"
Abbott pauses in her story, then giggles, "And I said, 'Oh, I have to ask my mother.'"
The couple became friends with Gaines when he starred in Damn Yankees, which Mr. Abbott directed when he was just 99. They clicked and stayed in touch.
In 1995, Abbott passed away
Page 1 of 2 pages for this story 1 2 >
Most Recent Comment(s):