The Making Of The New Waikiki
After a 10-year struggle, Outrigger's new Beach Walk gives Waikiki a new look and feel. Hooray!

Wednesday - February 14, 2007
By
.(JavaScript must be enabled to view this email address)
E-mail this story | Print this page | Archive | RSS
|

Del.icio.us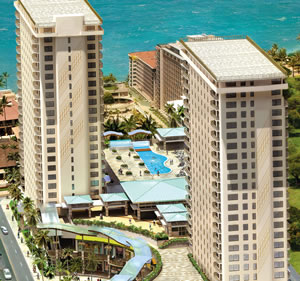 An artist's rendering of the completed Waikiki Beach Walk
on Lewers Street
Waikiki Beach Walk was anything but a cake-walk.
Ten years in the making, Waikiki's largest private development is a triumph of what it takes to be a catalyst for change in our city. As David Carey, Mel Kaneshige and Eric Masutomi can tell you, resort master planning is not for the faint of heart.
It takes an impassioned love of a destination and an unrelenting drive to overcome challenges. That's what it took to make Waikiki Beach Walk a sweetheart of a project. Finally completed against incredible odds, the executives of Outrigger Enterprises present Honolulu with a Valentine's gift it will not soon forget.
It gives Waikiki back its glory as a world-class destination for residents and visitors. More importantly, it stands for credibility in the world financial market and a reason to invest in Hawaii's future.
City leaders will take credibility over chocolates any day.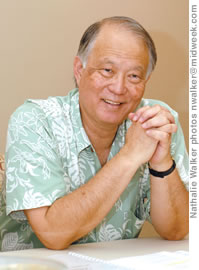 Mel Kaneshige
Waikiki Beach Walk is a sparkling $585 million retail, entertainment and hotel development on Lewers Street. You remember that narrow, congested right turn off Kalakaua Avenue that leads to the charity ball at the Sheraton Waikiki or the wedding reception at the luxury Halekulani Hotel.
Unless you work in Waikiki, you probably haven't ventured to Lewers Street in years. But you should.
Locals Kaneshige and Masutomi used to avoid Waikiki too, until they were hired by Carey, Outrigger Enterprises president-CEO. Kaneshige is executive vice president of real estate and development, Masutomi vice president of planning.
Prior to joining Outrigger in 1995, Kaneshige was a partner in the Honolulu law firm of Chun, Kerr, Dodd & Kaneshige, with a practice concentrated in real estate development, acquisition, financing, management and disposition. The Iolani alum is a cum laude graduate of Harvard and has a master's degree in city planning from the University of Pennsylvania.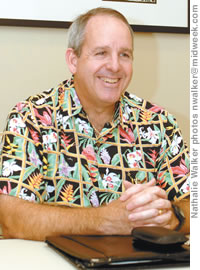 David Carey
Masutomi has more than 20 years of experience in land use planning and development in Hawaii. Before joining Outrigger in 1995, he served as director of planning for the Hawaii Community Development Authority, the state agency responsible for the evolution of Oahu's industrial district of Kakaako. Masutomi, a Roosevelt High School grad, received his degree in urban and regional design from the University of Hawaii.
Why did Carey, named by Dr. Richard Kelley in 1988 to head Outrigger Hotels, need such "big guns" for the family-run lodging business?
In the early 1990s as Outrigger pondered renovations for aging properties in Waikiki, "we realized we controlled a lot of real estate on Lewers Street," Carey recalls. "When someone suggested that we do a master plan and consolidate all of it, there was an eerie silence in the room.
"The buildings on this block were old buildings, and we spent a lot of money struggling to keep them up. The impetus was to do something that would be durable and last another generation," he says.
That moved Outrigger's traditional lodging business into the real estate development game.
"The other notion," Carey adds, "is that we had in Waikiki a major international destination without a definable place within the destination. We had older buildings past their useful lives, no place for people to go, and nothing modern that gave customers a reason to come back. Waikiki was losing market share to the Neighbor Islands."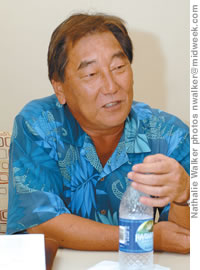 Eric Masutomi
But the vision and desire to revitalize Waikiki had a major obstacle at the time. It's every developer's worst nightmare. It's the Z-word - zoning.
There were zoning codes on the books dating back to the 1970s that restricted development in reaction to the building boom of the 1950s-1960s. The intent, according to Masutomi, was to protect open space in Waikiki and regulate density. Noble concepts, but as the infrastructure and buildings aged in Waikiki, the codes had, in Carey's words, "the perverse effect of freezing lousy old buildings in place."
"We'd go through our normal renovations," Carey recalls, "and in some cases, the City would say you need to change the building to comply. Well, what that said to Waikiki owners is that it's better to leave it alone in horrible condition than to renovate. It was not economically feasible to do anything else.
"We had to change the zoning regulations to make it possible for renovations to occur," Carey says. "The land use and zoning changes caused me to hire Mel, who was a land use lawyer and planner by education. We needed to encourage City officials to change the zoning to enable Waikiki to revitalize itself."
Kaneshige and Masutomi joined Outrigger to begin the "daunting task" of educating policy makers
Page 1 of 2 pages for this story 1 2 >
Most Recent Comment(s):