The Party Line
Why would anyone want to chair one of Hawaii's two principal political parties? The position pays nothing. Tenure is short, normally no more than one or two election cycles — sometime three.

Wednesday - August 24, 2005
By
.(JavaScript must be enabled to view this email address)
E-mail this story | Print this page | Archive | RSS
|

Del.icio.us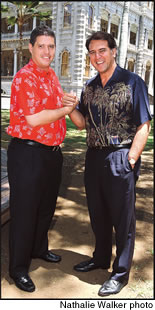 Aiona (left) and Galuteria
shake hands — before coming
out fighting
Why would anyone want to chair one of Hawaii's two principal political parties? The position pays nothing. Tenure is short, normally no more than one or two election cycles — sometime three.
If the party wins big one year, everyone expects you to win bigger two years later. If you lose, well … you're branded as ineffectual, out-of-touch with the grassroots, and you're soon replaced (provided they can find some other damned fool who'll take the job).
Historically, your organization — Democrat or Republican — tends to be starved for funds. Political donors give directly to candidates these days, seldom to the parties themselves. So party chairs are forever begging for scraps from their better-heeled elected officials.
"It's a thankless job," says state House majority leader Marcus Oshiro. "Everybody's your boss. Everyone's got an opinion, and you're the flashpoint for anyone who's unhappy with the direction the party's taking."
And once gone, you're quickly forgotten. Don't believe that? OK, name any three of the last six Democratic and Republican party chairs.
Despite its large, wide downside, in Sam Aiona and Brickwood Galuteria Hawaii's two major parties boast 6-foot- 4-inch, handsome, talented part- Hawaiian chairs who could do far better than their woe-begotten political job.
For Aiona, it may be that politics is in his DNA. Born and reared in Hilo, Aiona comes from a large Hawaiian- Chinese-Portuguese family. "I have 42 first cousins, including Lt. Gov. Duke Aiona," he says.
While the family as a whole wasn't political, Sam took to politics early. After graduating from Hilo's St. Joseph's High School, he majored in political science at the University of Hawaii. And he became a Republican.
"I felt Hawaii needed a two-party system," he says of his decision to become a Republican. "And it still needs a twoparty system. Ronald Reagan gave me hope, made me believe that Republican principles were what the country needed: that government should get off the backs of people and that individuals should have the freedom to prosper."
A 17-year-old Aiona worked his first political campaign in 1982 — as youth chair for the Andy Anderson-Pat Saiki gubernatorial campaign. If Reagan inspired him, Saiki mentored Aiona. He worked on her 1986 and 1988 congressional campaigns, and also labored in her 1990 United States Senate and 1994 gubernatorial races.
In 1996, Aiona became a candidate himself, challenging incumbent Democrat Jim Shon for a Makiki- Manoa state House seat. He won, but his career as an elected official was short-lived. Two years later he lost to Democrat Brian Schatz. Aiona sought a rematch in 2000, but he lost a second time to Schatz. When a Manoa- Makiki City Council seat became vacant in 2002, Aiona entered the race and lost to Ann Kobayashi.
Despite three successive defeats at the polls, Aiona's fascination with politics remains high — because he is, in the words of former House minority leader Galen Fox, "one of the great natural politicians in Hawaii."
Until taking a job with the Lingle administration, Aiona worked as a mortgage broker. This spring, at age 39, Aiona and wife Cherrie had their first child, a daughter Emily, whose picture Aiona whips out faster than a politician's handshake.
"When you wake up in the morning and see her smiling face," says Aiona, "nothing can ruin your day."
Until a year ago this past spring, few connected the name Brickwood Galuteria with politics, Democratic or Republican. The public knew him as a radio personality, one of the guys you listened to on your morning commute.
Galuteria acknowledges the sparseness of his political experience. "But I served as moderator of Kawaiahao Church during three years when we didn't have a kahu. Let me tell you, that's training for party politics."
Galuteria's political roots grew out of the labor movement. Born and reared in Kapahulu and Kakaako, Galuteria's father worked for United Airlines and served as president of his union. His mother worked for the City and County of Honolulu and belonged to the Hawaii Government Employees Association.
Born in 1955, Galuteria attended Kamehameha School from kindergarten to graduation. He played football, volleyball and put the shot on the track team. He admits to playing "on a couple of championship teams in volleyball and football."
He also took part in the Kamehameha School Concert Glee Club, traveling with them as a vocalist and guitarist. After graduation, he tried college for a short time, dropped out, and went to work for Hawaiian Airlines, performing and "selling Hawaii." He became an account executive with the airline, then a tour director. He refers to his time with Hawaiian as his "burning out the carbon years."
Galuteria gave up corporate life and went into entertainment. He performed with Marlene Sai at the Royal Hawaiian Hotel for three years, then broke off to form a group of his own. He won a Na Hoku Hanohano Award as male vocalist of the year. He began his radio career in 1980, first with KCCN-FM 100, then with Hawaiian 105 KINE. He's been a fixture on morning radio for the past 25 years.
Galuteria and wife Lehua have five children and six grandchildren. Galuteria speaks with particular pride of their second son Sean, a Down syndrome young man with a heart condition.
"He's our center," says Galuteria. "He provides us with a certain level of unconditional love. He grounds us. I tell people every home should have a Sean. He's a black belt vacuum cleaner. He calls me whenever he finishes vacuuming, and I always take the call."
Aiona has worked for the state for the past two years. He's the executive director of the Office of Community Services. There, he and his staff help non-profit organizations like Catholic Charities and Goodwill with employment training.
Last May, Aiona took on a second major responsibility: the state Republican Convention meeting on Kauai chose him as its chair. He will shepherd Hawaii's Republicans in their attempt to re-elect Gov. Linda Lingle to a second term.
"We have to focus," says Aiona of his 20,000 member party, "first, on re-electing the governor; second, on re-electing our incumbents; and third, on electing as many other Republicans as possible."
It will require focus, and in recent history Hawaii's Republicans haven't always been capable of that. In election year 2004, for example, they devoted much attention to George W. Bush's candidacy for president, including send-
Page 1 of 2 pages for this story 1 2 >
Most Recent Comment(s):