The People's Store
Lots of tourists visit Ala Moana Center, but the local owners of historic Shirokiya — by listening to customers about the products they want — derive 80 percent of sales from Hawaii folks

Wednesday - November 23, 2005
By
.(JavaScript must be enabled to view this email address)
E-mail this story | Print this page | Archive | RSS
|

Del.icio.us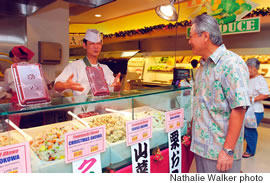 Tadatoshi Suzuki with a Japanese demonstrator at
the sweet rice counter
Michelle Wie is spotted in the food department. Sen. Daniel Inouye is a customer. Your grandmother and aunty get omiyage there. Tourists marvel at its Asian artifacts and beautiful kimonos. You first tasted Beard Papa's renowned cream puffs there.
Welcome to Shirokiya, the people's store. The popular store at Ala Moana Center is a one-of-a-kind gem that was doomed to extinction four years ago. The once Japan-owned store is now locally run and seeking its rightful place in Hawaii's evolving retail mix. Like other long-standing establishments, it's easy to overlook its significance and take for granted the fact that it's always been here.
But Shirokiya's story is destined for retail folklore. It's an example of how the power of the people saved a cherished entity in our community.
Business downturns and global events have caused many landmark enterprises to become mere memories. Wisteria, Columbia Inn, K.C. Drive Inn, the Ranch House. As Press Club members lamented at a recent Gridiron show to the tune of Anything Goes, "everything's gone."
But can loyal customers convince a corporate monolith that pulls all the purse strings to save a local business?
We put that question to Shirokiya president Tadatoshi Suzuki, who heads the local ownership that acquired the store in 2001 and made retail history.
But first some background.
Hikotaro Omura opened a notion store at Nihonbashidori, Edo (now Tokyo) in August 1662. This was the beginning of Shirokiya, Japan's oldest department store. In 1958, Shirokiya was purchased by a larger Japan-based department store. The following year, the first branch of Shirokiya outside of Japan opened in Hawaii's brand new Ala Moana Center.
In 1966, Shirokiya moved to its present location next to Macy's. Branch stores were opened on Maui and at Pearlridge, but closed in 2001.
When parent company Tokyu Department Store Co. of Japan announced it would close Shirokiya's flagship store at Ala Moana Center, the local community put up a fight. The state Legislature issued a resolution and 40,000 loyal customers signed petitions to protest the closing.
Forty years of aloha and goodwill for the Japanese imports store were not to be denied. Tokyu took a $23 million loss and sold Hawaii's Shirokiya store at Ala Moana Center to local management.
Continuity and business-as-usual for customers were main concerns of the seven new local owners. Yes, the corporate structure was changing dramatically, but it could-n't interrupt customer service. No one was to feel insecure about where their next seafood bento,Yoku Moku cookie, or surround-sound, high definition TV was coming from.
Shirokiya has been here for Hawaii's shoppers since the start of statehood. The first 23,000-square-foot store was on the ewa-street level where the Post Office now stands.
Suzuki recalls that the original store was "museum-like" and displayed exclusive artifacts, kimonos, and collectibles. It was Tokyu's daring foray into the U.S. retail market when made-in-Japan products still had a negative image.
Four years after operating in the red, the store hired local buyers to change the mix of merchandise. That put Shirokiya on the course to profitability, and it enjoyed steady growth in ensuing years.
Catering to both tourists and the local Japanese community, Shirokiya has never changed its mission and niche. The Japan imports store carries a variety of food, artifacts, electronics, houseware and gift items, and regularly holds cultural fairs and demonstrations. It takes on the character of a trade fair when demonstrators are brought in to exhibit Japan-made products. The made-in-Japan stigma has changed.
Food fairs, destination promotions, and demonstrations have distinguished Shirokiya's retail image and branding for many years. It's a focus that will contin-
Page 1 of 2 pages for this story 1 2 >
Most Recent Comment(s):