To Mr. B. With Love
For more than 40 years, Ron Bright has been teaching theater arts, but his greatest lesson is 'believe in yourself'

Wednesday - April 28, 2005
By
.(JavaScript must be enabled to view this email address)
E-mail this story | Print this page | Archive | RSS
|

Del.icio.us
Ron Bright gave up acting long ago — long before he made teaching students his life's work. But Bright still performs for those he directs.
Not one to ever sit down in a chair and just tell an actor how to move, "Mr. B," as he is affectionately called, is immersed in the action.
He's up on stage with the cast, his arms alive with movement — he wants to charge, to energize, to get his "kids" to feel and do in the moment.
In the more than 40 years Bright has directed Castle High School productions, thousands of students blossomed under his care. Many of them have since gone on to pursue professional careers in the arts — and all left high school with a profound love of theatre and a n incomparable respect for Mr. B.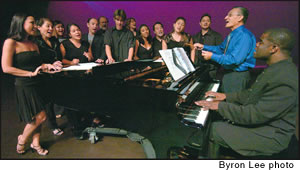 With John Bryan on piano, Ron Bright rehearses his former
students for the big show
So Windward Community College considered itself lucky when Bright agreed to be a director-in-residence for its new 300- seat, state-of-the-art Paliku Theatre when it opened in 2002.
So far he's staged several acclaimed productions there, including Fiddler on the Roof, My Fair Lady, Big River and Noises Off, which won three Po'okela awards.
And when the theatre began to struggle financially because of limited state funds, Bright's reputation and legacy offered the perfect opportunity to stage a rare reunion of his protégés to raise funds for Paliku Theatre.
In two performances — 7:30 p.m., May 7, and 2 p.m., May 8 — the first Spotlight on the Arts, "Mr. B: A Salute to Ron Bright and his Students," will feature a stellar cast of Bright's former students — some who have gone on to sing and dance professionally on Broadway, across the country and around the world. Some currently live in the islands; others will make a special trip home for the event.
The cast includes Jade Stice, Jordan Shanahan, Mahiai Kekumu, Johnson Enos, Alex Selma, Robert Orosco, Jade Anguay, Tricia Marciel, Marcelo Pacleb and Michael Bright.
KHNL news co-anchor Jodi Leong and actor/singer/dancer John Bryan — also former Mr. B students — will co-emcee the event as well as perform in many numbers. Several scenes from the hit musicals Bright has directed at Paliku will also be featured.
"It's going to be a great show," says theatre manager Tom Holowach. "It won't be just people standing up in front of a microphone with a piano. There will be a lot of production numbers too."
This means some of the older alums will be breaking out their dancing shoes as well as bringing their voices together in duets and group numbers.
Jodi Leong opens the show with a solo song, To Sir, With Love, and later, look for her, Jade Stice, Robert Orosco, John Bryan and others to be doing the "Frug." Bright's son Michael and his wife Jade will also serenade with Last Night of the World from Miss Saigon.
"It's an incomparable, once-in-a-lifetime kind of show," says Holowach. "It's one of those things where if people aren't there and they hear about it afterward will kick themselves that they didn't see it."
As MidWeek went to press, Holowach said the Saturday show was a near sell-out, so the decision was made at the last minute to add a second performance date.
The great thing, even if you buy your tickets late, is that at Paliku, there are no bad seats.
"It sounds like a line, but it's really true," laughs Holowach. "It's a state-of-the-art facility. When they designed the theatre, they brought in an acoustic engineer. It's in a stadium configuration so no one sitting in front of you can block your view, and the acoustics are perfect."
While the community has been enjoying Paliku for a few years now, Holowach continues to struggle with mounting costs of maintaining the venue.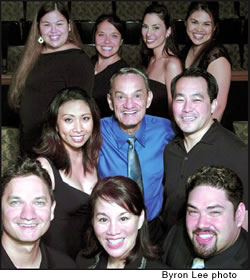 Mr. Bright with, clockwise from top left, Pomai Lopez,
Jade Stice, Tricia Marciel, Jade Bright, Alan Lau,
J.P. Tai, Jodi Leong, Michael Bright and Sarah Kekuna
"Community theatre here in town is basically done for love," he says. "The performers don't get paid. A lot of theatres here rely on corporate sponsors to be able to afford putting on the show."
Holowach estimates it can cost almost $100,000 to produce some shows.
"My Fair Lady cost us $90,000 to produce," he says. "It cost us $15,000 just for the rights to perform the show, another $15,000 for costumes and $10,000 for the set. Then we pay the director, scene designer and orchestra another $15,000 … it all adds up."
When Holowach first came to Paliku, he managed it on a volunteer basis.
"There is no real budget for the theatre," he says. "There never has been."
So production after production, he relies on community volunteers, of which he has about 100. From the people who run the lights, pull the curtains and move the sets on and off the stage — everyone volunteers their nights and weekends.
What's been keeping the theatre alive so far is renting the facility for $700 a day to community groups, says Holowach.
So he and the theatre's supporters decided it was time for a new plan to make sure the venue survives.
"Right now we're hoping to have two fundraisers a year," he says. "We originally had grand plans to make this a big food thing, sit-down dinner and silent auction.
"But it dawned on us that we should start out a little simpler and work our way up to it. We know we can do a show, and we'll work our way up to bigger things."
Holowach came up with the idea for this benefit when he was walking through the theatre and heard an incredible voice wafting through the corridors.
It was Jade Stice, who was in the original Broadway company of Miss Saigon and who worked in New York City professionally for 14 years, singing at Carnegie Hall, Lincoln Center and Radio City Music Hall.
He floated the idea to her, and Stice, who recently moved back to Hawaii, thought it was great.
"It's a blast," she says. "I'm working with people whose names I've heard but never actually met in person. It's refreshing to work with people who are doing something because we love to do it, not to get paid. That's why we all started doing theatre in the first place."
Holowach says it wasn't hard to find former Ron Bright students to participate in the fundraiser.
"As soon as word got out, people started calling us," Holowach says.
One of Bright's former students who is flying in from the Mainland is Kalaheo graduate and opera singer Jordan Shanahan. Based out of Colorado, Shanahan's most recent trip home to Hawaii was to perform in Hawaii Opera Theatre's production of The Mikado last year. He's sung in the West Bay Opera in California and traveled as far as the Netherlands Opera in Amsterdam.
Page 1 of 2 pages for this story 1 2 >
Most Recent Comment(s):
Commenting is not available in this weblog entry.