Unions In The Blood
A possible challenge from a new labor union federation is among the first problems facing Randy Perreira, new AFL-CIO boss in Hawaii
Wednesday - January 25, 2006
By Alice Keesing
E-mail this story | Print this page | Archive | RSS
|

Del.icio.us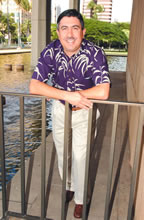 Colleagues say that if
anyone can bring Hawaii
unions back together, it's
Perreira
Ask Randy Perreira why he wanted one of the top union jobs in the state, and he'll tell you he wants to bring the unions closer together. Then he pauses ... and chuckles ... and likens that task to herding feral cats.
Historically, the union business is famed for its scrappiness - and there is no shortage of challenges now as Perreira steps into the president's post at the Hawaii State AFL-CIO, the umbrella organization that overarches the bulk of Hawaii's unions.
At the national level, the AFLCIO is fracturing as individual unions split off to seek new ways of doing things. Hawaii is not immune - indeed, there is talk of a second umbrella union here. The state also is experiencing changes within as an older generation of union leaders retires, making way for a new model of professional union leader.
Despite the challenges, Perreira believes there are opportunities in these times - opportunities to buck the national trend and knit Hawaii's unions into a tighter group and even opportunities to grow in new directions.
The consensus is that, if anyone can do it, Perreira can. In his 20-plus years with the HGEA, Perreira has earned a reputation for straight-talking, principled leadership.
"He's the kind of person that invites people in," says Guy Fujimura of the ILWU Local 142.
Perreira has always been an honorable kind of guy, even back in small-kid times, says longtime friend Barry Usagawa.
Usagawa tells a story from fourth grade when they were playing and he chased Perreira into a window. With blood gushing, they got to the ER where, ironically, Usagawa's mom was the emergency nurse.
"He didn't talk ill of me," Usagawa remembers now.
Union work is certainly in Perreira's blood.
His dad, Herbert, was the HGEA's division chief in Hilo. And grandparents on both sides of his family arrived in Hawaii to work the plantations, which is where the state's labor movement was forged.
Perreira is a proud Hilo boy. He graduated from St. Joseph High School in 1977 before heading to Notre Dame where he earned his bachelor's in management and then to Michigan State for his master's in personnel administration.
After considering "for a very short second" the prospect of staying on the Mainland, Perreira moved back to the islands with his wife Mary. He took a job at the HGEA despite, he jokes, having watched his father's tooth-grinding over union affairs. Over the years, Perreira has worked his way up to the second position of deputy executive director.
Perreira also is very active in the community, serving on a number of boards including Queen's Health Systems and Aloha United Way. Weekends are for his family; he and Mary have three daughters. And Perreira is an avid baseball fan; he plays softball in a Windward weekend league.
The bases are certainly loaded in Perreira's life. He keeps his HGEA job while he serves his two-year - unpaid - term with the state AFL-CIO. The organization represents 90,000 workers in about 45 unions. While union membership is dwindling in Hawaii - as it has across the country - the state still has one of the strongest labor movements in the country. And when they all work together, they are a powerhouse to be reckoned with in Hawaii politics.
But these days the umbrella union is not the force it could be, according to Mel Kahele, president of the Teamsters Local 996, which is currently not part of the state AFL-CIO.
He's trying to form another umbrella union, called the Pacific Basin Alliance.
"It is in no way intended to undermine or replace the AFLCIO," is the first thing Kahele says.
Still, there are those at the AFLCIO who say the proposed alliance would be an unnecessary duplication of what they already are doing. Kahele disagrees. One of his primary motivations has to do with political endorsements. He wants the unions to throw more support behind political candidates who are strong on labor.
In the last mayoral election, the AFL-CIO endorsed neither Hannemann nor Bainum because of a marked split in members' opinions. The way Kahele sees it, that's a missed opportunity. He wants an organization that would endorse based on a plurality of votes.
Kahele also is concerned that the AFL-CIO has been unable to bring peace between feuding unions, although he notes that Perreira could be the person to get that job done.
"I believe Randy can do it," he says. "I believe he has the knowledge and the energy to bring them together. He's a person who, once he sets his eye on something, he gets it done."
Page 1 of 2 pages for this story 1 2 >
Most Recent Comment(s):