Visiting Mr. Claus For A Good Cause
Santa (aka banker Tom Dods) is joined by Delightful Dolly the clown (Bonnie Parsons) and event-co-chair Marie Weite for Breakfast With Santa
Wednesday - November 28, 2007
By Alice Keesing
E-mail this story | Print this page | Archive | RSS
|

Del.icio.us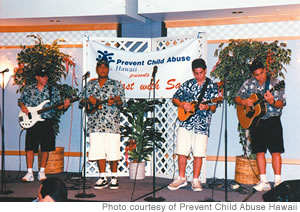 Breakfast includes musical entertainment, such as the Opihi Pickers in a previous year
Every June, banker Tom Dods puts his razor away and lets it all go. By the time the holiday season rolls around, he's sporting a thick, snowy beard. Put it together with his cheery face, round belly and that red suit, and he's the perfect Santa.
Dods has got quite a history as the man in red. "This is my 41st year as Santa Claus," he says. "Someone asked me to do it when I was a junior in high school and I had so much fun, I've been doing it ever since."
He's got a closet-full of Santa suits and already more than 50 events lined up this season - for all of which he says he'll only accept M&Ms as payment.
"I like to say that I'm the only guy in Honolulu who works for peanuts," chuckles Dods, whose day job is assistant vice president in charge of customer service at the Waikiki branch of First Hawaiian Bank. (And, yes, Walter is his brother.)
On Dec. 8 and 9, Dods will be doing what he loves best when he jingles his bells for Prevent Child Abuse Hawaii's Breakfast with Santa fundraiser. He's been doing it every year since the breakfast started 21 years ago. During the two-day event, hundreds of kids will get to sit on his knee, tell him what they want for Christmas, pose for photos - and some of them will even pull on his beard to check if it's real.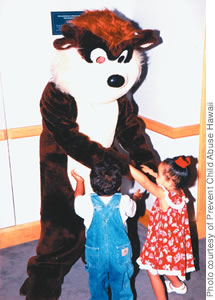 Kids love the cartoon characters that come to life
Dods loves it all. His amazing sense of aloha perfectly captures the spirit of the Prevent Child Abuse Hawaii event. The fundraiser comes together with the help of a large contingent of volunteers who put on two days of food, entertainment, magic and crafts, all in the name of preventing child abuse.
Amongst the fun, participants realize they are there for a cause. It's estimated that as many as 50,000 children may be abused or neglected in Hawaii each year, and the number of confirmed cases has tripled over the last two decades. Nationwide, more than a million children are abused and neglected every year, and three children die each day as a result of abuse.
Prevent Child Abuse Hawaii is a private, non-profit that uses education, public awareness and advocacy to promote positive parenting and healthy families. This year, organizers hope that Breakfast with Santa will raise $50,000 for prevention programs.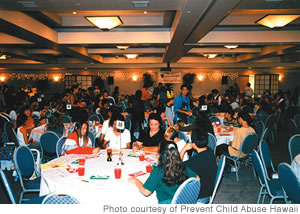 The breakfast is a popular event with families
The organization aims for a wholesome family event during the holiday season, when stress can skyrocket. Co-chair Marie Weite says she became a mother herself after joining the board 21 years ago, and says that gave her a greater appreciation for the challenges that parenting poses.
"I think parenting is probably the hardest thing to do in the world," says Weite, who also works as a claims adjuster at First Insurance. "It's a tough job, and there's no shame in asking for help. There are times when you need to call a neighbor or a friend and say, 'Hey, what do you do, I'm going to go crazy.' "
Weite's dream - one shared by others on the board - is to one day have parenting classes for everyone.
"There's that saying that when you get your driver's license they make you study and take a test - but anyone can have a baby," she says.
Aside from raising money,
Page 1 of 2 pages for this story 1 2 >
Most Recent Comment(s):