We want them to know we know what they are up to…
Having missed being a victim of the 9/11 attack on the Pentagon by mere minutes, the new commander of U.S. Pacific forces is well aware of the world's dangers. So he believes in an aggressive peace

Wednesday - May 30, 2007
By
.(JavaScript must be enabled to view this email address)
E-mail this story | Print this page | Archive | RSS
|

Del.icio.us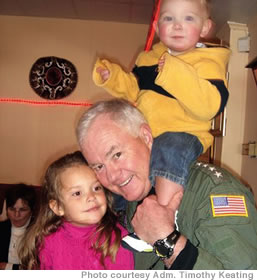 The admiral is a doting grandpa of Lauren Joy and
Matthew
Like to travel? Looking for a job with responsibility? How about being responsible for half the world's surface, 200,000 employees and billions of dollars in equipment, with pressure politically, militarily and financially from 43 nations and 30 territories and possessions that includes close allies and closely watched enemies?
The application process is long, at least 20 years, and you'll be open to constant scrutiny. If interested, apply to the president.
While on further examination, this gig may not seem to be all it's cracked up to be, for Adm. Timothy Keating it is an opportunity of a lifetime.
"This is a dream job. It's invigorating to come to work," says the 1971 Naval Academy grad who has some deep-rooted interest in the area.
The Pacific region - and the United States Navy, for that matter - have been an integral part of the Keating clan for 60 years. His father was stationed at Kaneohe during World War II. His son Daniel is an F-18 pilot whose wife is a former Navy doctor, and daughter Julie is married to an F-18 pilot she met in Japan, even though she swore to never marry a sailor and especially not a flyboy.
As far as his own Pacific memories, Keating served in the Western Pacific/Indian Ocean aboard the aircraft carriers USS Kitty Hawk and USS Enterprise, and in 1998 he commanded carrier Group Five out of Yokosuka, Japan.
This is also his second stop in the Aloha State.
"Dad was here in Hawaii for the better part of his tour," says Keating. "One of my first recollections of Dad was his cover perched back on his head, and he looked striking. It's one of my earliest childhood memories, thinking my daddy was pretty cool. I don't know if that was the determining factor, but all I ever wanted to do was to be in the Navy, and if I could fly airplanes ... it's worked out."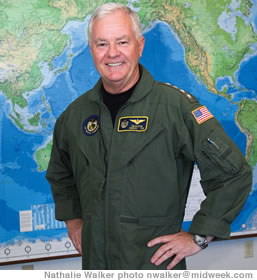 As Pacific commander, Adm. Keating is
responsible for half the world's surface
area
It's worked out extremely well. Keating has made more than 1,200 carrier landings and has logged more than 5,000 hours of flight time in all manner of jet fighters. He's even had the privilege of flying off the flight deck with his son and (at the time) future son-in-law.
As with anyone who makes a career of the military, Keating has seen his fair share of moving vans - about 25 in his 40 years of service. With him nearly each step of the way has been his partner and biggest supporter, wife Wandalee, whom he calls, "As wonderful of a military spouse as a man or woman could hope for."
Like military families everywhere, the job of packing up home and family and much of the burden of deployment fell on her shoulders - a common fact of military life that Keating says, at times, does not get enough recognition.
"We owe them thanks in an order of measure that we can't possibly convey. We have to just hope they understand. And they must get it. Because we are continuing to re-enlist at very good numbers. You know we sign the young man or woman to a contract, but it's the family that joins the service."
And service can be a risky - a fact that Keating saw firsthand one sunny September morning when the nation suddenly changed. On Sept. 11, 2001, Keating was the director of Navy operations and was in his daily intelligence briefing in the Pentagon when news of the attacks on the World Trade Center came on the television monitors.
"The first question was what the weather was like, because it was a spectacularly georgous day in Washington. We were perplexed, and just kept going. Later we saw the second plane hit the second World Trade Center tower. It still didn't occur to us what was happening; that this was a large-scale attack with catastrophic consequences. I left the command center and walked to my office, which was about 150 feet removed from where American flight 77 hit at ground level and plowed all the way into the command center. Twenty-six kids with whom I had conducted the morning ops/intel update didn't get out," says Keating slowly, revealing still-held sadness of that fateful day.
For a nation watching, it was scary seeing the fortress-like command center of the world's most powerful military bleeding smoke and fire from its massive wound. For Keating, the feeling was one of frustration and helplessness about not being able to respond.
"Yes, very helpless," he says. "Frustrating. Infuriating. We tried to get back down the stairwell and the smoke was overpowering. It was clear there was no getting back down the stairwell, the way we came up, so we went outside and tried to get back in through the Pentagon courtyard, through the back way, and the flames were very intense. It was very frustrating and it remains frustrating. It didn't occur to us until later that night ... The large fires were out, but we knew by then, we started doing a muster and there were a number of people who hadn't survived. It was then that the magnitude of the event hit me, and the certainty that this was a new ball game, and that we were in a different kind of conflict."
The war on terror is, quite naturally, of major concern to the U.S. Pacific commander. If one thing will keep him up at night it is the worry that somebody, somewhere has the means and desire to take on another
Page 1 of 2 pages for this story 1 2 >
Most Recent Comment(s):