Who's Your Mama?
With Mother's Day coming up on Sunday, MidWeek chats with Hawaii celebrities and their mothers about their special bonds
Wednesday - May 09, 2007
By Lisa Asato
E-mail this story | Print this page | Archive | RSS
|

Del.icio.us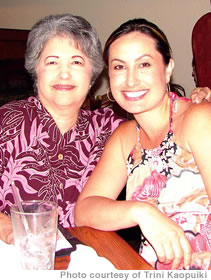 Trini Kaopuiki and mom Annita Coelho
Every weekday morning at 5, Annita Coelho and her husband Harry tune in to KHON news from their home in Haiku on Maui.
Hot coffee brewing, Coelho awaits the TV appearance of Trini Kaopuiki, her daughter and favorite weather anchor, who will give her another grandchild in August, a boy who's yet to be named.
"When I gave birth (the first time) she was here for a month," says Kaopuiki. "I'm hoping she'll do the same with this one - hint, hint."
Eight years after winning the Miss Hawaii USA title, Kaopuiki, says that crowning moment "seems like a lifetime ago."
"My life is so different now - it's all about mommyhood," says Kaopuiki, who lives in St. Louis Heights with her husband Sean Clark, a partner at the law firm Goodsill Anderson Quinn and Stifel, and their daughter, 2-year-old Malie.
Mommyhood, she says, has made her appreciate her own mom even more.
"What's so amazing to me now is it never seemed like she was making any sacrifices at the time, I had no idea that she was working two jobs and still making plenty of time for me, showing up at the football games I was cheering at," says Kaopuiki, a well-rounded youth who was student body president at St. Anthony High in Wailuku, Sterling Scholar and Maui's one-time record holder in intermediate school high jump (4 feet 4 inches).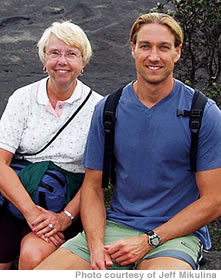 Jeff Mikulina and mom Lynne Mikulina
Coelho, a retired Longs customer service representative and two-time cancer survivor, says: "I think if you be a mentor to (your child) and praise her, she'll really believe what you tell her, and she'll be something and be somebody. 'You can be anything you want to be, just go for it, go for the stars,'that was my philosophy with my children. And it transpired."
Lynne Mikulina instilled a sense of conservation-mindedness in her children, by recycling, gardening and spending summers camping and hiking along the Mississippi River near their home in La Crosse, Wis. Her son, Jeff Mikulina, brought that consciousness to Hawaii, where he's been director of the Sierra Club Hawaii chapter since 1998.
"I didn't realize it, but I think more and more so, definitely (she influenced me)," says Jeff, whose surname sounds Hawaiian, but is actually Czechoslovakian. "Even though my parents didn't call it environmentalism, they're very conservation-minded in their daily life."
Jeff helped push a bill through the Legislature last week that "will place Hawaii with California as the two states leading the nation on global climate change," setting limits on greenhouse gas emissions by 2020.
His mom says she couldn't be prouder of him. She and husband Tom have visited the governor's mansion and toured the Legislature during visits here. And it boosts her spirits to see "people happy to see Jeff, when they pat him on the back or give him a big handshake," says the retired school-teacher who named her son after a favorite student. "When we walk down the sidewalk, so many people will stop Jeff and have a comment about something. How could a mother and father not feel good about that?"
Jeff says he strives to emulate his mom's "limitless graciousness ... She is the kindest person to whomever she comes in contact with. She goes out of her way to make people feel good, no matter who they are or what they do. It is a remarkable quality."
Mikulina's band Soul Treatment performs May 29, 7-9 p.m., at Kona Brewing Co. & Brew Pub at Koko Marina Center.
Sandy Kodama has worked at her son D.K. Kodama's Restaurant Row eatery since it opened in 2001. Back then the restaurant was Sansei and she helped in the back preparing food. Now the restaurant is Hiroshi Eurasian Tapas and she makes the rounds up front, serving as greeter, baby-sitter ("She picks up all the babies, she lets the parents eat," says D.K.) and self-appointed food taster.
"I try to test the food so we can be consistent," says Sandy, whose husband Tama helps out at d.k Steakhouse in Waikiki. "Little things like miso soup, if you find it works I'm glad - that's what you want to tell the chef. Maybe one day, 'Ooh, extra salty.'Gotta fix."
Mom Kodama, 76, raised her kids on international fare spanning Japanese, Chinese, Filipino, Korean, you name it. "All my (six) children are good cooks because you train the palate," says the former homemaker. And all tofu is not created equal, she adds, "the taste is different."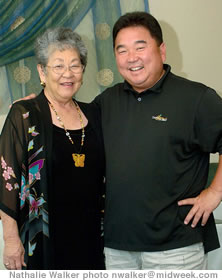 D.K. Kodama and mom Sandy Kodama
D.K., a husband and father of three, agrees. "I definitely got my tastebuds growing up - like your values you learn that young." The 50-year-old chef/owner of D.K. Restaurants plans to open a seventh restaurant, Sansei, in Waikoloa hopefully by year's end.
D.K. says his mom adds a nice touch to the restaurant taking special care of friends and family and "just making people feel comfortable." So does mom advise one of Hawaii's favorite chefs on ways to improve his dishes? "No," mom says. "Always," he adds.
Taste both mom's and son's creations at the Easter Seals' sixth annual Chefs Du Jour fundraiser Aug. 11 from 6:30 to 10:30 p.m. at Aloha Tower.
When Nalani Choy of Na Leo was in labor with her first child, she called her mom to let her know she was on her way to the hospital. "Hawaiian women don't make noise," Choy says her mother Betty Kawohiokalani Jenkins told her. "I knew what she meant. It was a horrible experience, traumatic, but I held up my end."
In the Jenkins'Waialua household, there was warmth, music, singing and a love of all things Hawaiian. Even next-door neighbor Loyal Garner came to sing. But it was also about behaving
Page 1 of 3 pages for this story 1 2 3 >
Most Recent Comment(s):