11 Dates in One Night
The author tries her hand at the whirlwind known as 'speed dating,' and spends six minutes each with 11 different men. Go, speed dater, go!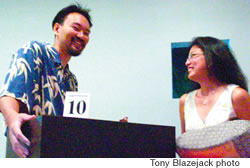 The author and a guy share a speed laugh
In a back room at The O Lounge, just off the darkened main hall and bar, live jazz streams in through a slinky curtain as the room buzzes with the collective conversations of 24 singles. Everyone, including myself, is here for a chance to meet 11 other single professionals in a rapid-fire succession of six-minute speed dating.
It's a night where $35 saves you a seat, only first names are shared and first impressions count for everything.
"I think most people know within the first couple of minutes whether they're attracted to the person," says Steven Chang, Honolulu event coordinator for the matchmaking group Cupid.com/PreDating. "I've seen a lot where it's like, 'I'm glad the six minutes is gone.' "
But there are also the ones who "hit it off and spend the rest of the evening together. They'll go to the bar," he says, pointing just outside the door. "Or I'll close up, I'll leave, and they're still here talking."
Speed dating - timed with a yellow stop watch - begins and ends with a staff volunteer circling the room and ringing a silver bell with a heart-shaped handle. The women stay at their stations, and the men make their way around the room. The bell rings, a man says goodbye, another says hello, and the questions begin anew.
"What's your favorite movie," Brian, a movie buff, asks me after some introductions.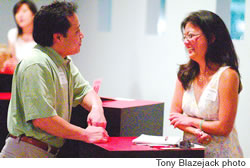 The author gets to know a guy during their six
minutes together
"Of all time? Ooh, that's hard."
Moonstruck comes to mind, and we agree we were too young to really appreciate it at its release in 1987. We talk quickly about favorite scenes, and he says, slapping the air with his hand, "For me, it's 'Snap out of it!' "
One entertaining guy, who reveals himself to be an aspiring comedian, says, "I'm trying out my material, seeing what works."
Another, a skilled conversationalist, showed me his "Notes Sheet," which he would take home to score each of the women online. He was marking all the women as "Let's Talk ... Again!" as opposed to the alternative, "No Thanks."
"Statistically, nationally, most people will find two to three people they like, if there's 10 (of each sex)," says Chang. "But it goes down when you figure out how many like them as well - it's about one to two. We call it single match and double match. Single match if you like the person; double match if they like you back."
"So when everyone goes home tonight they'll enter their scores, they'll get e-mails telling them who liked them basically, and then it's up to them to decide whether or not they want to make contact."
David, a 50-year-old project manager for a large developer, had attended the earlier speed dating session for an older set.
"I'm a newcomer, this is my first time," he says.
Single after a recent breakup and divorced 10 years ago, he's not inclined to meet women at bars, and thought he'd try speed dating despite its off-putting name.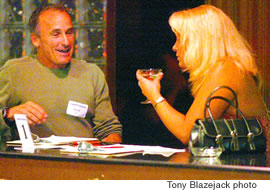 David and Crystal both say they enjoyed the
experience
"I mean 'speed dating' - that even sounds bad," he says. "I don't like to speed anything."
For him, the night was a success. He met six women, all of whom he'd want to see again.
"I had fun tonight.
I was, how should I say, pleasantly surprised," he says, explaining: "When I first walked in, it seemed like I was going into a haunted house (because it was so dark). However, once I got into this portion of the room, I met Steven, he seemed very personable, and the women were all very pretty. It seems like it was 'on the level.' It wasn't seedy. I didn't know what to expect honestly, but once I got through and realized how it went. I was pretty happy."
A first-timer myself, I didn't know what to expect either, but I also left feeling upbeat. It was an experience like no other: a whirlwind of one-on-one time with single men ranging from a lieutenant colonel to a defense worker studying journalism, and from a property manager with a thing for National Public Radio to an uncle from Mililani who spoils his niece, just starting kindergarten, with $100 shoes for no other reason than "You gotta look good, right?"
And in a sign that we live in a state where everybody knows somebody you know, one of the men in this small group of 12, was in fact a friend of a friend.
Crystal, a registered nurse originally from Tennessee, also was pleasantly surprised. She felt a "couple sparks," and she called her first speed-dating session a "nice adventure."
"I wasn't sure what kind of people would do this," she says. "But I figure I'm normal, I'm sane. I figured there's gotta be other normal, sane people that would do this."
The next sessions will be held June 20 at E&O Trading Co. at Ward Centre starting at 6 p.m. for ages 49 to 59, and 8 p.m. for ages 25 to 35. To register, click on Find Speed Dating Events Near You at cupid.com, and choose Honolulu.
Page 1 of 1 pages for this story
Most Recent Comment(s):