A Tour Of Chinatown's Medicinal Shops
Thanks to an akamai guide, the author overcomes some intimidation to learn what happens inside shops that use herbs, animals for healing. Chinatown is the beautiful, exotic woman you are afraid to approach, the foie gras you won't eat because someone told you what it was and the conversation you don't broach for fear of looking foolish.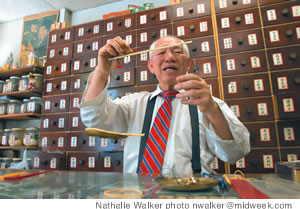 Dr. Suen Hang Yee weighs Dang Gui, used to promote better blood circulation
Chinatown is the beautiful, exotic woman you are afraid to approach, the foie gras you won't eat because someone told you what it was and the conversation you don't broach for fear of looking foolish.
Even having worked downtown for the past decade, the signs still intimidate me, the smells assault me and the languages leave me blank. When my editor asked me to take a tour of Chinatown's herbal medicine shops with Dr. Leon Letoto, noted local herbalist, acupuncturist and Qigong instructor, I looked at it as an invitation to finally meet this woman that had vexed me so.
The impetus for the tour is the upcoming eighth annual Splendor of China Cultural Festival and Tradeshow to be held at Blaisdell Exhibition Hall Halloween weekend. It will feature lion dancers, Chinese acrobats and herbal cooking and healing by Letoto.
When I meet him on Maunakea Street I am immediately put at ease. He has one of those broad, welcoming Polynesian faces highlighted by an infectious smile. This is his home, his family opened the Chinatown institution Wo Fat restaurant and Letoto smiles and greets its residents like a mayor on tour.
Our first stop is Leanne Chee's shop on Maunakea, where she stands stoically behind her glassed-in countertop with a looming wall of plastic containers filled with all variety of items I expect to find on a forest floor rather than in a pharmacy.
The store has been in her family for generations, and most of her customers come in knowing exactly what they want, but she is happy to help those who have needs but lack knowledge.
"We have to ask you questions: How you feel? What is your worst complaint? Your second complaint? What's your history?" says Chee. "Then we put it together, you take it home and make a tea."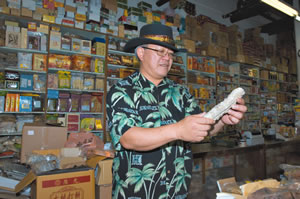 Leon Letoto with dried sea cucumber in a Chinatown shop with no name or sign
As she is explaining this, her hands are flying about the shelves grabbing herbs, each one specific to a different ailment: magnolia flower to combat your runny nose, honeysuckle to cool an external fever, arctium to soothe a sore throat.
She bundles them into a package and instructs me to take them home, slow cook them in water for more than an hour, then strain out the herbs and either drink it as a tea or add meat to it and make a soup. A portion for one day runs you about $6, and she says treatment generally takes two to three days, but it all depends on the individual.
The common cold is just the beginning of what she treats. Work or kids stressing you out? Cook up some polygala for your mind and zizyphus for your heart. Break an arm or sprain an ankle? She prescribes some pseudo-ginseng to reduce the swelling 50 percent faster. If you have a need, she has got a root or fungus behind her that will fix you up. Now, as one may imagine, many of these herbs are not the most pleasant thing to drink, so they do have many available in pill form. But Letoto and Chee agree that the raw herbs are much more effective.
The exception to that rule is the miracle drug Yunnan Baoyao, which the Viet Cong used to treat gunshot wounds in the field when there were no doctors.
Its main ingredient is pseudo-ginseng, the rest is a carefully guarded secret, but it has proven to stop internal bleeding and comes with the magic tiny, red pill (which has no name, seriously) that prevents the onset of shock. This entire lifesaving kit should be in everyone's first aid kit: $4.
From Chee's store we head over to North King Street, the aroma of bok choy seeming less foreign by the minute. The shop is named Fook Sau Tong, and its storefront window alone is enough to ward off the faint at heart. I cannot count the number of times I have walked briskly past it with-out noticing the wonders (or horrors, depending on your point of view) that the glass contained.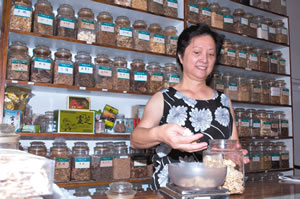 Leanne Chee adds some Dang Gui
This is the realm of Dr. Suen Hang Yee, who has been serving Chinatown residents for half a century, and he takes the medicine out of the herbal world and into the animal kingdom. He proudly displays cicadas, sea dragons, mountain roaches and eviscerated, oversized geckos for cooking in teas - which Letoto swears by.
"The gecko tail grows back, right, so the chi (the vital force believed in Taoism to be inherent in all things) from that is so potent, it makes you way stronger. You can run faster, you can jump higher, it's like superman," says Letoto, who uses it when making a tonic for athletes, though he chops it up to prevent its identification.
The cicadas will aid you with your skin problems, the sea dragons will aid your kidneys, mountain roaches help with blood stagnation. While some may scoff at the ingestion of bugs and lizards, there is sound logic behind the ideas.
"The Chinese, and even the Native Americans today, watch what the animals eat when they are sick and learn from them," says Letoto, who prices out the geckos around $7 a piece.
Beside the macabre dried-out reptiles is a fungus that is actually getting wide respect in the Western medical fields as well: reishi. It has been found to be a very successful immune-system stimulant in both cancer and HIV patients.
Inside the shop we find Yee, attired as always in his suspenders and tie, and his shop stands in sharp contrast to Chee's. No plastic bins for Yee - all his herbs are stored in a bank of hardwood drawers lining his wall. Instead of the prepackaged medicines we found up the street, he has Daoist shrines and yellowed 40-year-old letters from patients thanking him for helping them with their ailments.
It is in these letters that I feel the connection between the cultures, the frailty of life and the tightrope we walk in trying to ward off the inevitable for us all. While the methods may be different, the sentiment and desires are the same.
So maybe the lady was not so unapproachable after all. Sometimes in life you just have to put aside your fears and walk inside.
Next time I'm a bit under the weather, I'll stop by and visit Ms. Chee or Dr. Yee, and while the herbs may not be the tastiest, it's not like Nyquil tastes like fine wine either.
The 62nd Narcissus Festival's Splendor of China, Oct. 30, 10 a.m.-9 p.m. and Oct. 31, 10 a.m. to 5 p.m. at Blaisdell Exhibition Hall, $5 admission, free for children age 8 and under. For more information, call 533-3181.
Page 1 of 1 pages for this story
Most Recent Comment(s):