An Exceptional Map By Exceptional Teens
For their Girl Scout Gold Award Project, Cristin Lim and Jelene Wong chose to make a walking tour of Honolulu's Exceptional Trees

Wednesday - March 02, 2011
By
.(JavaScript must be enabled to view this email address)
E-mail this story | Print this page | Archive | RSS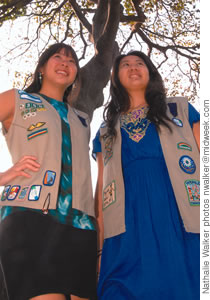 Ambassador Girl Scouts Cristin Lim (left) and Jelene Wong put together a walking tour brochure of Exceptional Trees around Honolulu, like this Nawa found on the Queen's Medical Center campus
If you think in terms of a year, plant a seed; if in terms of 10 years, plant trees; if in terms of 100 years, teach the people. - Confucius
Two years ago Ambassador Girl Scouts Cristin Lim and Jelene Wong planted the seeds of a walking tour pamphlet that would highlight the Exceptional Trees found in Waikiki and downtown Honolulu.
Today, what initially began as their Girl Scout Gold Award Project has sprouted into a tool that in 100 years will continue teaching people about the history and beauty of our island home.
We take trees for granted. We don't believe they are as much alive as we are. - Ziggy Marley
When the then-sophomores first began germinating on what they wanted to do for their final Girl Scouts project, they were a bit stumped. Per the requirements of the award, the highest attainable in Girl Scouting, they had to do something that would have a sustainable impact within the community. Through their connections at Iolani School, the girls got in touch The Outdoor Circle to find out from the organization what they could do to help keep Hawaii "clean, green and beautiful."
"Both Jelene and I have had significant interest in sustainability and environmental protection," says Lim, 17. "The Outdoor Circle taught us about Exceptional Trees, trees that are protected by law, and we learned that there
was a lack of awareness about Exceptional Trees, and we wanted to do something with that for the community."
From there discussions led to the idea of creating a walking tour brochure that would show people exactly where these trees are and tell why they are so valuable.
"These trees are a really important asset to our community, and I think this is a way to really learn about how special they are," says Mary Steiner, CEO of The Outdoor Circle. "You learn a little bit about where the trees originally came from, perhaps how long they've been here. These are some very old, important trees, and they're important to the culture, and we need to be highlighting that."
In nature, nothing is perfect and everything is perfect. Trees can be contorted, bent in weird ways, and they're still beautiful. - Alice Walker (American author)
Before they could begin, Lim and Wong, also 17, first had to write a project proposal and send it to the Girl Scout council for approval.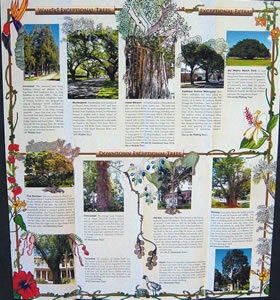 Lim and Wong collaborated on the making of this brochure
A few months later they got the green thumbs-up and immediately decided to tackle the most challenging part of the project first: developing a manageable route a majority of people can navigate on their own.
"The hardest part for us was actually coming up with a route that was easy to follow and included a lot of different trees," Lim says. "So we actually went to downtown and Waikiki and had to think of the best possible route for the tour."
To be classified as exceptional, Act 105, aka The Exceptional Tree Act, states that a tree must be a special or unusual species to Hawaii, or make a special statement with its location, historic value, size, age and aesthetic quality.
"The trees at Queen's Medical Center are beautiful trees, and they're historic," Steiner notes of the Nawa, Baobab and Pink Bombax, which was also the favorite tree of hospital founder Queen Emma.
All three trees are on the downtown tour, along with the 23 found in Foster Botanical Garden and the beautiful ficus and pili nut trees in front of Washington Place, among others.
The Waikiki tour is a straight path from the Indian banyan inside International Market Place to another banyan found near the archery range. Folks can circle back up Paki Avenue to see several exceptional monkeypod trees.
"There are so many beautiful trees out there," Steiner says, before noting, "Some of my more favorite trees didn't make the list, but you can't win them all!"
You will find something more in woods than in books. Trees and stones will teach you that which you can never learn from masters. - Saint Bernard
Once the path was established, the students researched information about each species, including its scientific name, its origins, how it came to Hawaii and its historical significance. They also fact-checked with arborists, cartographers and horticulturists to make sure everything was accurate.
Wong, an avid reader and wordsmith, then arranged the data into easily readable and entertaining blurbs that accompany Lim's photos and artwork.
They also obtained a grant from the Kaulunani Urban and Community Forestry Program for the publication of the brochure.
"From the beginning, it just started out as kind of a small idea and grew into this big project that was really meaningful to both of us," Lim says.
Page 1 of 2 pages for this story 1 2 >
Most Recent Comment(s):