Mililani Robots Rule the World
No time for losers, cuz' we are the champions ... That's the tune 10 Hanalani Schools students and their teachers are singing in Mililani

Wednesday - July 28, 2010
By
.(JavaScript must be enabled to view this email address)
E-mail this story | Print this page | Archive | RSS
Hawaii adds a few more notches to its robotics belt - autonomously, of course - thanks to two Oahu schools.
No time for losers, cuz' we are the champions ... That's the tune 10 Hanalani Schools students and their teachers are singing in Mililani, thanks to their recent first-place finish at the 2010 Global Conference on Educational Robotics' International Botball Competition in Edwardsville, Ill., July 7-11.
Yes, global.
At the close of the intense international competition, the Hanalani team emerged undefeated as the new world champion after having competed among 64 teams from around the world, including Kuwait, Poland and teams from across the United States.
"Obviously, we were really excited," says Chenfu Chiang, robotics teacher and head of Hanalani's STEM (Science, Technology, Engineering and Mathematics) Academy. "Last year we finished second overall, so we were a bit disappointed then. But now, since we're such a small school, it gives us good name recognition and makes us extremely proud to represent Hawaii at the same time."
The Global Conference on Educational Robotics is an annual event where middle and high school students, educators, robotics enthusiasts and professionals from across the world gather to connect with peers, discuss technology related ideas and cheer on their favorite teams during a thrilling autonomous robot competition where the bots are intelligent machines capable of performing tasks in the world by themselves without explicit human control: the International Botball Tournament.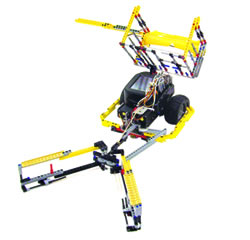 The winning Hanalani team is comprised of seniors Steven Ching (team captain), Daniel Engelhardt and Michael Nakamoto, and sophomores David Nakamoto and Jonathan Neumann. The roster rounds out with junior Matt Rybarczyk; sophomores Kirstie Campbell, James Thayne and Evan Kawamura and freshman Haley Briggles.
"For the competition itself, basically there was an island in the middle of a lake, and a sudden earthquake ruptured a pipeline over the lake and spilled oil into the water," Chiang explains. "Ducks and frogs, therefore, had to be rescued. The small robot, Peking Duck (pictured above), was used to gather and rescue the ducks, and the big robot, Coqui Frog, was responsible for saving the frogs.
"Each item has a point value. Depending on the location, type and condition of the animals, the points range from one to 25 or so. During the seeding round you just have to score as many points as possible in the allotted time (2 minutes and 15 seconds), but in the elimination round, one team is on one end and one is on the other, and when the starting light goes on, both teams fight for points and try to outscore each other. It's really exciting to watch the students and the robots in action."
By designing, building, programming and documenting the autonomous robots, the young innovators use science, engineering, technology, math and writing skills in this hands-on project that reinforces their understanding of the subject matter.
"These kids deserve real recognition," said Hanalani principal Winston Sakurai. "We are so excited for them. They put in a tremendous amount of effort and hard work and we're very proud and so thankful.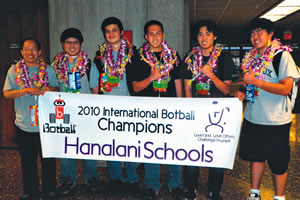 Coach Chenfu Chiang (left) with David Nakamoto, Jonathan Neumann, Daniel Engelhardt, Michael Nakamoto and Steven Ching at the Honolulu International Airport upon their return from their win in Illinois. Photo courtesy Chenfu Chiang.
"We're also blessed to have Mr. Chiang, who really invests in the lives of these students. It's a competition, but it's also a time for him to be a mentor, and he really cares about all of them personally as well as academically."
Hanalani competed at the Hawaii Regional Botball Tournament in May along with 39 other Hawaii-based teams, where they triumphed as overall double elimination and seeding match winner and set a national record for highest score during seeding rounds.
But it hasn't just been a good year for Hanalani. Waialua High School's robotics team also recently took top honors at the exclusive Indianapolis Robotics Invitational, a World Cup-inspired soccer tournament where the students' autonomous robots are the players. The group was Hawaii's only robotics team to be invited to compete in the 2010 IRI, where its 150-pound robot "Poi Pounder X" scored high for the three-team alliance between Waialua, the "Beach Bots" from Los Angeles and "Las Guerillas" from Bloomfield Hills, Mich.
Botball is one of six major educational robotics programs in the state and engages middle and high school students in team-oriented robotics competitions based on national science education standards. Recognizing the importance of promoting robotics at an early age and sustaining students' interest in STEM education throughout their schooling, Hawaii's six robotics programs (FIRST Robotics, Botball, Underwater ROV, VEX Robotics, Micro Robotics and FIRST LEGO League) have joined together to form the Hawaii Robotics Organizing Committee (ROC). Robotics provides students with the teamwork, critical thinking and problem-solving skills they need to compete in the 21st century workplace.
To learn more about robotics education in Hawaii and view photos of the competition, visit hawaiiroc.org
Page 1 of 1 pages for this story
Most Recent Comment(s):