Looming Art
Humans have been making fabrics for thousands of years, and members of a local weaving club are still doing it the old-fashioned way. Contrary to what many of us might imagine when we hear "hand weaving," it's not an outdated niche art form with no practical contemporary relevance.

Wednesday - June 01, 2011
By
.(JavaScript must be enabled to view this email address)
E-mail this story | Print this page | Archive | RSS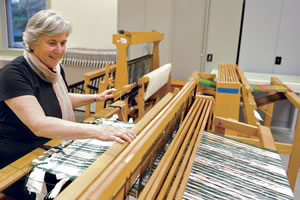 Pat Steinhoff weaving at a floor loom, shuttle in hand. Lawrence Tabudlo photos

.(JavaScript must be enabled to view this email address)
Contrary to what many of us might imagine when we hear "hand weaving," it's not an outdated niche art form with no practical contemporary relevance. Talk to a weaver and you'll learn that the intricacies of the process are extensive and multifaceted.
Some thou-sands of years ago - it dates back 20,000 years - weaving was the "latest technology."
The art is still practiced as a cottage industry in some parts of the world, and though the activity might not be prevalent in first-world societies, the hands-on process of threading a loom to make cloth and items from various kinds of yarn and materials is still evolving.
Here in Hawaii, the Handweavers' Hui, about 100 members strong, keeps the art alive. The public is invited to check out some of their creations June 3-19 in the juried exhibit "Sublime, Sensible, Serendipitous" at the Academy Art Center.
"The theme refers to the idea that you can enter something practical or some totally creative, off-the-wall kind of thing," says show chairwoman Liz Train. "The main criteria is that they have to have some part that's woven. It could be a basket or jewelry that has a woven element. Most of our members make wearable things like scarves, shawls, or they do wall pieces that are more pictorial or conceptual."
Train got her start at the UH art department back in the '70s, when what now falls under "fiber arts" was broken into a weaving department and a textile department, with the latter dedicated to surface design on already woven fabrics. With her driving passion being art, Train tends toward the more poetic side of the weaving spectrum. Art is her profession, and she teaches weaving at all levels, from kindergarten classes that learn on simple cardboard looms, to adult classes at the Academy Art Center, where they make use of larger, more complex looms.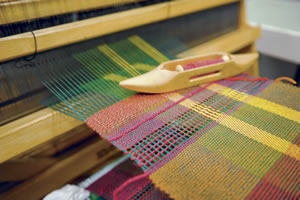 A quilted weave with a shuttle which holds the yarn
"For me, it's all about color and texture," she says of her fascination with weaving. "I like to get my hands in there and manipulate it. It's a little bit different from, say, painting, where there's kind of a remove from the brush and paint. It's not as formal; it's a little bit more intuitive, what kind of materials you relate to - that's what draws me to it, the materials."
Club president Pat Steinhoff's interest in weaving falls at the other end of the spectrum.
"I weave mostly functional items - shawls, Mobius shrugs, scarves, placemats, rugs, bags, pillows, etc.," says the UH sociology professor, who first took a weaving class at Bishop Museum and then dabbled in the hobby for a while, but lately completes up to 20 items a year. "Some of our members are more interested in weaving complex patterns, while others are more interested in color and texture and interesting yarns." Steinhoff credits the yarns she's collected during her many travels as her inspiration for her projects.
As for textures and patterns, the possibilities are limitless, with a myriad of loom types allowing for all kinds of creativity.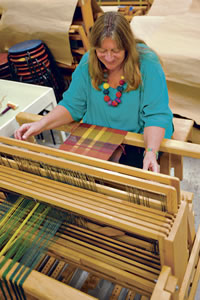 Liz Train weaving at a floor loom
Looms come in all shapes and sizes. Some are portable, some fill a large room. Some are a simple frame, some call for several frames and such a web of threading that you've got to be an expert to make sense of it, and they allow for more complex designs. Different cultural regions make use of unique types of looms, like the backstrap weaving looms found in South America and South and Southeast Asia, in which a person's body functions as a harness for the base or warp threads. Putting tension on the warp enables the interweaving of horizontal or weft threads. Steinhoff points out that more than 2,000 years ago, the Chinese were already making silk brocade using very complex floor looms.
As for expenditure, with some creativity, door knobs or just about any stable object can be used as a cost-effective point for setting up the warp. There are small, cheap looms, and then there are standard floor looms that cost a couple grand - and there are giant looms with a computer-programed component that are worth several times more.
Items can take any amount of time to complete, from a small potholder to an ornate tapestry or
Page 1 of 2 pages for this story 1 2 >
Most Recent Comment(s):