A POLO PICNIC
After 46 years, the Hawaii Polo Club is more popular than ever, with folks making the drive to the North Shore for good food, music, incredible scenery - oh, and some polo too.

Wednesday - April 07, 2010
By
.(JavaScript must be enabled to view this email address)
E-mail this story | Print this page | Archive | RSS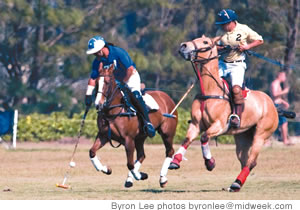 Enrique Diaz (blue) knocks the ball past Javier Garcia during a late chukker (period) of Hawaii Polo Club's opening day game last month
If polo be the sport of kings, then it is only befitting that Hawaii Polo Club and School is set on an oceanfront field in the heart of Mokuleia.
But that doesn't mean the sport is off-limits to us average folk. In fact, the club is at the tail end of a makeover that is changing perceptions of what it means to spend the day at the polo field.
"Hawaii Polo is a beautiful day in the country on the most beautiful field in the world, the only one left on oceanfront," says Glenn Mercante, president of Event Attainment Hawaii, the local event management and production company brought on in 2007 to restructure the format of the games.
"The challenge was to get people up here and to let them know that this is available to them, and not just rich polo people," he explains. "In the beginning when I was brought on, I was telling people about polo, but a lot of people don't care about polo. A lot of people don't even like horses. So I changed the whole marketing strategy to 'North Shore's Largest Tailgate Party.' Now, polo's back on Oahu."
Polo has a long tradition in the Islands, longer than on the Mainland, believe it or not. Long before Muffy and Buffy were high on their saddles at Princeton and Yale, Hawaiians have been enjoying chukkers (timed periods of play) of their own since the sport was introduced in the late 1800s.
"The first polo here was played over in Maui," says Murph Dailey. "And then it became quite well-known among the plantation owners, and they brought horses in and then they had their own horses. Then they started bringing teams in from the Mainland. For instance, we have a cup (trophy) that says California Feed Company, 1911. That's a long time ago!"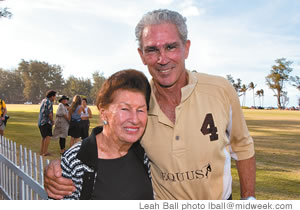 Polo runs in the family: Murph and Mike Dailey
And Murph, lovingly regarded as the matriarch of Hawaii Polo, should know. She and her late husband Fred Dailey resurrected outdoor polo in the 1950s after its fall from popularity during WWII by establishing the Waikiki Polo Club and organizing tournaments at Kapiolani Park. After the city tore down the stables in 1963, Dailey bought and leased land from the Dillingham family and moved his players, ponies and family to what would come to be known as the Mokuleia Polo Farm.
"(My husband) said, 'I think people would like to see polo again,'and we built a nice little club," Murph recalls, pausing a moment to look over her domain of field, beach and ocean. "It worked out fine."
The 2010 polo season opened to record numbers on April 21, drawing a crowd of nearly 1,300 people - the biggest crowd in the club's 46-year history, even besting the number of folks who turned out to watch England's Prince Charles play in 1974.
But folks aren't just showing up to watch the high-octane games. Through its partnership with Event Attainment Hawaii and sponsors Equus Hotel & Marina Tower, Wealth Strategy Partners, Turtle Bay Resort, and go! Mokulele, the polo club has transformed itself into a daylong experience, complete with catered plate lunches, food vendors, open bar, half-time activities, parachuters and live music from the best in local jazz, rock, funk and R&B music.
A skydiver prepares to touchdown for the halftime show
"It's not about polo," Mercante says. "It's more about the party with a polo match on a beautiful polo field. A lot of people have already found us and are drawn to the sport, the location and, of course, to the social side of the day and the event as well," adds Mike Dailey, son of Murph and current president of Hawaii Polo Club. The family's love of polo goes one generation further, as Mike's son Devon is training to be an Olympic polo player.
The club, Mike continues, also offers trail rides, wedding and vacation options at its beachfront property, as well as a polo school where anyone from 8 to 80 years old can learn the proper technique of this age-old game.
"I didn't grow up riding horses," says Bill Wyland, who promotes his famed brother's ocean art, "but I was a pro skier, so I took a couple of the pro polo players snowboarding down a crazy run in Whistler (Canada), and when we got down they said I was a crazy SOB, so I should play polo. Within a week I bought a horse, I loved it that much."
"If you have any riding skill, it's a very easy thing for me to teach you," promises club manager JW Hall, who also happens to be one of the top-ranked polo players in the world. "The hard part of polo is riding. It's the actual skill of driving the horse and horseman-ship that really come into play in becoming a quality polo player."
For lessons or more information, contact Hall at (832) 250-0144 or .(JavaScript must be enabled to view this email address).
"I think this has become a fun Sunday for people," Murph says. "You can see the tailgaters over on that side and they have a good time, which is wonderful. Then the kids can scramble around and go to the ocean or whatever. It makes for a nice day."
Adds Mike: "It's a sporting event, it's a social event, it's a day in the country, so you've got three reasons to come on out."
Hawaii Polo Club and School is located on the Mokuleia Polo Field, 68-585 Farrington Hwy. in Waialua. Gates open at noon every Sunday through Aug. 8, with matches scheduled to begin at 2 p.m. followed by live entertainment until 8. Cost of admission is $8.
"I've been here for the past couple of years, and it's been really turning around - the quality of our field, which brings in quality players as well as the quality of play. Because of that, more people come around," Hall says. "I really think it's going to continue to grow this year."
For more information and directions, visit www.hawaii-polo.org. Corporations and businesses wishing to coordinate private events at the polo field can contact Glenn Mercante at: .(JavaScript must be enabled to view this email address).
Page 1 of 1 pages for this story
Most Recent Comment(s):