The Aloha Shirt Gets A Stamp
Having long ago put its stamp on fashion, the iconic Hawaiian shirt is celebrated on five new U.S. Postal Service stamps

Wednesday - January 18, 2012
By
.(JavaScript must be enabled to view this email address)
E-mail this story | Print this page | Archive | RSS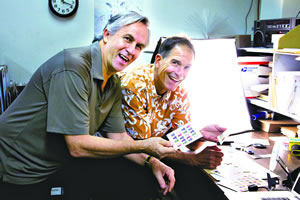 Ric Noyle (left), who photographed shirts on the stamps, and Dale Hope, author of The Aloha Shirt: Spirit of the Islands, check out the new stamps Nathalie Walker photo

.(JavaScript must be enabled to view this email address)
You see them at work, when you're out to dinner, at family gatherings or on lazy weekend afternoons. The aloha shirt in a variety of designs is produced in many styles from business casual to the colorful and wildly eccentric. It's a garment that goes beyond necessity, a symbol that represented Hawaii well before statehood was declared, and come tomorrow it will be etched in postage history as the United States Postal Service unveils the Aloha Shirts postcard stamp at the Honolulu main post office at the airport.
"There are many first-class stamps that are issued each year, but the Aloha Shirts stamp will be the only postcard stamp available at our new rate across the country," says USPS corporate communications specialist Duke Gonzales. "Aloha shirts will be on the minds of each person who sends or receives a postcard in the next year, those from Mississippi to Oregon, and New York to Nevada."
The concept and idea for an aloha shirt stamp has come a long way, prompted most directly by Dale Hope, local designer and author of The Aloha Shirt: Spirit of the Islands, a project that Hope dedicates to friend and partner Tommy Holmes, who passed away during the book's initial production process nearly 20 years ago.
"After we finally completed the book, I had probably seen over 20,000 vintage shirts. I started seeing them in my dreams," says Hope. "After we all caught our breaths and talked to some collectors, I just thought a stamp would be such a great representation for shirt lovers and for the whole state."
A large campaign began as many supporters of the book sent letters to USPS headquarters along with Hope's stamp applications. After more than a decade of submissions, the stamp was approved for creation and distribution.
The probability of having a stamp suggestion accepted and produced by the USPS is a rare occurrence, as its stamp advisory committee in Washington, D.C., receives approximately 50,000 stamp submissions each year, and states can go decades before having one approved. An element that adds to the aloha value of the stamp is that the images taken by local photographer Ric Noyle for the book are the same as those featured on the stamps.
"The USPS art directors could have chosen the subject matter and could've gone with other images, but they realized that Ric's expertise and experience was noteworthy and decided to utilize his images," says Gonzales.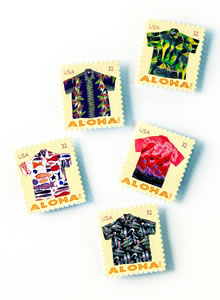 The five aloha shirt stamps. Photo courtesy USPS
Noyle's ability to capture the essence of each shirt was quite revolutionary for the time, as digital photography was just creaking into the photo industry. Of the 570 shirts Noyle photographed for the book, all were taken by a 4-by-5-inch digital camera, which takes approximately 15 to 20 minutes to produce one photo, but also generated a vividness and clarity that was unprecedented at the time.
"I really got into digital not to speed up the process, but because of the high quality I could garner. Originally Dale came to me with eight shirts to shoot, and then he would find 12 more and ask me to shoot those. Obviously we got to know each other quite well, and I saw how fanatical he was about obtaining these incredible shirts, which, if this book hadn't been made, would have been lost in history," says Noyle.
There will be five distinct stamps representing five separate shirts each with a pattern and design that spotlights images associated with Hawaii. Two of the five will depict our surfing community, one of the Islands' volcanic creation through an image of Kilauea, another of the ocean and sea life with fossil fish, shells and sea star designs, and rounding it out, the final stamp will accent a bird of paradise flower.
"The shirts are all from the 1950s and they sort of celebrate and commemorate an era that, to me, was when printing aloha shirts was the nicest," adds Hope. "This is one form of spreading our Islands out there to the world in a positive light. I think we've got great representation here with some fantastic icons."
On Jan. 19 starting at 2:30 p.m. at the Honolulu main airport post office, the official unveiling of Hawaii's iconic Aloha Shirts stamps will take place with an official dedication by Gov. Neil Abercrombie as well the whole story by Hope and Noyle.
For those interested in purchasing these collectible stamps, there will be a special sales site at the unveiling from 1 to 4:30 p.m. The stamps also will be available for purchase Jan. 19 by calling 1-800-782-6724 or visiting USPS.com.
Page 1 of 1 pages for this story
Most Recent Comment(s):