Who is Hawaii's Top Poker Player
That's what will be decided in a new TV reality show, Hawaii's Big Deal, which begins production next week

Wednesday - July 21, 2010
By
.(JavaScript must be enabled to view this email address)
E-mail this story | Print this page | Archive | RSS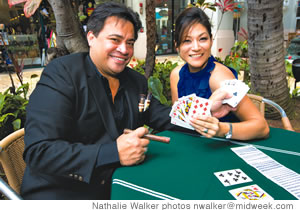 Greg Hammer, the show's host, with Liz Hata-Watanabe
That's what will be decided in a new TV reality show, Hawaii's Big Deal, which begins production next week
It's time to play the cards you're dealt, go all-in or fold at Hawaii's first reality poker tournament filmed for charity.
Hawaii's Big Deal, set to start filming this month at Aloha Tower Market-place, features a gambling-free tournament for local poker buffs and novices alike (ages 21-plus) where contestants vie to win the chance to enter an official poker tournament in Las Vegas, all while raising social awareness for the Hata Foundation, a 501(c)(3) status organization that also partners with other Island-based charitable organizations to promote and execute the mission of maintaining the health and well-being of local children and families.
"I started the foundation in memory of my grandparents and was just trying to get our name out there, so we had to come up with an unconventional, out-ofthe-box theme to get ourselves recognized," says Liz Hata-Watanabe, founder of the Hata Foundation. "We did some research and found that more than 248,000 people from Hawaii fly from here straight to Vegas each year, and more than a third of those people are avid poker players. Having realized that, we thought it'd be a really great demographic to focus on, being that most would rather save their money and play here than travel all the way to Vegas to play competitively.
"The effort is really to put the 'fun' back in fundraising and draw attention to our cause."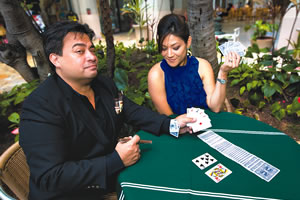 The show/tournament will begin with 50 players
The show's first episode premieres at 5:30 p.m. Aug. 7 on KHON and will run every Saturday thereafter. The debut will feature 50 contestants selected from applications received online and will showcase a preliminary tournament, narrowing the contestants from 50 to 20. Once the 20 finalists are named, play will commence at the Aloha Tower Marketplace every other Monday starting July 26 where the general public can view the tournament live in action at no charge. On Mondays when the show is not filming, mini tournaments open to the public will be offered to promote the show. Hawaii's Big Deal reruns will also be aired weekly on the CW.
"During the show we'll get to see the contestants' hands and watch them play, of course, but we're also going to be showcasing their lives and goals, aspirations, trials and tribulations," Hata-Watanabe says. "We want to get to know them on a personal level and find out their stories, as well as get the individual winners and audience to conceptualize and realize that everyone can make a difference.
"We really try to get to know each and every single contestant. It's not your typical ESPN Poker After Dark tournament, so if that's what you're expecting, you're in for a big surprise."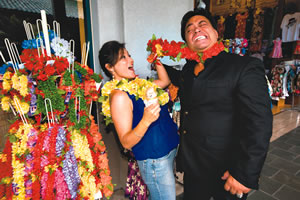 The first show airs on KHON Aug. 7
All second-round winners will receive a three-day stay for two at the Golden Nugget Resort and Casino, limo service to and from the airport, a food allowance, show tickets, mini in-house tournament entries and spa entry passes, and progress to the third and final round of the tournament to face off against winners from each of the season's episodes in a "Best of the Best" showcase, all for a shot at the big enchilada: entry into the Poker After Dark tournament, set for July 4, 2011 in Las Vegas. The grand prize winner will also have the opportunity to meet and play with a nationally acclaimed poker celebrity.
"There's an incredible amount of sensationalism about being Hawaii's first something," Hata-Watanabe says. "With all the hype, who wouldn't want to be Hawaii's own first poker champion?"
Chips have no monetary value, there is no buy-in and the "house" makes no profit from the show or tournament play.
For more information or to register as a contestant for future seasons of the show, visit hawaiisbigdeal.com.
The Hata Foundation assists families facing medical, financial and/or educational challenges, and motivates, educates and inspires them to reach their full potential. The primary mission of The Hata Foundation is to strengthen and support the family unit by meeting immediate needs.
To donate to the Hata Foundation, visit thehatafoundation.org. Further, Hata-Watanabe adds that though the two groups share the Hata legacy and name, Y. Hata & Co. and the Hata Foundation have no affiliation with Hawaii's Big Deal.
Page 1 of 1 pages for this story
Most Recent Comment(s):