Kikaida: First Among Heroes
Kikaida Brothers, Kamen Rider V3 and other Japanese super heroes come to the rescue this weekend at Shirokiya

Wednesday - May 19, 2010
By
.(JavaScript must be enabled to view this email address)
E-mail this story | Print this page | Archive | RSS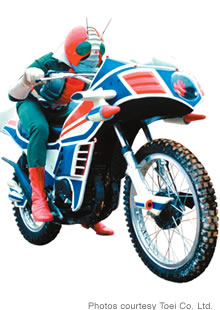 Kamen V3 Rider rides into Shirokiya this weekend for a Kikaida Generation celebration
With all the doom and gloom in the news recently - oil spills, volcanos, celebrity cheating scandals, oh my! - it seems we're about due to have a hero swoop in and save the day.
Iron Man and Robin Hood are a little busy with their film careers right now, and by the looks of movie trailers, Shrek, Donkey and Puss in
Boots won't be much help either.
But never fear, because this Sunday from 2 to 3:30 p.m. JN Productions and Generation Kikaida present a posse of Japanese super heroes in "Kikaida Brothers! And The Return Of Kamen Rider V3" at Shirokiya.
The all-star lineup is headlined by the Kikaida Brothers, Kamen Rider V3 and Inazuman, some of the most-popular characters of the tokusatsu (live action) series produced by Toei Studios in the 1970s.
"It started with Kikaida on VHF Channel 13 (now KHNL) in 1973," says Joanne Ninomiya, president of JN Productions. "Kikaida, the red, yellow and blue super android, captured the hearts and minds of all the 3- to 12-year-olds (and older) in Hawaii. Kikaida was followed by Kikaida 01, Kamen Rider V3 and Inazuman ... but here in Hawaii, audiences simply cannot forget Kikaida.
"And maybe," she adds, "because Kikaida was the very first Japanese super hero to hit Hawaii (he remains popular today). Until then, the heroes were Superman, Batman, Spider-Man - all Western heroes."
Ban Daisuke, who played the beloved android and his human alter-ego Jiro, will be on hand to sign autographs and take photos with fans old and new.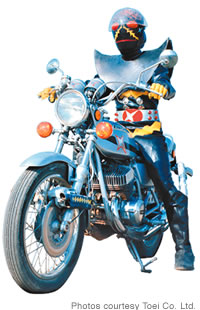 Villian Hakaida stands no chance against Kikaida Brothers and other tokusatsu super heroes
There also will be free Kikaida Karaoke and a drawing to win DVD box sets from Generation Kikaida, including the newly reissued Kamen Rider V3 series.
"Kamen Rider V3 is popular among hard-core action fans," Ninomiya explains, adding that JN Productions brought back the box set due to high demand. "Back in the '70s, the story may have been a little harder to grasp than Kikaida, but even today Kamen Rider V3 has a large, worldwide following."
"Kikaida Brothers! And The Return Of Kamen Rider V3" is geared specifically toward Generation Kikaida's core fan base - men in their 30s and 40s - because they are the ones who have stood by their idol these past 38 years.
"Girls had their Barbie dolls, but boys will always be boys," she says with a laugh, "and a lot of them still cling to their childhood heroes. It's heart-warming to see grown men standing in line with their kids at Shirokiya to take pictures with their favorite Japanese super heroes."
Along with the good guys will be familiar baddies Hakaida and the Dark Destructoid monsters. But Daisuke and all the other super heroes will be standing guard to protect and inject some lighthearted good fun into the day.
"I think Ban loves (being known as Jiro/Kikaida)," Ninomiya says. "The Hawaiian people are so warm and generous with their support for him, and he feels very comfortable here. He has grasped completely the local culture and loves Ala Moana Center."
Admission to "Kikaida Brothers! And The Return Of Kamen Rider V3" is free, and your wallet will be spared some more by the Generation Kikaida items on sale. Shirokiya also is offering a free gift with purchase of the Kamen Rider V3 box set for a limited time. For more information, visit www.generationkikaida.com.
"It's nostalgia from the past," says Ninomiya. "It's exciting for us that the tokusatsu DVDs that we're producing are from the '70s, when it was in its heyday, and die-hard fans are rediscovering the shows.
"Tokusatsu is only being noticed now, so we've only touched the tip of the iceberg."
Page 1 of 1 pages for this story
Most Recent Comment(s):