The Wahine of MMA
MMA is male-dominated, but women are stepping into the octagon, including these two local fighters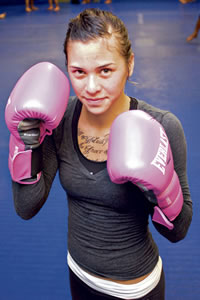 Kailin Curran (left) defeated Vee Vickers at 808 Battleground's War of Warriors at The Waterfront at Aloha Tower Feb. 25 to win the 125-pound female title. Nicole Kato photos
Despite mixed martial arts' masculine beginnings it's descended from the ancient Greek Olympic competition "pankration," which was limited to just two divisions, men and boys MMA is becoming more and more popular with women. And while female fighting got off to a slow start, more women are making a name in the sport, both here and on the Mainland.
Which in turn draws respect and acknowledgement from fellow fighters and spectators alike for mastering diverse fighting styles: striking (standing game) and grappling (ground game) techniques that include boxing, Brazilian jiu-jitsu, Muay Thai, wrestling, kickboxing, karate, judo and other styles.
Here's a look at two local girls who are getting noticed.
Curran, a 20-year-old Ewa native, has been wrestling since high school, and her dad pushed her to train. She defeated Ka'ano Kulukulualani because of a rearnaked choke at Maui No Ka O'i in 2010 to win her MMA debut fight. She wrestled for six years and also did kickboxing since 2006.
"Wrestling is somewhat similar to MMA as far as the takedowns and pressuring your opponent on the ground. Also, wrestling in high school (Campbell) taught me discipline, how to be a oneman team and how to work hard on my own," Curran says. She works on her ground game at O2 Academy and works on her stand-up game with her boyfriend Lowen Tynanes (who is also a fighter), as well as at Animal House Gym in Ewa Beach under Rick Lee.
"It really is a lifestyle," she explains. "It's better than fighting in the streets; you have to be technical and disciplined, and you have to watch your diet."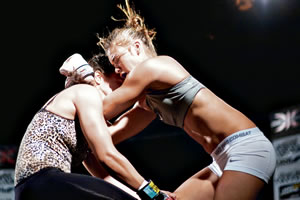 Kailin Curran in action en route to a 3-0 career start. Greg Honda photo
She loves the independence of the sport, as well. She doesn't have to rely on anyone but herself, "although you need a coach to train and correct you and to give you advice, once you're in there, it's all you alone," she explains.
The anxious feelings don't usually hit until two bouts before hers. With her earbuds in, she tunes everything out in preparation. "I really wake up when I get hit," Curran admits. Her focus stays strong in the ring and doesn't wane between rounds. "During breaks the stuff my corner tells me goes in and out of my ears sometimes," she explained. "But I always try to listen to what they're saying."
While she normally gets a lot of good feedback, there are some who don't feel her hobby is suited for a woman. "One time, this old man told me, 'It's a shame when girls get in the ring and fight. You're so pretty,'" Curran recalls. She knows the risks, but that doesn't stop her. "The black and blues are temporary," she said with a smile. Her outlook on her MMA hobby shows her resilience. "I get in there knowing I'm going to be kicked and hit," Curran comments.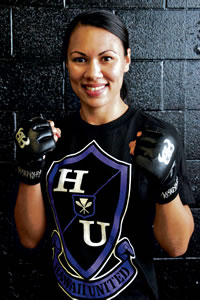 Raquel Pa'aluhi (right) defeated Nikohl Johnson by TKO with 2:06 left in round three at X-1 World Events' Champions 3 March 12 at the Blaisdell to win the women's 135-pound state title.
During her second MMA fight, she had a scraped chin and a slight black eye, but that disappeared after a couple days. "I hope I don't ever encounter battle scars. It'll mess up my modeling career. Just kidding," she adds.
Curran was supposed to fight at Destiny's "Past, Present, Future" Oct. 21, which was cancelled because of rainy conditions, and she's in training for her fight with Yarnisha Lyons, which still needs to be rescheduled with Destiny. Curran's record is 3-0. Her first win was by rearnaked choke, and her second and third wins were by referee stoppage.
"You need to be confident in yourself," Curran concludes.
While MMA is a male-dominated sport, she feels it's an honor to be one of the few females from Hawaii who have been around the sport long enough. "If anything, I think a lot of people love watching girls actually fighting in the ring," she says.
MMA isn't a hobby for Raquel "Rocky" Pa'aluhi. It's her lifestyle and something she's trying to make a career. Those in her life are supportive of what she does, and she's grateful for that anything negative she leaves on the back burner.
For her, there's something special about fighting MMA. "You get in the cage with your opponent and fight until the finish," says Pa'aluhi. "I live for that rush and that excitement. People may think it's not ladylike to fight, but I think otherwise."
She feels that she lives in a different day and age and refuses to work a 9-to-5 job that she hates for the rest of her life: "I'd rather chase my dreams and do what I love until my body won't let me."
Pa'aluhi wrestled in high school (Waianae) and for a year in college (Jamestown in North Dakota). Her goal since she was in high school was to go to the 2012 Olympics.
She gave up
Page 1 of 2 pages for this story 1 2 >
Most Recent Comment(s):