For the love of hula
With no competition, just celebration, and danced outdoors on a traditional hula mound, the Prince Lot Hula Festival is the anti-Merrie Monarch

Wednesday - July 14, 2010
By
.(JavaScript must be enabled to view this email address)
E-mail this story | Print this page | Archive | RSS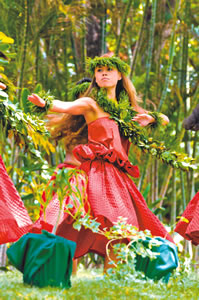 The natural setting at Moanalua Gardens is unsurpassed
Think "Hawaii" and you think "hula." Perhaps your first images are of luaus, performances for tourists in Waikiki or souvenir packages of grass skirts and coconuts.
A truer glimpse into the traditional dance practice at the heart of Hawaii's culture can be found July 17 at the annual Prince Lot Hula Festival at Moanalua Gardens. This year's theme is Na Punawai o Moanalua or The Wellspring of Moanalua. From 9 a.m. to 4 p.m. Moanalua Gardens will flow with abundance as the natural beauty of the land rings with the chanting of powerful voices and the graceful movements of some of Hawaii's finest halau. Activities include food booths and a variety of Hawaiian crafts and demonstrations. Rather than charge admission, $5 keepsake buttons will be available to visitors (www.moanaluagardensfoundation.org).
The festival is named after Prince Lot Kapuaiwa, who reigned as King Kamehameha V from 1863 to '72. As much as the first Kamehameha is famous for his fierceness in battle, the last of the Kamehamehas is known for his peaceful rebellion and devotion to hula.
"Prince Lot had to go underground and he used to travel from Waianae into the gardens area, and quietly and secretly reintroduce the hula, Prince Lot helped to keep the culture alive."
The prince's summer cottage can still be seen on the grounds, where he often hosted pa'ina or parties. In his honor, the festival opens with the introduction of the royal court.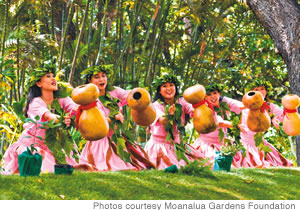 Hula Hala Ka No'eau performs at last year's Prince Lot Hula Festival
Thirty-three years of the Prince Lot Hula Festival also is a modern success story. Where colonial edicts once threatened the hula tradition, financial struggle and a change in ownership spelled an imminent end to the Prince Lot festival about six years ago. A MidWeek story at the time said that year's festival would likely be the last. Jamile, serious about MGF's mission "to preserve and perpetuate the history of native culture and environment of Hawaii" and a self-labeled "fixer of things that cannot be fixed," got busy garnering support from organizations that include the Hawaii Tourism Authority, OHA, Kamehameha Schools, private businesses and donors, as well as the garden's current owner, Kaimana Ventures. The festival, which attracted a couple thousand visitors about 10 years ago, now draws an audience of 10,000 from all over the world.
A unique quality of the Prince Lot hula performances is that they are non-competitive. Kumu hula Manu Boyd explains the significance:
"We have become so accustomed to Merrie Monarch, and everybody sort of judges the value or the validity and the strength of the halau by a one-number performance - so one dance, one costume and that's it. That's not a traditional way of doing it. Prince Lot allows doing five or six mele, different chants, in a specific order. It's not just a show, it's a ceremony with protocols attached to it." The dances are performed on a special pa, or hula mound, consecrated in traditional style in the 1980s solely for the sake of the annual festival. Boyd further describes the importance of the location:
"It's outdoors, under a beautiful canopy of trees. We are so accustomed to being in a gymnasium or stadium or ballroom, that the idea of actually doing meles that are generations old in an area that has a rich history - it is such a good opportunity for dancers to feel that connection to the past."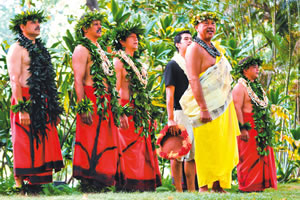 Robert Cazimero (in yellow) and his men of Na Kamalei
Fellow kumu hula Vicky Holt Takamine, the only kumu whose halau will have participated in the festival for all 33 years, also speaks to the deeper meaning of hula.
"I tend to take chants that have been composed by our elders, kupuna, from generations before and bring those mele back to this generation, otherwise they'll get lost," says Takamine. "It's those stories that help to remind us where we come from and what our ancestors were thinking about, and how they related to the land and the natural resources."
She points out that many of the kumu hula who performed in the first Prince Lot festival have passed away, underlining the importance of perpetuation. Prince Lot, she says, is a rare opportunity for an entire halau "from keiki to kupuna, from the novice to the experienced" to celebrate hula. Takamine has a special historic connection to the festival as her great-great-grandparents were close companions of Prince Lot, and she has family ties to the Damon ohana, who received the land that would become Moanalua Gardens as a gift from Princess Bernice Pauahi Bishop. While on the
Page 1 of 2 pages for this story 1 2 >
Most Recent Comment(s):