Is Your Child Secretly Sexting?
'MidWeek' spoke with the experts about this alarming teen trend that's sweeping the nation. Sexting is the disturbing new word to describe the more disturbing new trend of sending nude or semi-nude photos or videos electronically, which includes cell phones and computers. In Hawaii, child pornography constitutes any pornographic visual representation, including photos, videos and computer-generated images that show anyone younger than 18.

Wednesday - March 24, 2010
By
.(JavaScript must be enabled to view this email address)
E-mail this story | Print this page | Archive | RSS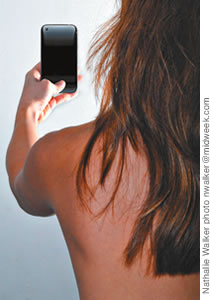 Teenagers are sending nude and/or seductive photos electronically
Sexting is the disturbing new word to describe the more disturbing new trend of sending nude or semi-nude photos or videos electronically, which includes cell phones and computers.
Alarming sexting reports have peppered the news: A 13-year-old Florida girl hung herself last year after a topless photo she sent to a boy to gain his attention circulated the school and led to bullying and teasing. Another 18-year-old Ohio teen committed suicide early last year after sending nude pictures of herself to her boyfriend, and when they broke up, he sent them to others in their high school. An 18-year-old from Florida, who e-mailed nude photographs of his 16-year-old former girlfriend to 70 people, is now a registered sex offender for the next 20 years and is serving five years probation. Earlier this year, a Wisconsin teen was sentenced to 15 years in prison after using a fake Facebook profile, pretending to be a girl to lure 30 high school boys to send him nude photos or videos and then threatened to post those photos unless they performed sexual acts with him. Seven of the boys say they did so.
Upon researching how serious this problem is here in our state, both the state Department of Education and the Honolulu Police Department pointed MidWeek to one man, Chris Duque, cybersafety specialist and retired HPD detective who spent 30 years serving our state. But more than that, Duque has spent years visiting schools to educate students and parents on the consequences and dangers of sexting and other Internet-related crimes, using his experience in the Criminal Investigation Division, where he specialized in cybercrime investigations and computer forensics.
"This sexting issue is actually an evolving issue. In the early '90s, there were chat rooms as a means of exchanging of sexual banter," says Duque, who helped form the Hawaii Internet Crimes Against Children Task Force in 1999. "That led to sexually explicit text messaging. Then when we started multimedia messaging with photos and videos being sent as attachment, it now becomes visual and audio, so this ups the ante. And that's how we've come to the current problem of sexting."
And the problem with sexting is that it segues into serious crimes - extortion, sexual assault and child pornography.
In Hawaii, child pornography constitutes any pornographic visual representation, including photos, videos and computer-generated images that show anyone younger than 18.
As Duque explains, a production of child pornography conviction in the state of Hawaii is punishable by 20 years in prison and $50,000 fine, another $10,000 fine and five years in jail for possession, and $25,000 for distribution.
"Yeah, a minor won't be sentenced to prison, but their parents will be looking to pay the fines," says Duque, who has testified in state and federal child pornography cases. "And if you're convicted, you'll be required by law to register as a sex offender - and that's all parties involved, including the person who sent the image of him or herself. So this impacts your entire future."
For many affected by sexting, it's the non-legal consequences that make the action most regrettable. There's emotional damage that come from teasing, taunting, cyberbullying and harassment from those who've seen the photo or video. Reputations are destroyed, and for some, the embarrassment and harassment become too much to bear and lives are lost.
These heavy consequences are up against some staggering numbers. According to the national campaign A Thin Line, which aims to get the word out on the dangers of sexting, three in 10 teens and young adults have been involved in sexting, nearly one in five sext recipients have passed on the sext to someone else, and 61 percent of those who sent a sext say they were pressured to do so at least once.
"I don't know exactly where Hawaii stands with this, but I don't think we're too far off," says Lt. Gov. James "Duke" Aiona, a former city prosecuter, city attorney, state judge, and father of four. "I had the experience, maybe about a couple years ago, an anonymous parent from a school on the Leeward side sent me a whole binder of prints of photos on an Internet site of a group of girls and boys who were sending and posting these type of photos. So I've gotta assume that we're not too far behind the national numbers. It's a big concern."
Some call it a national epidemic. Truly, for the young lives that have been lost and their families that now grieve them, this is a serious issue that cannot go ignored.
Thanks in part to efforts by some of the families affected by sexting, this issue has prompted states to pass new bills, including ones in Utah, Vermont and Ohio, that create separate juvenile misdemeanor offenses for teens (minors) who send sexts. Arizona and Pennsylvania also are looking into similar sexting bills this year.
"There are criminal consequences, but I think the real deterrence is going to have to come from the shift in the attitude and the culture," says Aiona. "This is where we as parents and school administrators really need to put the clamps on this stuff."
The DOE has issued a statement in regard to policies on sexting: "With the new amendments to Chapter 19 (student misconduct, discipline, school searches and seizures, reporting offenses, police interviews and arrests, and restitution for vandalism), cyberbullying is now included as an offense. And for Chapter 19 offenses, disciplinary action is determined by the school administrator."
The document goes on to list cyberbullying as a class B offense, alongside disorderly conduct, forgery, harassment, etc. However, Duque points out, cyberbullying and sexting are different matters that require separate attention.
"Unfortunately, with the DOE, is that they have this Chapter 19 that defines what cyberbullying is, but they don't give enough direction to the principals on discipline or what the penalties are," says Duque. "Some schools take it very seriously and expel students or issue suspensions, some schools do not. To me, this needs to be standardized, but right now the only standardization they've got is the definition."
At the request of the DOE and nearly all private schools throughout the state, Duque spends a lot of his time conducting workshops on campus to discuss sexting and other Internet-related crimes.
"When I do my presentation, first I talk to the school about liability of failing to discipline, and even the liabilities when they discipline the child because of the lack of (DOE) policies. Then I talk to the parents to let them know their responsibilities, so then by the time I talk to the kids, if they need help, both adult parties know what to do. What happens a lot of times is the school says it's not their role and the parents are saying it's not my job, and so nothing happens. Now you've got a kid who's confused because the adults are failing to protect the kids."
Almost as controversial as the act itself is the question of responsibility. Is the child, the parent or the school responsible?
"Talking to the kids, there's been enough dialogue to know that it's happening here in Hawaii," says Duque. "But I do think that they're wising up. The ones who are clueless are the parents."
Parents are encouraged to communicate with their children and ask questions. Ask them what they know and discuss the dangers with them in a non-confrontational way.
"As parents, we need to get involved and know what our children are doing on the Internet and on their cell phones," says Aiona. "The first line of defense is to let them know that this isn't acceptable behavior. We need to get out there and let teens know the consequences, which could mean a criminal record, as well as the embarrassment when it's shown to others."
The safety and security of a child begins in the home. It's the responsibility of the parent to teach their child ethical use of every piece of technology they are given or have access to, especially cell phones and computers. Parents should never take for granted that their child knows better.
"So many parents rely on the schools to teach their children ethical behavior, which is not the school's role," says Duque. "The schools should be teaching academics, not ethical behavior."
Parents should always monitor their child's cell phone and Internet use. Software that provide blocks or restrictions are options to consider, but, it should not be treated as the only protection.
"Kids will find ways around it," says Duque. "I see fourth-graders show me how to get around these blocks. So instead of spending money on these softwares, parents should be more focused on their communication skills. Spend some time with your child and be a parent."
Remember that there's no such thing as safe sexting - and nothing private about it either. What seems like an intimate photo sent to a boyfriend/girlfriend can and most likely will reach the hands of others. There's far better ways to make a lasting impression.
A picture is worth a thousand words - what message will yours be sending?
Anyone feeling pressured about sexting is encouraged to speak to a trusted adult, or call the National Teen Dating Abuse Helpline at 1-866-331-9474. Parents: For guidelines on how to keep your child safe, visit the Hawaii Internet Crimes Against Children Task Force Web site at http://hawaii.gov/ag/hicac/
Page 1 of 1 pages for this story
Most Recent Comment(s):