Up On The Roof
A Waimanalo market-cafe leads the way with a rooftop garden, growing much of the produce for its daily needs

Wednesday - September 28, 2011
By
.(JavaScript must be enabled to view this email address)
E-mail this story | Print this page | Archive | RSS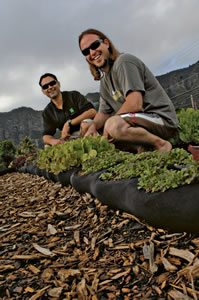 Kevin Vaccarello (right) and Alan Joaquin. Nathalie Walker photo

.(JavaScript must be enabled to view this email address)
As for the roof farm, Joaquin is like a farmer for hire, leasing roof space from Vaccarello who in turn purchases the specialty organic crops. The two men hope to overproduce so that they can sell their nutrient rich greens at farmers markets and get samples out to chefs to get the community invested in the experience.
"It's a no-brainer," says Joaquin. "Who doesn't want to support a business in Hawaii that employs local people, protects the environment and uses growing practices that produce healthy foods, that keep medical expenses down, work absentees lower, and diabetes and obesity reduced? It's a grassroots effort in the super early stages, but it's going to become more viable as the early adopter stage gets to mass acceptance. Why have lettuce from 3,800 miles away when it can come from eight feet above our heads? All I need is someone to say do it and it's done."
FarmRoof is already taking off. Two new FarmRoofs are in the works for Kaka'ako, and the company is in the beginning stages of a partnership with Kamehameha Schools. The KCC Farmer's Market sells FarmRoof Greens at the college's Culinary Arts Department booth under the label "KCC Super Sustainable Salad," touting the "super nutrient content and super sustainable origin" of the crop. FarmRoof also is being featured in the film Ingredients Hawaii, which has its world premiere at the 2011 HIFF coming up in October, and Joaquin will be among the world famous food elite when he speaks on day two (Sept. 30) of the annual Hawaii Food & Wine Festival in a Table Talk presentation titled "Ideas, Innovations and Inspiration."
The video of the FarmRoof installation was such a hit that when Joaquin and Vaccarello set a date for the public to enjoy a rooftop farm tour, they were instantly overbooked.
"The demand is there," notes Vaccarello. "Everyone who comes to the café finds the FarmRoof pretty fascinating. I want to turn Sweet Home into a community center so that it's an enjoyable and transformative experience. People will come, check out the roof, see that we have a PV system, water and waste management, that we're recycling and composting. Just by eating the food and loving the flavors, they'll start to become part of the solution.
"There's hundreds of acres of viable roofs that can be used to grow food, and aesthetically it would look really nice to have fields of green out there. Imagine if people fly in and see the green paradise that they expect."
What a tasty vision indeed!
Page 2 of 2 pages for this story < 1 2
Most Recent Comment(s):