Biking With The Blind
With another cyclist providing the eyes, blind bikers enjoy the wind in their face and the thrill of the road. Don't worry.

Wednesday - May 26, 2010
By
.(JavaScript must be enabled to view this email address)
E-mail this story | Print this page | Archive | RSS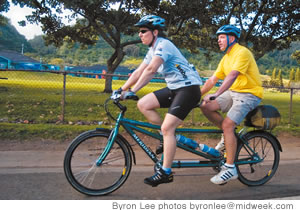 Carol Fontanive and Dean Georgiev are in perfect sync riding tandem in the John B. Kelley Haleiwa Metric Century Ride
Don't worry. Being the stoker on a tandem bike is a lot like being a passenger on a plane - you don't have any control of the situation, so you may as well just enjoy the ride."
Those are the words meant to calm my nerves before setting out on my first tandem bike experience around bustling Kapahulu. I was the stoker, or the cyclist on the back of the bicycle-built-for-two, and Frank Smith, owner of Island Triathlon & Bike, was my captain, the one in control of the gears, brakes, steering - and my life.
As a stoker, you must have complete confidence in your captain. You also have to keep the lines of communication open because while the stoker can see where she's going, she has to trust that the captain will get them where they need to go.
Oh, yeah, and keep up with the captain's peddling pace.
So after my initiation into tandem biking, I cannot imagine what it must be like to be a blind stoker, riding 100 kilometers (roughly 62.1 miles) along twisty North Shore roads with 800 other avid, sighted cyclists.
But that's exactly what Dean Georgiev accomplished April 25 when he and captain Carol Fontanive rode the full length of the John B. Kelley Haleiwa Metric Century Ride.
"This was a really great opportunity because I can't ride a bike alone now, so I've got someone on the front end and I pull my weight on the back end," says Georgiev, who also has competed in power lifting, track and field, a few Great Aloha Runs and even a marathon. In fact, he was personally invited to ride in the big daddy of Hawaii cycling events, the Honolulu Century Ride, this September.
"I used to ride a long time ago," he adds, "when I used to see a lot better than
I do now."
Georgiev says he has been legally blind since birth because of a genetic condition. While he was able to see blurred shapes and images in his youth, by the time he hit college his sight had deteriorated to where he could only perceive light.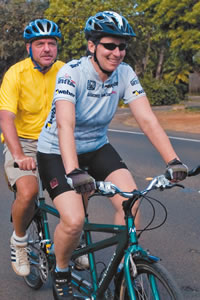 Dean Georgiev and Carol Fontanive
"To tell you the truth, I don't ever look at myself as a blind person. It's a bigger deal to others than it is to me," Georgiev says. "I just had an opportunity to be a part of something that I could do with somebody's help."
Which is exactly what he imparts to his students at Ho'opono, a branch of the Division of Vocational Rehabilitation under the state Department of Human Services that provides free specialized services to those who are blind, both deaf and blind or visually impaired.
As a technology instructor, Georgiev teaches computer science on PCs adapted with voice-output software.
"All they can't do is see a picture," he jokes.
It was through Ho'opono that Georgiev met Barton and Beth Cox. The husband-wife team founded Hawaii On Tandems (HOT) and its sub-club Blind Stokers of Hawaii by accident - both figuratively and literally.
"It was about four years ago, right after my crash in '06," says Beth, describing how a solo bike excursion down Monsarrat Avenue resulted in seven broken ribs, a punctured lung and broken clavicle.
"I had to be in the hospital for a week. It was miserable," she remembers. "We talked about getting back into riding, and we got Sir Walter (the name lovingly given to their first tandem bike) the weekend after I got out of the hospital!"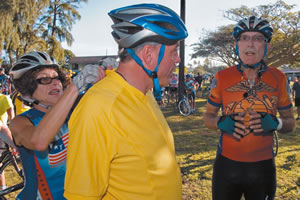 Beth Cox fastens Georgiev's race number to the back of his jersey minutes before the start of the ride
While both were experienced riders having completed cycling events and triathlons, they admit it did take some time to get used to riding as a unit. But after a few training sessions with Hawaii Bicycling League's Heavy Breathers cycling group, Beth overcame her uneasiness and they have been biking together ever since.
Last summer they traveled to the Northwest Tandem Rally, one of the largest gatherings of tandem bike enthusiasts in North America. Among the crowd was a group from San Diego, the Blind Stokers Club.
"We thought, 'Well, that's neat,'" Barton recalls. "So when we got back I started asking around about how to get in touch with the blind community."
His search led him to Ho'opono.
"When we met with them, they were very interested," Barton says. "There were four blind people ..."
"Five," Beth quickly corrects.
"Five blind people," Barton continues, "who we met with originally, and one of them was Dean, and they all seemed very enthusiastic."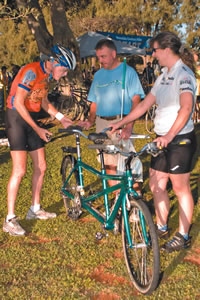 Barton Cox and Carol Fontanive help Georgiev adjust the stoker's seat
From there the Blind Stokers of Hawaii was born. Barton gathers captains from HOT and other cycling groups, while Georgiev recruits students and staff from Ho'opono. Those new to the group get a quick tutorial from Barton and Beth at IT&B before pairing off and departing on a leisurely ride out to Makapuu.
"We try to get people to experience it, at first just recreationally, see if you're interested, and if you are you can come back and get involved more in it," Georgiev says. "It's not that difficult. I just follow the lead of the captain. The captain knows what it is they want to do, and we work it out. And because the pedals are in sync, I get a good feel for what they're doing.
"It's good fitness. It's good togetherness."
The Blind Stokers Of Hawaii meets at 3 p.m. every Sunday at IT&B, 569 Kapahulu Ave. Distances vary from 12 to 24 miles, depending on each captain and stoker's own abilities.
"We have so many interested blind people we have to rotate every week to give everyone a chance," Barton says. "They all arrive with smiles on their faces, and those smiles continue throughout their experience."
But, he adds, that high demand is conflicted with the fledgling program's low supply of tandem bikes and competent captains.
"We need tandem bicycles and volunteer captains," Barton says. "If you have a tandem bicycle you're not currently using, please consider making it available to Ho'opono for use by the blind stokers. Or you can loan it to us. We'll keep it well-maintained and replace tires, chains, cables, etc., as needed, at our expense."
For those who might be interested in being a captain, he says, "Do you have experience riding a bicycle? If the answer is no, then get a bike, learn how to ride and call us. If the answer is yes, then we'll train you."
To volunteer or to donate your tandem to Friends Of Ho'opono, call 545-5884 or 271-5340.
"We all need help sometimes to do certain things," Georgiev says. "We don't put fillings in our own teeth, right? We go to a dentist. I need somebody to see for me on a bike, and that's what they provide.
"Every morning I wake up and say, 'Oh, gosh, I can't fly.' I don't bother to obsess with the fact that I can't; it's just a matter of how am I going to get done what other people do. Sometimes I'll need other people's help, sometimes I'll be able to help other people. It's just a matter of adjusting to it."
And enjoying the ride.
Page 1 of 1 pages for this story
Most Recent Comment(s):