The Other Two-wheel Gas-saver
Trying to save money on the rising cost of transportation? The Segway scooter offers a green alternative for getting where you need to go, plus it's a lot of fun to ride

Wednesday - April 06, 2011
By
.(JavaScript must be enabled to view this email address)
E-mail this story | Print this page | Archive | RSS
On March 26, the Honolulu Star-Advertiser reported the price of gas had increased 11 cents in a week, pushing prices to an average on Oahu of $4.07 a gallon. Since then, it's only gotten higher, with some predicting $5 by summer.
As anyone in the automotive industry will tell you, as the prices go up so does interest in gas-saving vehicles. It was probably no coincidence that two of the most popular vehicles at the First Hawaiian International Auto Show were the Chevy Volt Hybrid and Toyota Prius.
But while consumers flock to smaller cars, mopeds and motorcycles as a way to cut transportation costs, there is an alternative that most don't consider - the Segway scooter.
Yes, the high-tech sidewalk speedster most associated with shopping mall security is slowly catching on as a green transportation alternative.
"Gas is now over $4 a gallon and all of a sudden the light bulbs go on and people are realizing 'I can actually go to work on that,'" says Segway of Hawaii owner Alan Rice. "You can go from Waikiki to downtown in 10-12 minutes, and many times that's faster than in a car."
Though Rice has been taking visitors and, more recently, locals on tours of Chinatown and Diamond Head since 2006, the perception remains that the scooters are no more than a fun diversion. And it's no wonder. The 100-pound vehicles are a blast to ride.
What first appears to be an unsteady platform quickly transforms into an easily controlled ride as it takes just a matter of minutes to master the vehicle. If you've ever snow skied, you have a basic idea of how to operate a Segway. The scooter goes where your body tells it. Want to go straight? Lean slightly forward. To go faster just lean a little more. To back up or stop, press down on your heels. To turn left, right or the never-gets-old 360-degree spin, simply lean in that direction. And while the sidewalks do seem crowded, there is actually more room than you would think. Plus, the raised height of the scooter allows the rider a better view of his or her surroundings, making it safer.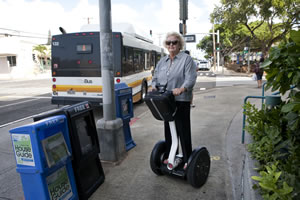 Jeanne Datz Rice and her husband Alan own the Segway franchise in Hawaii
"Since 2006, when we started operating our Segway tours, with new riders every single day, moving up and down Kalakaua Avenue with the thousands of people around us, we've never had a toe rolled over, a body part hit - never had a claim," says Rice.
Segways top out at 12.5 mph, which is more than enough to safely navigate busy sidewalks. Using the InfoKey, Rice sets the speed limit on his vehicles at 8 mph for tours, and that seems just about right for sidewalk safety. For riding in bike lanes, which also is legal, he can shut off the electronic governor to cruise at top speed.
The wireless InfoKey also sets the built-in alarm. In the event someone tries to move the scooter, an alarm will sound, the wheels lock and a message is sent to the key.
Rice and his wife, the former Jeannne Datz, became Segway converts after taking a ride in California. Convinced the vehicles would be a great activity for Island visitors, the Waikiki-based couple brought the scooters to Hawaii and have become so infatuated with them that the two-wheeled vehicles are their favorite mode of transportation. They own a car but it gathers more dust than mileage. In fact, the whole family has gotten into the spirit.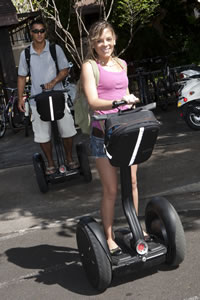 Rebecca Glover and Johnny Cayano are set to cruise /Leah Friel photos

.(JavaScript must be enabled to view this email address)
Their two sons, Michael and Ryan, ride the vehicles every day to their classes at Kapiolani Community College. They even use them to whisk away their girlfriends to movies or just about anywhere else they want to go.
Rice says that using Segways instead of cars has saved him a quite a bit of money.
"When I think about the money I saved with my kids because I didn't have to give them car payments, I didn't have to spend money on gasoline, brake pads, for oil and the other maintenance, I've saved myself a fortune," he says with a pleased laugh.
Currently the Segway is being used mostly by security companies, police and fire departments that have found that the vehicles enable them to navigate crowded areas inaccessible to their standard vehicles. Rice said he has had discussions with HPD, which is looking at the Segway as a replacement for the Cushman vehicles used by meter readers and other employees. With a range of up to 24 miles and cost about 21 cents for a complete recharge, the vehicle seems particularly suited to the job.
At about $7,000, a Segway is not cheap, and the gas savings alone may not be enough to justify the price. But according to Consumer Reports, gas prices make up just 26 percent of the cost for car ownership while depreciation, maintenance, interest and insurance make up the remaining 74 percent. Commutesolutions.org says that based on 10,000 miles of annual driving, the yearly cost of keeping your car on the road is more than $7,300. And that's with gas at $3.73 a gallon.
Rice estimates there are about 100 Segways being used on Oahu and strongly believes the numbers will increase. With operating costs on the constant rise, not to mention parking and taxes, he may be right.
Page 1 of 1 pages for this story
Most Recent Comment(s):