Reuniting With Your First Love
It took him years of searching, but Vince Pacific and his original love are together again

Wednesday - January 04, 2012
By
.(JavaScript must be enabled to view this email address)
E-mail this story | Print this page | Archive | RSS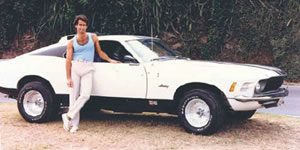 Vince Pacific with his 1970 Mustang. Photo courtesy Vince Pacific
You never forget your first love. Whether it comes in grade school, high school or sometime later, it's a bond you never outgrow.
Vince Pacific fell head-first as a 16-year-old in December 1969 when his father bought him a 1970 Mustang. He could have had a used Jaguar if he hadn't been so indifferent or the owner more agreeable to turning over the 12-cylinder British roadster to a brand new driver. He doesn't regret the lack of attention. Surrounded by Camaros, Barracudas, GTOs, Chevelles, Chargers and the like, he wanted an American car with a name, and focused on a Mustang, a red Boss 302, the same car Parnelli Jones drove to the 1970 Trans Am title.
Older heads prevailed, and he got a lesser model more fitting for the inexperienced driver.
"That was too much car for a 16-year-old," says a now older Pacific about the classic pony car. "What I got was considered a family car. It had a 351 engine with their Cruise-O-Matic 3 speed automatic transmission with no AC."
Vince's father, Joe, owner of Joe Pacific Shoe Repair at Ala Moana Center, had a couple cars, and the younger Pacific thought he'd take over one of Dad's rides. He was wrong.
"I automatically assumed that I would drive his car. My dad had a car, my mom had a car, and there was the company car. The company car was a station wagon, a Ford Country Squire. It was huge, and I don't think he liked the idea of me going around with nine or 10 people in the car."
That didn't seem to be a problem. Vince would take a friend to school at Saint Louis and drive someone else home. For those first few months, he was quite protective of his new source of freedom and wasn't about to fill it up with a bunch of messy friends.
"A lot of people wanted a ride, but I had a crazy notion that I didn't want anyone riding in the back seat. I didn't want it to get scratched up at first. Later on, I got over my strange attitude."
Growing up on Oahu in the early to mid-'70s was a great time for muscle and pony car enthusiasts. New highways and plenty of open spaces behind Hawaii Raceway Park meant a lot of room for weekend drag racing. A spotter with a CB radio would stand near the highway entrance if blue lights approached, a quick call was made and the entire area cleared out.
"I used to go there and watch but I never raced. My car wasn't a racing car. It wouldn't go past 120."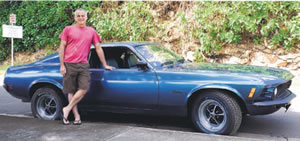 Vince Pacific with his 1970 Mustang, then(above) and now. Lawrence Tabudlo photo

.(JavaScript must be enabled to view this email address)
That wasn't true for very long.
Pacific began transforming the Mustang into a polished collectors' item. He put in a new engine, changing the 351 Windsor for a rebuilt 351 Cleveland. Then came a transmission change from an automatic to standard, a heavyduty clutch, Hurst shifter, new rear end, roll bar, paint, spoiler and other tweaks.
By '81, he had the car he wanted.
"I was going through a transition. I was playing music, traveling a bit, and you forget about your first love. It was just sitting there, and I hated to see it slowly going down, so I decided someone else might want to take care of the car, use it and enjoy it."
Four years later he sold the car for $4,600. By 1990, the old feelings started to return and he went looking for a reunion. After striking out, he bought a 1961 Buick LeSabre, but by 1995 thoughts once again drifted toward the Mustang. Another search produced no results, so he settled for a 1964 Cyclone, which was followed by a 1961 Skylark. Still, thoughts of his first car kept coming back. It turned into a regular pattern. Think about
the old car, look, find nothing, then purchase another older vehicle to restore and drive.
Finally, some good fortune arrived.
"Last year something told me to look. I figured it had to be in a junkyard or something. I got on my then-girlfriend's computer now my wife (Sandee) and there it was. It had no hood, no front quarter panels, no engine, no nothing. He (the owner) wanted like $7,000 and I offered $5,000. He brought out a folder with all the original paperwork and found out I was the original owner, and he said I'm lucky he didn't find that out before or he would have charged me a lot more," says Pacific with a smile.
Finally, the 26-year journey was over. Pacific and the Mustang were reunited. But the old girl needed work. He repainted the car, added a new engine, replaced the trunk lid and spent a lot of time fixing the fenders. But, for some very important reasons, he kept some of the imperfections that time had bestowed on the car.
"I think I felt more of a connection when I was working on it," he says, "because I took off parts that I touched 26 years ago. That's a weird kind of feeling. And then when I first washed the car, I got another weird feeling. I was going over the car that I went over 26 years ago. When I am driving, I am just enjoying the ride."
Pacific spent more time searching for his car than he's actually owned it. But that doesn't mean he'll keep it forever. Pacific is a builder of cars, motorcycles and the rentals on his Pacific Heights property. So Sandee, who thought he was "cuckoo clock" when he told her he found his original Mustang, shouldn't be surprised if another worn piece of Americana is spotted in the garage.
Check back in 2038 and we'll let you know how it's going.
Page 1 of 1 pages for this story
Most Recent Comment(s):