Rock On
People are living on the edge at Volcanic Rock Gym, Oahu's only indoor rock climbing facility

Wednesday - June 23, 2010
By
.(JavaScript must be enabled to view this email address)
E-mail this story | Print this page | Archive | RSS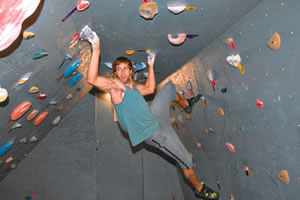 Volcanic owner Justin Ridgely climbs through the "tunnel of pain"
Rock stars get a bad rap for being rowdy, crude, chain-smoking, alcohol-guzzling, tattooed misfits who spend their days sleeping off the night before. But there's a new out-cropping of rockers on the island ready to shake that cliche.
Sure, they like to push limits and live life on the edge. And, yes, they can be a little over-the-top. But that's where the similarities end.
Well, except for the tattoos.
The members of Volcanic Rock Gym are a close-knit group who challenge themselves daily with climbs up the surfaces housed within the 3,000-square-foot facility in Waipio. Most are friends and athletes looking for a new adventure, but families also are finding strong footholds.
"Everything that had to do with body movement, she always excelled at," says Andrea Kim of 2-year-old daughter Aria, who is the gym's youngest member. "I thought, what are things we can do as a family that involve things she's already good at? So I thought rock climbing would be perfect.
"I started climbing, too," she adds, "because I thought, if I'm gonna be here for her, I might as well start."
Located inside What's Up Gymnastics, the configuration of boulders and crags, traversing walls and top-rope routes - even a cave that is climbable from every angle imaginable - offers an outlet for the island's growing climbing community.
"There are a lot of strong people here, and a lot of people who are in the position to get better and better. They just need the place to do it," says owner Justin Ridgely.
Volcanic - as it is called by its band of insiders - opened in March to "provide Hawaii a safe and exciting indoor climbing experience." The idea for such a haven came to Ridgely when he moved to the Islands last year after wife Brandie, who is in the Navy, got stationed on Oahu.
"Climbing's become part of my life, and I want to give that to more people," says the avid boulderer. FYI: Bouldering is a form of rock climbing where no ropes are used - it's just you navigating your way through the natural holds in the rocks.
"The only thing between me and the rock is the chalk and my shoes," he says. "You become a part of the landscape, and for that minute that you're climbing, you're just enjoying a part of the world that nobody else is."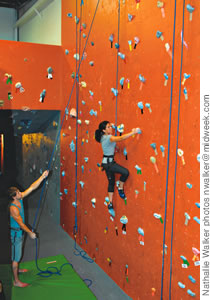 Ridgely has the writer's back as she makes her ascent up the top-rope wall
Ridgely has tackled rock formations all over the world, including Red Rocks in Las Vegas, the Gunks in New York, Bishop and Yosemite in California, and various others in Tennessee, New Mexico, Colorado, Maryland, West Virginia, Pennsylvania, Peru and the British Virgin Islands.
But because rocks in Hawaii are made of brittle basalt, outdoor climbing is often dangerous or limited to a few sites that are hard to access.
"Here we have a lot of problems with rock quality because it's a young rock, and there are layers of oxidation all over the rocks that will crumble away," he explains. "That's not saying for the whole island," he quickly adds, naming Waimea Bay as "some of the most beautiful beach bouldering there is."
Before moving to Hawaii, Ridgely had been in contact with a local group trying to set up an indoor gym for years. When progress on the project stalled, Ridgely decided to move ahead solo.
"I realized it wasn't really happening as quickly as I wanted," he says. "I just wanted to climb, and I knew other people did, so I just thought, I'll start a gym."
A former carpenter, he constructed the top-out boulder and vertical rock wall in about a month. In early June, a back room was converted into a bouldering cave, complete with a "tunnel of pain" that leads out into the gym.
And just to keep things interesting, the holds and routes on the walls change every few weeks.
"They're really good about changing it up, keeping it interesting, giving us something to reach for, some goals," says Eric Potter, who has been rock climbing for 15 years. "If you don't have smart people working on the walls and maintenance, it'll lose its luster. But these guys are really good about staying on top of it."
Tape of all colors and designs indicate pathways to the peak of the boulder and wall. Each varies in degree of difficulty, from a simple route that runs in a straight line to ones that would be a feat for even Spider-Man.
"The tape's here to give the wall more depth," Ridgely explains of the method behind this seeming madness. "Some of this looks really intimidating, but it's really not. We have things on each wall for people who have never climbed before, and we've got things for people who have been climbing for a long time. We try to make it as user-friendly as possible."
On a recent journey to Volcanic, this MidWeek reporter made her first attempts up the side of the boulder. Regular readers may know of my aversion to heights from past articles, but I'll have you know I made it up and onto the top of the structure, no problem. It was the climb and possible 14-foot fall back down that had me a little (OK, a lot) shaky.
After a little coaxing, I reached the mats in one unbroken piece. Ironically, many climbers admit to having the same fear of heights - even Ridgely.
"I'm dead-serious scared of heights," he admits. "But what I tell people to do, and what I do, is I go to the spot where I'm comfortable and stay there a couple seconds. And I might go one move further and stay there, and I can come back down or drop off onto the pads.
"The best way to get into it is just do it and continue to do it."
Phillip Langford, a specialist in the U.S. Army, agrees: "The heights are scary, for
Page 1 of 2 pages for this story 1 2 >
Most Recent Comment(s):