something fishy about this story
A new Waikiki Aquarium exhibit brings the rare wonders of the Northwest Hawaiian Islands to Honolulu

Wednesday - August 17, 2011
By
.(JavaScript must be enabled to view this email address)
E-mail this story | Print this page | Archive | RSS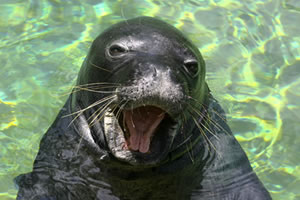 Hawaiian monk seal — awwwww
By Masked Angelfish
-As told to Susan Kang Sunderland
Hi ya, folks. I'm new to Oahu and want to introduce myself as part of my debut at the Waikiki Aquarium Aug. 18. I realize it's surreal to have a fish write a story for MidWeek, but the new Northwestern Hawaiian Islands Exhibit is no ordinary venture. If we have to "bait" you with intrigue to get your attention, we'll do it.
I am one of 225 fish brought here from the remote Papahanaumokuakea Marine National Monument conservation area to be part of the Waikiki Aquarium's new exhibit. The 4,000-gallon exhibit is an unprecedented opportunity to view abundant marine life from one of the most remote areas on the planet.
I traveled 1,500 miles from the uninhabited archipelago and atoll above Niihau and Kauai to be part of the aquarium's gallery of Pacific sea life. It's quite an adjustment moving to a big city, but the marine biologists have done a remarkable job of replicating my undersea world and lifestyle.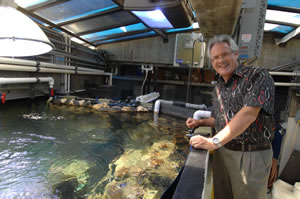 Andrew Rossiter checks the Northwestern Islands display. Nathalie Walker photo

.(JavaScript must be enabled to view this email address)
I get plenty of TLC, food and observation, plus a job as a marine educator in a living ecosystem. What could be better?
My real name is Genicanthus personatus, but I'm more commonly known as masked angelfish. I am endemic to the Hawaiian Islands and found nowhere else on earth. You might think the name personatus is because of my bright personality, but it really comes from the Latin word for "masked."
The coloring on my face does indeed resemble a mask. The mask in females is black, and bright yellow in males.
Actually, my coloring is part dark and part light now as I'm still maturing. If you spot me in the tank, my hapa-coloring is a dead giveaway.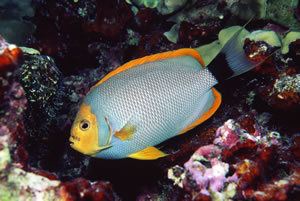 The 'author'of this tail, er, tale, a Masked Angelfish. Waikiki Aquarium photos
My journey to Waikiki Aquarium started six years ago when aquarium director Andrew Rossiter, Ph.D., came up with the concept for a Northwestern Hawaiian Islands Exhibit (NWHI). Staff worked on a list of species and an exhibit scale model, developed a fundraising program through the Friends of Waikiki Aquarium, and contacted the National Oceanic and Atmospheric Administration (NOAA) and National Marine Sanctuary Foundation for help.
Marine biologists on the NOAA research vessel Hiialakai helped with the careful and intricate process of acquiring corals and fishes from our living reef ecosystem.
Papahanaumokuakea pronounced Pa-pa-hahnow-mo-koo-ah-keh-ah and meaning "a sacred place" is home to more than 7,000 marine species, a quarter of which are found nowhere else on earth. It is the largest single area dedicated to conservation in the United States and one of the largest in the world.
This 140,000-square-mile area is considered the "Yellowstone of the Sea" for its global standard of coral reef and wildlife protection. It was a tricky maneuver to store and transport coral fragments plus a variety of fishes, but we made the trip successfully and were real troupers. (No, fish don't get seasick.)
Coral propagation is a labor-intensive and timeintensive process, as marine biologists can tell you. But with ideal conditions in Waikiki and sunlight several hours a day, rare coral and fish species thrive.
In the new exhibit, we are united with table corals that provide us food and shelter. Table corals, as the name implies, are flat rather than fingerlike formations. (Hey, coral's "coral" to me. I like them all.)
Other fishes you'll meet at the NWHI exhibit are Japanese pygmy angelfish, Hawaiian morwongs and bandit angelfish.
The colorful pygmy angelfish has an orange
Page 1 of 2 pages for this story 1 2 >
Most Recent Comment(s):