Run, Hamster, Run
There's a new attraction in Waikiki, but ask any hamster, it's harder than it looks. Running in a hamster ball is not as easy as it looks. But it's a lot of fun.
Wednesday - November 09, 2011
By
.(JavaScript must be enabled to view this email address)
E-mail this story | Print this page | Archive | RSS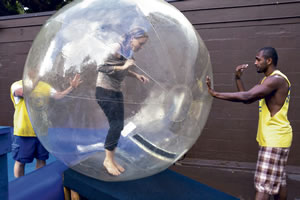 Leah Friel: The shooter gets shot. Leah Friel photos

.(JavaScript must be enabled to view this email address)
Running in a hamster ball is not as easy as it looks. But it's a lot of fun.
No, I didn't hear that from a furry little rodent. It's my personal experience at Waterball Entertainment's newest setup in Waikiki.
The company rolled its human water balls to the International Marketplace (2330 Kalakaua Ave.) near the food court about two months ago.
There you'll find a 30-by-30foot pool and a handful of humans in giant, clear beach balls, walking, running, jumping, rolling, floating and falling on water without ever getting wet.
"I'm so tired, but it's tons of fun," says 28-year-old Downtown resident Brandon Kamigaki, who stayed in Waikiki for Halloween and saw the human water balls from his hotel room. "I wish I was in better shape. I'll come back and try it again."
Anyone under 7 feet in height and weighing less than 300 pounds can be in the water ball. It starts off deflated, you step inside, it's filled with air, then zippered up and voila, you're in your own not-so-little bubble.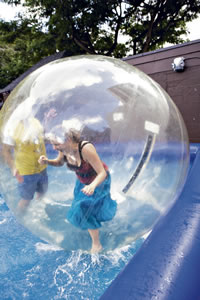 Rasa Fournier is having a blast
You're escorted to the pool, and once on the water, you immediately want to walk, jog and run. But balancing takes some practice, OK, maybe a lot of practice depending on the person. And after just a few minutes, you can't help but rest, unlike those hamsters that just keep going.
"The human water balls have been around for the past 20 years," says Scott O'Daniel of Colorado, owner of Waterball Entertainment. "People use them in the ocean, on lakes and rivers and on the road. We do it in a contained area where it's controlled. We've had people of all ages from a 1-year-old (floating in the ball with her mom) to 88-year-old twins from Australia. Also, I have three kids myself (ages 7, 6, and 4), and they love it."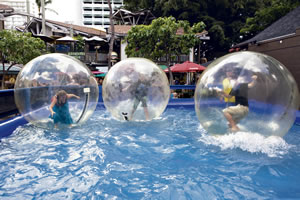 Rasa Fournier, Ben Watson and Vinicius Silva
This is O'Daniel's 14th location, and he plans to open four more locations throughout Hawaii in the next six months. The knee-high pool he uses is designed for a maximum of five water balls in use at one time. Cost is $10 per ride ($8 for kamaaina) and lasts about five to 10 minutes, longer if there's no line, and your fourth visit is free.
There are various other water ball companies around the world. O'Daniel has been in business for the last two and a half years and uses balls that are handmade in Germany and made from PVU (poly-vinyl-urethane).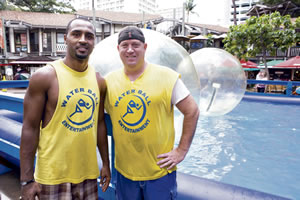 Regional manager Jason Rivers and owner Scott O'Daniel
People with pre-existing conditions such as difficulty breathing, high blood pressure, heart conditions, neck or back injuries or are pregnant should not participate.
Regional manager Jason Rivers, who you may recognize as a star receiver for the University of Hawaii Warriors from 2003 to 2006, was not familiar with the water balls before joining the company.
"I'd never seen it or heard of it, and I thought it was kind of crazy," he says, adding that he found out about it on Craigslist. "As an athlete, it's a good way to challenge yourself. It's a cardio and balance workout. And it's a fun atmosphere. I get to meet people from all over the world and something we all share in common is laughter and a smile."
Page 1 of 1 pages for this story
Most Recent Comment(s):