Acting Up
Scott Rogers is elevating the talent level of Hawaii actors and actresses at his Academy of Film and Television, while making plans to get into producing shows as well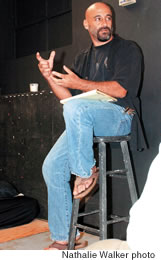 Scott Rogers: filmmaking starts
with actors
Just inside the door, three dogs lie watchful but obedient on a throw rug. The trio accompanied their anxious owner - a student at the Academy of Film & Television - to her Wednesday night acting class when brushfires burned too close for comfort near her Diamond Head home. No one seems to mind sharing the small space with a few friendly mutts, not even academy president and lead instructor Scott Rogers.
Just no barking, he warns.
There is an easy energy here. Nearly 20 students mill about, munching on pizza before class and then settling onto folding chairs. Shoulder to shoulder in the darkened theater, they share a quiet camaraderie that grows more vocal as they discuss theory and technique, opportunities and experiences, hopes and dreams.
For four years, Scott Rogers has been inviting both aspiring and working actors into his classroom theater on Waimanu Street in Honolulu. He began teaching in Hawaii five years ago, after more than 20 years as a producer and director in Hollywood.
"There seemed to be a dearth of trained actors for film here in the islands," says Rogers, who spent many years as a youngster in Hawaii before returning full-time in 2000. "Working on Baywatch, North Shore
and other shows here reinforced that thought."
Thus the inspiration for the Academy of Film & Television. "Filmmaking starts with actors," asserts Rogers, who feels the film industry - and Hollywood in particular - have moved too far from this philosophy.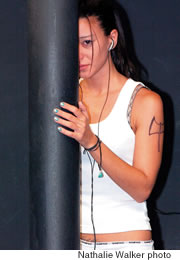 The tears continued for Malo
Youseffi after her scene ended
Rogers is no newcomer to the islands or the industry here. His father, Herb Rogers, brought big Broadway shows to the old Honolulu International Center Arena during the '60s and '70s, relying on local talent for dancing and singing parts. Scott moved to Hawaii at age five, attending school in Kahuku and at Iolani before moving back to Los Angeles as a teenager.
During the next 22 years, Rogers carved out a career in Hollywood. He coached principal actors on the sets of national television shows, and produced, cast and directed more than 100 professional productions and dozens of TV commercials. He's worked with such notables as Donna Mills, Corbin Bernsen, Sharon Lawrence, Steve Allen, Jayne Meadows, Charles Grodin, Florence Henderson, Robert Reed, Tony Bennett and others.
So what coaxed him from the California coast - and the Mecca of moviemaking - to a relatively removed island in the Pacific?
"Having kids," he explains. "I didn't want them to grow up in L.A. They deserve better." Rogers, along with wife Jeanne, a New York-trained actress, and their two children, who attend Honolulu Waldorf School, have now made their home in Hawaii Kai. The "business" is definitely in the blood: Jeanne just booked
Lost
- "A nice, big speaking role," her husband announces - son Blade, 16, recently filmed the new NBC TV series Flight 29 Down, and daughter Kanani Rose, 10, has worked on both Lost
and Hawaii.
Since returning to the islands, Rogers has served as the full-time, on-set acting coach for Fox's North Shore
, and was also the dialogue director and acting coach for the TV show Baywatch.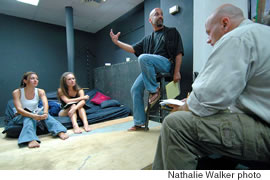 Rogers discusses the performance of Malu Youseffi
and Siobham Edmondson as student Brian
Dinsmore takes notes
Through his work here, Rogers identified both potential and opportunity. Too many promising actors were heading to L.A. at a time when the film industry was gaining an even greater foothold in Hawaii. Rogers would like to slow down that exodus as well as supply the kind of trained professionals Hawaii-based productions need to fill roles.
His question to actors: "If you got the job tomorrow, would you be ready?"
Training comes first, Rogers insists. "Too often an actor actually gets a job and then thinks, 'Oh, I should train for this part.' Or they call me because they're up for a part and realize, 'I want to know how to do this right.'"
Classes at the academy are geared to individual interests and levels of experience - from Level I basics to master classes as well as Teens of Camera, Kids on Camera, media coaching, scriptwriting and Andy Bumatai's comedy class.
The academy staff consists of Scott Rogers as lead instructor; James McCarthy, a media coach and children's acting teacher with extensive television, stage,
Page 1 of 2 pages for this story 1 2 >
Most Recent Comment(s):