Taking Golf And Tennis To The Keiki
A new program takes golf and tennis instruction to schools as part of an innovative after-school program. Schools like it, and parents say the new focus helps their kids' studies

Wednesday - December 15, 2010
By
.(JavaScript must be enabled to view this email address)
E-mail this story | Print this page | Archive | RSS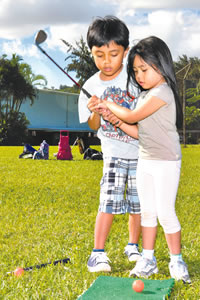 Adrian Abcede helps his younger sister Elliana at Nuuanu Elementary School
With so many local families in need of second incomes, after-school programs have flourished in schools, at community centers and just about anywhere children gather. The programs run the gamut from educational and artistic, to athletic and simple, silly fun.
With this in mind, Oliver Oliquiano decided to take his love of golf and turn it into a mobile program for kids who may not otherwise be exposed to the game because of time or cost.
Think of it as a bookmo-bile filled with golf clubs and tennis rackets instead bound works of adventure and humor.
Oliquiano started Island Pacific Golf Academy after coming to the conclusion he had more passion for teaching golf than for working in the mortgage banking business. After 17 years with such high-profile and high-pressure organizations such as Wells Fargo and Countrywide Home Loans, he made the choice to trade cash for peace of mind.
He hasn't looked back. "It's a lot more rewarding and a lot less pressure," says Oliquiano.
"I started teaching my son Shaun when he was 3. He eventually grew out of it and I found myself wanting to teach someone how to play golf, so I started this company and said we'll get a bunch of instructors and we will all teach."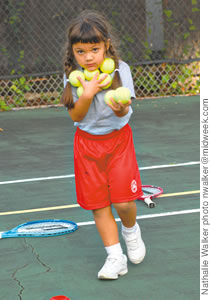 Anna Hicken of St. Andrew's Priory has her hands full
Oliquiano started testing his concept of a golf program for elementary schoolchildren on parents in 2008. The positive response he received helped him officially launch the program a year later.
Since then, he's added Island Pacific Tennis Academy, and the programs have grown to include 38 Oahu schools with plans to open similar programs on Maui, Kauai and the Big Island perhaps in the next year.
"Almost every school we have talked to has had a real positive response about bringing our programs to the school," he says.
"I think the schools are very interested in providing enrichment programs that will keep the kids engaged in any type of activity other than just hanging around ... I've found from some parents that golf has helped the kids stay focused, and some of that focus has translated to school."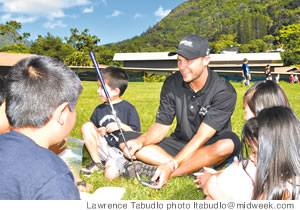 David Woytowich explains the parts of a golf club at Nuuanu Elementary
The one-day-a-week programs are easy for the schools since the academies supply all the necessary equipment, including tennis rackets and kid-sized golf clubs.
Space is not a concern, since the hitting pads and soft foam balls used for golf can be taken indoors and out, and portable nets also can turn a basketball court into tennis court in a matter of minutes.
Oliquiano has hired seven golf coaches and four tennis coaches, and while knowledge about the sports is obvious, instructors need to have the attitude and not just aptitude to work with the students. To ensure this is happening, new instructors are kept under the watchful eye of Oliquiano or his senior instructors, Leon Harris Jr., golf, and Strom Gaditano, tennis.
"The key for us is to hire not just people who can play golf or tennis, but people who can teach kids in particular. It's one thing to teach someone like an adult to play golf, but it is another level when you're teaching a child because you have to exercise a lot more patience, and you have to make the teaching experience a lot more fun
Page 1 of 2 pages for this story 1 2 >
Most Recent Comment(s):