All The Right Moves
The Rainbow Dancers have become as popular as the UH athletic teams they support. On Sunday, a new team of dancers will be chosen during auditions

Wednesday - March 30, 2005
By
.(JavaScript must be enabled to view this email address)
E-mail this story | Print this page | Archive | RSS

If you've been to a UH football or men's basketball game, then chances are you have at the least caught a glimpse of (or possibly stared at) these talented young men and women.
And justly so. There's good reason why the Rainbow Dancers get as many looks as the scoreboard does during the games — No. 1 being their upbeat and sexy dance routines. The rest of the attention can be attributed to their cute outfits, overflowing energy and dazzling smiles.
The Rainbow Dancers have made a mark throughout the country as one of the front-runners in dance team standards. They have performed at The Pro Bowl, a L.A. Lakers game in Hawaii, a Chicago Bulls game, a Milwaukee Bucks game, the WAC Basketball Tournament and the Holiday Bowl in San Diego.
Officially named The University of Hawaii Band Rainbow Dance Squad, the program has definitely evolved since it was added to the UH band department about 25 years ago. No one in the band department now knows for sure, but the consensus is that the program started no sooner than 1977 and before 1980.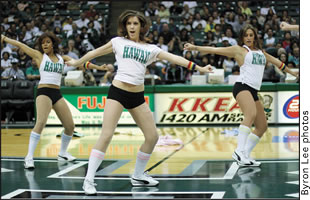 Sasha Lykes, Kaleo Samson and Amanda McInnes entertain
during a timeout in a recent UH basketball game
"I believe the Rainbow Dancers got started simply to add to the band performance and to provide half-time entertainment for the fans," says Gwen Nakamura, assistant band director since 1989. "And it began with just the football games and later men's basketball was added.
"I've been in the band since 1980 and assistant since 1989, so what I've observed over the years is that, depending on the dance adviser and what's popular at the time, that the dancing has changed. In terms of the quality of dancers — I do think that the difficulty in what they do it is a lot more difficult now."
The dancers are entirely part of the band program in that they register for the same class and receive the same credit as any tuba, saxophone or trombone player. The team also meets the same time as the band, every Monday, Wednesday and Friday for one-andone- half-hour periods.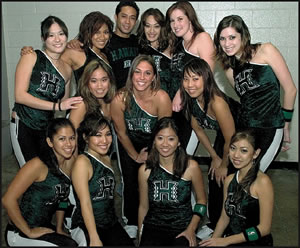 Even members of this year's Rainbow Dancers must try
out for next year's squad
But becoming a Rainbow Dancer isn't as simple as just registering for the class. Tryouts are held every year and a fresh, new team is selected. The tryouts for the upcoming 2005-2006 year are slated for April 3 at 9 p.m. in the UH Athletic Department's Studio 3.
"I will be one of the judges, and I can definitely say that we will be looking for good attitude," says Ryan Sabado, Rainbow Dancers adviser/choreographer. "For me, my choreography is much different from most people so I can automatically tell if someone has rhythm. So I'm looking for natural rhythm, of course.
Page 1 of 2 pages for this story 1 2 >
Most Recent Comment(s):