An Italiano Christman
Turkey on Christmas? How about baked ham? Fuhgetaboutit! We're talking another kind of Christmas tradition here. Tony Soprano would love it

Wednesday - December 07, 2005
By
.(JavaScript must be enabled to view this email address)
E-mail this story | Print this page | Archive | RSS
Joe Tramontano gives the author a taste
There are so many wonderful Christmas traditions in the world, and most of them taste good. Few are as tasty or unique as Italian holiday traditions, especially with a New York twist.
We found just the place to enjoy them - in Kahala, of all places, at a place where the Tony Soprano sandwich is on the menu - Antonio's New York Pizzeria.
But first a bit of personal reminiscence. I was a lucky kid. My father had a candy store in an Italian neighborhood in Brooklyn, N.Y., which guaranteed me lots of friends. I enjoyed eating authentic Italian cooking and celebrating traditional Italian Christmas. My fondest memories are of the food, and when I moved to Hawaii more than 20 years ago I left behind much of the food I loved.
The wonderful Italian family that owns Antonio's (and does some pro wrestling) has fulfilled my cravings for real Italian food. These are authentic East Coast Italians, folks!
Antonio's is family owned and operated. Brothers Joe and Jerry Tramontano and cousin Anthony Romano share the work, the responsibilities and the joy of serving excellent food to hungry people. If the doors are open, you will find at least two of the three on the premises at all times, ensuring the magical Italian flavors that have made Antonio's so popular are up to their demanding standards. You'll find Anthony in the kitchen whipping up a batch of fresh cannoli cream in between pasta and pizza orders. Joe or Jerry (or both) will be out front to greet you, get you a menu and talk story. Joe also has a very successful professional wrestling career, currently holding a Tag-Team Heavyweight World Championship, which just adds to the special character of the place. They say of themselves: "Real Pizza by Real Italians." The Bottom Line? "We make it like it was for our own family."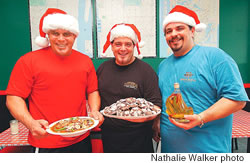 Joe and Jerry Tramontano and cousin Anthony
Romano with their favorite Christmas goodies
This "Bottom Line" ethic has led to award after award for this thriving family business since they took it over three years ago. The honors include "Best of Hawaii" from Honolulu Magazine 2004 (no awards in this category for '05), "Best Ethnic Restaurant-Italian and Pizza" in the local papers, and they are also "Hawaii's Best" in two international books on pizza called Everybody Loves Pizza and Pizza, a Slice of Heaven. It's the first time Hawaii has ever been mentioned in these international pizza circles.
When you eat at Antonio's, you are getting a true East Coast Italian experience, from the quality and taste of the food to the noticeable accents of the guys.
In Italy, the Christmas season begins Dec. 17 and lasts until Epiphany (Twelfth Night) Jan. 6. Most Italians fast from sunset Dec. 23 to sunset Dec. 24, at which time cannons are fired at the Castel St. Angelo in Rome and the fast is broken with an elaborate banquet and lots of treats.
I asked Jerry, Joe and Anthony about their Italian Christmas memories and what they do differently here.
Jerry said: "Well, the most important thing is 'la famiglia' (the family) itself, and we have that same spirit here, only now we call it 'ohana.' That encompasses a lot of traditions from our Italian heritage, like 'little Christmas' (Italians leave the Christmas tree up until the 11th of January, or little Christmas), and the feasts on Christmas Eve and Day.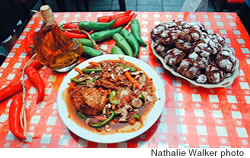 Ready to eat: chicken cacciatore and sambuca
cookies
"The more people I meet here on the island, the more I realize the similarities are much greater than the differences," Anthony says. "Sure, the menu has changed, but not the spirit. I'll have my espresso on Christmas morning, but instead of pana-tone (an Italian sweet bread with raisins), I'll maybe have taro bread. And I'll still sit and visit with the family, only this year it'll be a video conference over the Internet."
Jerry's brother Joe, who relocated here almost 18 years ago, has strong memories of the Feasts of Christmas Eve and Day. "My family on the Mainland always pulls out all the stops on Christmas, starting with a seafood feast on Christmas Eve. Italian seafood specialties such as shrimp cocktail, bacala salad (a cold cod salad marinated and served in homemade dressing), calamari (squid) served in a salad, scungilli (conch) salad, clams steamed, fried and raw. All of these are served as appetizers alongside antipasto salads. The main event is zuppa di pesce, which is what we call our red fish sauce over pasta. The idea is to serve at least seven types of fish in the Roman Catholic tradition. It's a symbol for the seven Sacraments.
"The really special thing is how family unites together around the table - that's the real secret of the Italian family at Christmas.
"When I'm here, this arm of the family has made it a tradition to spend at least a little time on the beach, then call the folks on the East Coast and rub it in."
Cousin Anthony also shared memories of the food and the family. "Most of the Italian Americans raised in our area had a fairly set schedule. It started with the big Christmas Eve meal, then coffee and dessert, and then Midnight Mass at the local parish. As kids, the highlight was getting to open one present after church that night. On Christmas Day, various family members and friends would visit, sharing my mother's 30 different kinds of cookies, plus homemade pies, cakes and roasted chestnuts."
Anthony continues, "This year, I'm blessed to be able to bring my young son back home for a visit to share in all of these
Page 1 of 2 pages for this story 1 2 >
Most Recent Comment(s):