Angels On The Street
Guardian Angels take to Honolulu streets and parks to deter crime, and will soon graduate a new class of recruits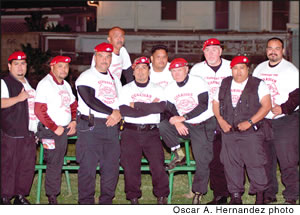 The Guardian Angels take a stand against crime during
one of their patrols at Kunawai Park in Liliha. Front, from
left: Christopher Quimpo, Eric Costanios, John Kalaau,
Ricardo "Chico" Garcia, Don Lee Fridinger and Ray Manuel.
Back: B. Mauankea, Maron Bautista, Charles Wheatley and
Jeffrey Roberts
When we think of angels, we may imagine gentle spirits sent from heaven hovering over us, protecting us from harm. To some, angels are imaginary. To others, they are religious symbols. But here in our real-life paradise, angels indeed exist — that is, the Guardian Angels, a non-profit citizens patrol organization.
"The Guardian Angels were brought to Hawaii because of the problems that we have been facing in recent years," says Ricardo "Chico" Garcia, the man at the forefront in bringing the Guardian Angels chapter to Oahu. As such, Garcia, 39, a Chicago native and now Ewa Beach resident, felt there was a need to empower communities on Oahu to reclaim their safe neighborhoods that were being decayed by the societal effects of the current "ice" (crystal methamphetamine) epidemic.
Garcia, a former Marine, is not new to the Guardian Angels. In Chicago, he first donned the Angels' trademark red beret in 1982, participating in citizen patrols and helping restore order to communities that had lost control to criminal elements.
The original Guardian Angels organization was founded in New York City by a former McDonald's manager, Curtis Sliwa, in 1979. Sliwa decided enough was enough, as he tired of witnessing rampant crime on the streets. The Guardian Angels gained national acclaim when Sliwa and his group of concerned citizens began patrolling one of the city's notorious subway routes known as the "Muggers Express."
Since its inception, Guardian Angels' chapters have taken root in 15 states, the U.S. Virgin Islands, Puerto Rico, as well Canada, London, Japan, South Africa, Poland and Brazil.
With Hawaii's apparent increase in drug-related crime, Garcia felt it was time for counteraction. To create a Guardian Angels chapter in Hawaii, he worked tirelessly as he presented the Guardian Angels'Western Regional Office the need for a chapter here.
"Representatives came (to Hawaii) upon my request and had to see if creating a chapter was necessary … after two years of observations and positive feedback from citizens and local law enforcement, it was determined that the Guardian Angels would start a chapter here," says Garcia.
On May 18, the Guardian Angels will celebrate their first anniversary in Hawaii, with Garcia as its founder and director.
Within the first year of existence, membership grew to 25 members, and on May 22, 12 new members will be inducted during a graduation ceremony at the state Capital rotunda. "Many of our members joined because they believe they can make a difference in their community," says Garcia.
Those wishing to join must truly be committed to the mission of the Guardian Angels. Applicants must "agree to fill out an application for a possible police (criminal background) check … as well as train for a minimum of three and a half months or until the trainer believes the new member is ready for safety patrol responsibilities," says Garcia.
Eric Costanios, 42 of Ewa Beach, has been a Guardian Angel since July 2004 and is the chapter's director of community affairs and media relations. Costanios explained his reason for joining the organization: "I looked at my neighborhood and noticed how unsafe it had become due to a lot of drug dealing and thugs taking over … I have a grandson, and I want him to grow up in the same safe neighborhood I had growing up. I also do it for the kids and elderly because they are the most vulnerable and easily preyed upon."
Trainees receive instruction in CPR, self-defense tactics, state/federal laws, community relations and homeland security. Membership is free.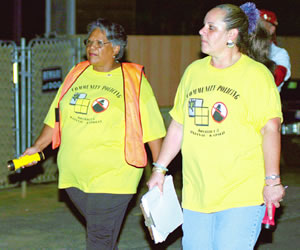 JoAnn Wells and Von-Dell Waiwaiole-Cabos patrol in
Ewa Beach
When on patrols, Garcia points out that the Guardian Angels'aim is to simply show a presence without antagonizing or confronting individuals who appear engaged in illegal activity.
"We take down as much information as possible, and immediately call 911 … if we're confronted, we'll do everything possible to de-escalate a threatening situation as we wait for the police to arrive. We will only take defensive action when physically attacked, but that is always the last option," says Costanios.
When it comes to arresting individuals, the Guardian Angels exercise the power of citizen's arrest, detaining an individual
Page 1 of 2 pages for this story 1 2 >
Most Recent Comment(s):