Auditioning For The Apprentice
MidWeek's intrepid reporter joins 100 other Hawaii folks in trying out for 'The Apprentice' and a chance to win a $250,000-a-year job
Wednesday - April 19, 2006
By
.(JavaScript must be enabled to view this email address)
E-mail this story | Print this page | Archive | RSS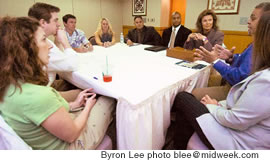 Interviewers Jennifer Salyers and Scott Salyers, left,
listen to Barry Allison, blue shirt, as Robert Murray,
Jessica Duncan, Michael Forshey, Alim Shabazz,
Christie Wagner-Starley and Heather Sullivan listen
So you think you have what it takes to be the next apprentice?
Well, guess what? You're fired! That's the new joke between my friend Vanessa Van De Riet and me as we auditioned for The
Apprentice - the popular television show where 18 business die-hards battle it out for the ultimate prize - a $250,000 job with Donald Trump.
"If you get on the show you could gain a lot of valuable experience through trial and error and through an actual business scenario," says Van De Riet on why she would want to be on the show. "Also, you could get noticed, and the more noticed you are and the more known you are, the higher success rate you have."
While neither of us made it on the show, we both agree that it was an experience to remember.
Thousands of people showed up for casting calls held in 16 cities across the country. The Honolulu casting call at the Hawaii Prince Hotel earlier this month drew a crowd of about 100.
"My first reaction when I got here was that there's nobody here," says Billie Takaki Lueder, 29. "I was expecting a line outside the hotel like when
American Idol came, so when I came I thought, eh, I get chance."
According to cast producer Scott Salyers, at least a few hundred people, including some from the Hawaii casting call, have made it past the first round. The final 18 will be selected in May and filming will take place in Los Angeles this summer.
The show, which will be in its sixth season, is scheduled to air in September.
"We're looking for people with big personalities, big business backgrounds, and who are unique," says Salyers. "The secret is to be yourself, be loud and have a good personality.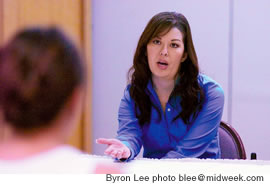 Former Miss Hawaii Billie Takaki Lueder responds to
an interviewer's question
"We only go to 16 cities and we need 18 people, so the chances (of someone making it from Hawaii) are always good. But you just never know. You could get four or none from Hawaii."
Heather Saffery of Kaimuki arrived at the Hawaii Prince Hotel at 6:30 a.m. to get a good place in line. Her friend Leslie Gallo accompanied her for "moral support."
"When we got here there were less than 15 people," says Saffery. "I was surprised. I thought we were in the wrong place."
Saffery, 43, is a retail manager in the cosmetics industry. She didn't complete her college education but believes her work experience will prove her skills.
"I think it's an opportunity of a lifetime," she says. "I admire Donald Trump and his business sense. Also, we're fans of the show, and we're always picking the winner."
At the audition, applicants were required to bring with them a completed application form downloaded from www.nbc.com
On the application were questions like 'How would your coworkers describe you?'and "Why are you successful in business?"
It also asked for your occupation and annual income. As for the suit and tie? Optional.
"We encourage people to dress how you would dress at work," says Salyer. "If you're a carpenter we don't expect you to wear a suit."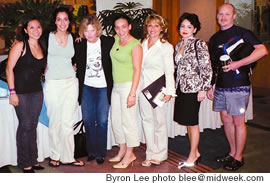 The author, Vanessa Van De Riet, Sharon Serene,
Nicky Parks, Evangeline Yacuk, Jacqueline Travers
and Rusty Gage at the audition
About half of the Hawaii contestants, of course, arrived in their business suits. Some even brought a briefcase. But the other half wore, well, just about everything else - jeans, tank tops, trousers, polo shirts, dress shirts, aloha shirts, T-shirts, shorts, slippers, skirts, dresses, and even a surfer's rashguard. There was also a Marine Corps corporal in his military uniform.
"I feel you have to dress for the part, even in Hawaii where aloha shirts are common," says James Grace, a restaurant manager at Lulu's who chose to wear a suit and tie. "This is still The Apprentice and I feel you must dress for success."
Before the audition, Grace, 49, admits he didn't even know how to tie a necktie. Why should he? He doesn't normally wear one. So, the night before, he went on the Internet and learned how.
"It took me 30 minutes to learn," he says. "And my wife Reimi helped me."
And while Grace's resume lists no college education, he believes he has the natural ability for business.
"I feel the apprentice is a natural-born business person," he explains. "Either you have it or you don't. I've been around many highly educated people with no common sense. I feel I have the ability to walk into any business and see problems and fix them."
From 6 to 9 a.m., contestants slowly trickled into the ballroom. Numbered wristbands were scheduled to be distributed at 9 a.m. with interviews beginning at 10 a.m.
From there, in groups of seven, Hawaii's "Apprentice" hopefuls entered the "board room" where they handed over their application and introduced themselves. They were then given a topic to debate for about 10 minutes.
"For our group, the topic was 'whose responsibility is it - the airline industry or the govern-ment's, to allow for bigger seats for obese people?'" recalls Takaki Lueder, a transition center coordinator for Kaimuki High School and former Miss Hawaii. "Then
Page 1 of 2 pages for this story 1 2 >
Most Recent Comment(s):