Banding Together
It started barely a year ago with Lance Armstrong's yellow 'Livestrong' wrist bands, and today dozens of causes boast their own colored bands, including camouflage
Wednesday - July 14, 2005
By
.(JavaScript must be enabled to view this email address)
E-mail this story | Print this page | Archive | RSS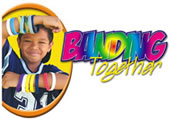 Charity wristbands. It's a trend that has exploded with almost every non-profit offering these silicone bracelets at a cost of between $1 and $5 in the of raising funds and awareness for their cause. The most popular — and the one that started just over a year ago — is the yellow LIVESTRONG bracelet sold as a tribute to Lance Armstrong's inspirational fight against cancer, with all proceeds benefitting the Lance Armstrong Foundation.
According to the LAF, more than 50 million yellow wristbands have been sold since its launch in May 2004. Currently, the LAF sells an average of 100,000 everyday at www.laf.org and www.wearyellow.com
While the start of charity wristbands may be credited to the Tour de France champ, the wristband concept is actually believed to have been a fashion trend from the basketball scene.
Years before Lance's LIVESTRONG bands, Nike was already selling these wristbands with inspirational words on them and in many different colors known as Baller Bands.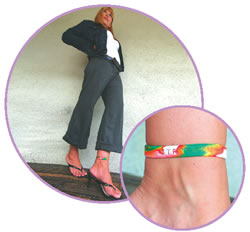 Betsy Gaisthia sports a reggae wristband from
Price Busters. Top left: Kainalu Martin is
up to his elbows in wristbands, 14 in all
NBA star Kevin Garnett of the Minnesota Timberwolves has been wearing rubber bands around his wrist since high school — as Wilt "The Stilt" Chamberlain did back in the 1960s. Garnett now wears rubber bands from WordStretch, as do other basketball players such as Vince Carter, Tracy McGrady, Darius Miles, Jermaine O'Neal, Stephon Marbury and Lamar Odom, to name a few.
"The LIVESTRONG wristbands were Nike's idea," says Jennifer Halpin, spokesperson for the LAF. "Nike developed the campaign and the wristband. They directed extraordinary resources toward the success of the campaign and also gave the LAF an additional $1 million donation. "LIVESTRONG wristbands represent unity in the battle against cancer and hope for all those who are living with cancer."
Many stores in local malls and shopping centers, such as Town & Country Surf, Claire's and Foodland, have picked up on the fashion trend, selling the silicone wristbands not for charity but simply, style. And some local grocery stores stock various charity wristbands at their check-out counters.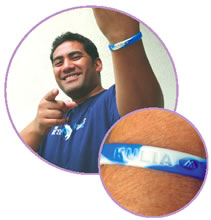 Andy Falelua sports a 'Kulia' band,
meaning 'let your strength come out'
At Long's, there's a blue band for the Make -A-Wish Foundation, and at 7-Eleven it's a blue band for the Save the Children Tsunami Relief. Borders and Waldenbooks sells lavender bands for CARE, in an effort to spread knowledge and fight poverty worldwide. And at the recent fundraiser for broadcaster-writer Roz Makaula, who is fighting breast cancer, guests were given pink bands.
Three months ago, Marlo Meadows bought 250 camouflage wristbands from the Internet (www.mammothdiscount.com) to sell as a fundraiser to bring her daughter home for a family reunion.
"Everyone was selling these bracelets but nobody had the camouflage ones," says Meadows on how she came up with the idea of selling the wristbands. "My daughter, Lt. Nani Bowman, is in the Army and stationed in Kentucky, and we wanted to bring her home for a family reunion before she's deployed to Iraq in September.
"I wanted to buy the wristbands that say Support Our Troops, but they ran out, so they sent me the ones that say Freedom. And my family and friends have been helping me with selling them."
Meadows sells the wristbands for $5 and as of last week had only 10 left.
During a recent trip to Windward Mall, I counted 20 wristbands in a 15-minute period.
Kauanoe Eveirett, 9, had three bracelets — green with the words Choose The Right, black with Relson Gracie and lavender with Nalu Diva.
"I got these from my mom," she says. "And I wear them because I like them."
Dennis Kaya, 60, wears his yellow LIVESTRONG bracelet with heart.
"My son Terrance gave it to me and I wear it because Lance Armstrong had cancer and my wife had cancer," he says. "I thought I'd wear it 'til it breaks and then I'll wear my wife's one. She passed away six weeks ago."
Ranson DeCosta, 20, wears one on each wrist — a white one with the word Truth on it and a baby blue one with Excellence.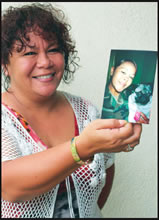 Marlo Meadows with her camouflage
'Freedom' band and a photo of daughter
Nani, who will soon be deployed to Iraq
"I got them from Champs Sports," he says. "And I wear them because it reminds me to strive for excellence."
Dustin Kaeo, 17, wears his yellow LIVESTRONG wristband for fashion.
"I wear it just for looks," he says. "I'm from the Big Island, and there's a lot of people on the Big Island who wear it, too. Also, my Auntie Karen has cancer, so to show my support."
If you're not already, get your wristband and make a fashion statement while supporting your favorite charity.
Page 1 of 2 pages for this story 1 2 >
Most Recent Comment(s):
Commenting is not available in this weblog entry.