Blade Brothers
When a cop on the SWAT team came to him for tips in defending against a knife attack, Bruce Chu dreamed up a new sport — knife fencing. Just 18 months later, he's trying to make it an Olympic sport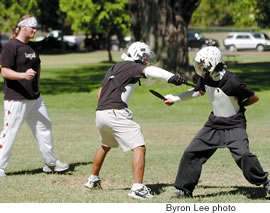 Above: Nathan Kim scores with an arm
slash against Matthew Alexander
as Kirk Powles watches
Top: Travis Pajimola lunges
Most people spend New Year's Day hunting down loopholes in their resolutions, but not Bruce "Falco" Chu. He spent it dreaming up a new sport, knife fencing, that he hopes to have in the Olympics within a decade.
"In the next 10 years I'd like to get it out to all six continents," says Bruce Chu, who has already gotten new classes going in San Francisco and Los Angeles. "I'd like to open it up to public schools and bring it to the mainstream."
Pretty lofty goals for an 18- month-old sport with about 20 regular participants, but even James Naismith just started out with a couple of peach baskets and a ball.
The sport is simple — it involves two participants in a ring 12 feet in diameter. They score points by landing slashes or thrusts into their opponent. One point is awarded for strikes on the arms, legs or head, while blows to the neck, chest and underarm net you three points. Most points scored in the three-minute bout is the winner.
The two players (Chu dislikes the term fighters) are suitably attired in safety gear from a variety of sports: hockey players' neck guards, karate's helmets and bikers' visors.
The mish mash is necessary because, well, nobody makes gear for knife fencers yet.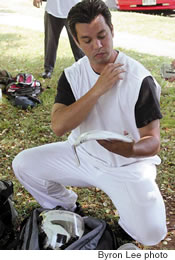 Bruce Chu displays a neck guard
Chu decided to use the clear visors as opposed to the heavy mesh masks used by traditional fencers as a nod to fans.
"People come out to watch their heroes, and with fencing you can't even see their faces," says Chu, who has given up his career as a martial arts instructor to pursue his dream full time.
But before the sport can have "heroes," it would seem to have some questions to answer. Knife fights bring up images of West Side Story and Rebel Without A Cause, and seem to be intrinsically attached to gang violence.
In a society where NBA players are fined for simulating a throat slash, how can rooting for one become popular?
Is teaching our youth how to better stick someone with a knife a worthwhile endeavor?
"The fake plastic knives used in this sport are simply items used to play the game, just like the ball in basketball, the racquet in tennis or the bat in baseball," writes Chu by way of answering the critics.
Page 1 of 2 pages for this story 1 2 >
Most Recent Comment(s):