Breakfast With The Steelheads
Of all the clubs in Honolulu, none may be odder than fans of the Pittsburgh Steelers, who gather every week for their games

Wednesday - November 16, 2005
By
.(JavaScript must be enabled to view this email address)
E-mail this story | Print this page | Archive | RSS

Chris and Dominic Tomayo with her parents, Ed
and Judy Coleman
Meet the Hawaii Steelheads. They number more than 800, but are most often spotted in smaller, easier to manage groups. Coming from every island, the Mainland and even Asia, they display their allegiance in regalia of black and gold. For 16 weeks, and often times longer, they come to pay homage to their idols. Large men in imposing suits of invisibility are cheered with each show of strength and every display of quickness. Victories are celebrated, losses consoled with words of encouragement. Add in beer and food to eat with fingers and it becomes an afternoon of excitement and camaraderie - all to fulfill the mission of their organization.
"We drink like Betty Ford, eat like Elizabeth Taylor and party like rock stars," says fan club president and founder Steve Burman.
The Steelheads are a group of football-loving sports fans with one goal in mind: to celebrate all things Steelers and to have a good time doing it. Trash talking among members is as common as are chants of "Deuce! Deuce!" (for tailback Deuce Staley), "Let's go Steelers" after touch-downs and the general agreement that anything coming out of Cleveland is beyond contempt.
But the disdain openly shown for all divisional opponents does not mean supporters of other squads are unwelcome within their brood. They just spin information about your favorite team to reflect positively on Pittsburgh. Go there as a Lions fan and you're OK because Jerome Bettis is from Detroit. A Bears supporter? No problem. Antwaan Randle-el is from Illinois. Then again, a Cowboys fan who thinks Terry Bradshaw was an overrated orangutan, now you've got a problem.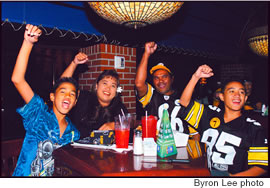 The Kahue family cheers together: Nick, Wanda,
Heston and Kai
Burman, who as strange as it sounds was born in Houston and received his degree from the University of Texas at Austin, formed the club a year after moving to Hawaii in 2000. It began with just a Website and little else.
"We started with about 10 members that grew to about 50 during the first year, then about 150 the year after that," says Burman. At any one time the club has about 200 active members. The number changes often as people move away, return after an absence or join for the first time. Burman says that typically 20 people sign up each week to become club members, either in person or on their Website.
Doug Huffman, a lieutenant colonel in the U.S. Air Force, is somewhat typical of the ebb and flow of membership. Of course, not too many of his brethren have to fly in from South Korea to catch a game.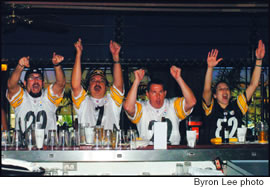 Touchdown Steelers!: Mike Foster, Eric Zotter, John
Zobrak and Lindsay Bloch celebrate a score
Huffman began his association with the group some four years ago when he was stationed in Hawaii. Though he obviously cannot make most club events, he does stay in touch with his favorite team. "We get some of the games on AFN (Armed Forced Television Network), and what we don't get, my dad makes copies to send me," he says.
Huffman was in town with his fiancee, Sue, to visit his two daughters, Nicole and Alexandra, both students at Holy Family Catholic Academy. Though he was successful in converting Sue - "she used to be a Bronco fan, then a New England fan, but I turned her around" - his influence with his daughters has not been as complete. Sure they help him with his office pool, but both agree that Dad is a little weird. And not just because of his football hobbies.
During the club's infancy, Burman didn't find himself surrounded by very many like-minded individuals. But the ones he did have represented a pretty important group: family members of St. Louis grad Chris Fuamatu-Ma'afala and Molokai's Kimo von Oelhoffen. No doubt the celebrity status of those two groups helped attract new members. The club probably needed the help because, as Burman tells it, their first meeting place left something to be desired.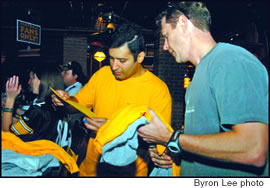 Club founder Steve Burman signs up new member
Jonathan Leslie
"We were stuffed into a dirty bar with no AC, no service, with bad food and bad prices," he says. "Then one day after a big win against Cleveland, I still wasn't happy. We knew we had to find a new place."
That new place became All Star Cafe in Waikiki. They set up shop and even took over a private room that saw little use. But when All Star closed, it was time to move yet once again, this time to Dave & Buster's at the Ward Entertainment Center. By all accounts it has been a good arrangement for both sides.
"They open the place early just for club members and they have really helped us," Burman says.
Page 1 of 2 pages for this story 1 2 >
Most Recent Comment(s):