Breakfast With The Steelheads
Of all the clubs in Honolulu, none may be odder than fans of the Pittsburgh Steelers, who gather every week for their games

Wednesday - November 16, 2005
By
.(JavaScript must be enabled to view this email address)
E-mail this story | Print this page | Archive | RSS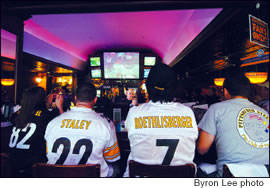 Lindsay Bloch, John Zobrak, Eric Zotter and Mike
Foster: great seats
Those at the bar/restaurant/game room feel the group brings excitement to the place that is picked up by its other costumers.
"I think it's great for business and great for anyone who is a Steelers fan," says Dave & Buster's general manager Matt Luckett. "We're typically known as the place to have fun at, and it's good they can come in and have a good time."
Carlino Giampolo, 59, has been having fun with Steelers football since childhood. The Pittsburgh native, who moved to Hawaii in 1980 after being hooked on his first visit in 1974, got introduced to the world of work in old Forbes Field, the former home of the Steelers and the Pirates. He later was an usher at Three Rivers Stadium and is now a publisher who has continued his business interests with the team.
"I think the fan base of the Steelers is the most extensive in the country," says the senior fan club member.
As in any organization, people join the Steelheads for a variety of reasons. Some want to make friends, others are just looking for a fun place to hang out. But most will agree having an opportunity to sample some real Pittsburgh beer is definitely a highlight.
"We FedEx in Pittsburgh area beers for the games," says Burman of their favorite tailgate beverages. Currently on tap is Iron City, Yuengling and Penn Beer. If you're curious about the merits or history of each, Burman has a salesman's knowledge that he is all too happy to share. It's a bit scary, when you think about it.
For Heather Hurey, a 28-year-old speech therapist originally from the Steel City, her goal with the club is a bit more personal. To win the crown as Miss Steeler Hawaii. Although the title does not yet exist, and so far she appears to be the only club member interested in running, Burman feels she has what it takes.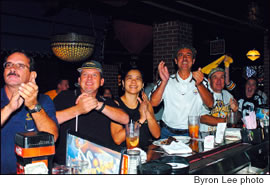 Frank Vehec, Jim and Maria Frishkorn, Carlino
Giampolo, and Peter and Karen Eggers cheer on their
team after a big play
"She starts drinking before she gets here. That's a true Steelers fan!"
With the backing of the club founder, she could be on her way. But being crowned Miss Steeler Hawaii won't be a shoe-in for the petite blonde. Like other such contests, standards must be met. There would be a talent contest - doing the best Bill Cowher impersonation, the all-important interview testing Steelers history and, of course, the evening gown - the most elegant use of a Jerome Bettis jersey.
Other ladies in the Steelhead family are not as likely to add eye black as a fashion accessory, but are present for reasons of their own.
"I'm just here for the family and the shopping," says Kapolei resident Wanda Kahue, who was enticed into the world of Steelers worship along with sons Kai and Nick by her husband, Heston, a lifelong Steeler fan and devotee of Jack Lambert.
"We got done early with catechism class and I thought it would be fun to bring the whole family down here," says Heston, a first-year member. As any good father, Heston is trying to pass along important lessons to his children. And with the exception of Nick's favorite team, he's doing all right. "He's a New England fan," says dad with a tad of reservation. The reason, at least to Nick, is quite simple. "Because they win," he says.
Seasonal membership in the club is $5. With the price you get a membership card, e-mail updates and information about club happenings and Steeler news, plus a chance to take part in the goodies. Once every three weeks, the club has a raffle for cool Steeler paraphernalia, and even free beer and food days. It's surely one of the busiest games of the year.
And don't worry if you have nothing to wear. Burman has all the T-shirts, tank tops, Terrible Towels and other such goodies so you can blend right in.
All you need is the enthusiasm. They can help with that, too.
Page 2 of 2 pages for this story < 1 2
Most Recent Comment(s):