Cyber Bullies And Other Creeps
Cyber bullies, using a form of identity theft, can make life hell for victims — and get away with it. An HPD detective hopes to change the law

While identity theft has been grabbing all the headlines in papers nationwide, there are much more sinister crimes being perpetrated online not only to you, but to your children.
Cyberstalking and cyber bullying are just starting to be recognized by government agencies, yet a survey conducted last year by i-SAFE America found that 42 percent of kids had been bullied online. Even more alarming is that 58 percent of those kids failed to report it to their parents.
This bullying consists of more than just mean words shot through cyberspace rather than across a playground. Kids are opening false blogs, online journals, using the identity of their perceived enemy to spread lies about them. These lies can be so heinous that they led one teen on the Mainland to suicide, and one local man received hundreds of visits by sexual deviants due to a false blog.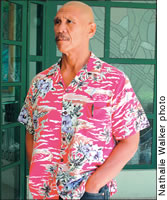 Detective Chris Duque: Cyber
bullies are running ahead of
existing laws to stop them
Couple these facts with the admission by Detective Chris Duque, the head computer investigator for HPD, that there is little they can do about it because Hawaii still has no laws governing these crimes, and the shape of a catastrophe begins to form.
"Social and ethical issues are always behind the technical advancements," says Duque (pronounced doo-kay), who has been investigating computer crimes for HPD since 1989. "Technology jumps ahead in leaps and bounds, but the ethical issues are still just creeping along."
This is not to say the government has not tried to react — when the state DOE first learned of this bullying it wanted to ban blogging. But a fear of the backlash from the ACLU for banning free speech stalled that action. So officers like Duque are forced to use antiquated harassment laws to prosecute these crimes.
"It's very tough when it is online. The prosecutors have to interpret between 'I want to kick your ass' and 'I think someone should kick your ass,'" says Duque.
More disturbing than the direct threats are the attacks by proxy. As a way of getting back at enemies, ex-girlfriends or just people they don't like, kids and adults alike are opening the blogs in their enemies' names.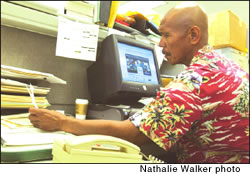 Duque tracks a Website for potential wrongdoing
They use the victims' names, addresses, pictures of them and then attribute all sorts of thoughts to them, all patently false. For instance, a fake blog on a Caucasian child could be filled with anti-Samoan rhetoric, so that when that kid goes to school the next day, he gets jumped by the people he "attacked" online.
It is like calling down a digital jihad, and there is little one can do to stop it. Duque says that kids believe what they read in these blogs and, if confronted, one has to suppress normal reactions.
"When you become a victim, your first reaction is to want to kick their ass, but you have to realize that you are being harassed by proxy," says Duque, who gives speeches at schools about proper responses to attacks. "You have to remain calm and ask them why they are acting this way, where did they read it? If you can get a Website, I can back trace and hopefully find out who posted it."
Even if he can track down the suspect, all he can do currently is take down the false blog. This does not allow him to recapture all the copies of it that people have downloaded, nor does it preclude them from reposting it on the Web.
"Back in the day, people would write stuff on the bathroom wall; only the occupants of that stall saw the information, and someone could wipe it off," says Duque, who answers at least a call a week on cyber bullying.
"Whereas when the Internet is the bathroom wall, you have a billion users who can see it, and out of that many users, some people are going to respond."
The most alarming response Duque has seen in his tenure involved an elderly Japanese man in Kalihi who had his address listed as a site for group sex and debauchery. The posted notice gave his daughter's name, fake pictures of her, their address and instructions on when to drop by (between 2 and 6 a.m.).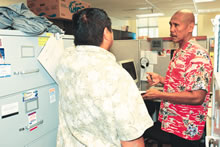 Detective Duque discusses a case with an
undercover officer
Soon the man was besieged by all types of deviants looking for the advertised sex acts.
"People would come at all hours, knocking on his door, sitting in his yard and even waiting in his house, because the ad said come on in," says Duque, who originally suspected the daughter as the target of the harassment.
During a four-month span, Duque estimates the man had 600 separate visits looking for the pleasures listed in the blog. He eventually tracked down the suspect — a former associate who had felt wronged some 20 years earlier — but in the five-plus years it took, the statute of limitations had passed on what is still a misdemeanor crime.
While adult bullying is rare, the kids are just starting to heat up. According to Duque, the ends of school years are now marked with hit lists of kids the blogger believes should be killed, and there is nothing they can do to stop it.
"In this day and age identity theft (through blogging) is just part of human interaction," says Duque with no small sense of consternation. "Trying to protect one's identity is like Don Quixote chasing after dragons and windmills."
All he says can be done is to encourage people to think about what they have read before they react.
"Everyone needs to filter the information they get on the Internet: Does the writer have a vested interest? Is what I am reading accurate?" says Duque, who has his own Weblog on safety issues at xanga.com/CyberCop808.
For all the flaws he sees in the Internet, he hasn't allowed it to leave him jaded, as is exemplified by his motto on the Website, "Attack the Behavior, Not the Technology."
If you feel your child or someone you know is being cyber-bullied or harassed online, contact Detective Duque at 529-3763.
Page 1 of 1 pages for this story
Most Recent Comment(s):
Commenting is not available in this weblog entry.