Emmy for Waianae
Four seniors from Waianae High win a national Emmy Award with a class-project video that is so polished, TV pros who've seen it say the kids are ready for prime time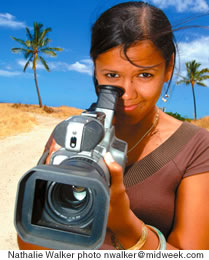 Priscilla Mathewson looks for a good camera
angle
And the Emmy goes to ... Waianae High's Searider Productions!
The Waianae media program has always had a habit of scooping up awards, but it surpassed even itself recently by winning a national student Emmy award, one of the highest honors dished out to student media programs.
"This was a sweet win for us," says program director Candy Suiso.
A team of four seniors won the National Student Award for Excellence - informally dubbed the "student Emmy" - in the sports category with their entry, A Paddle Through Time. The award is presented by the National Academy of Television Arts & Sciences, the organization that presents television's coveted Emmy Awards. Their slick documentary focuses on paddling, tying together the high school sport with its deep cultural roots.
"For them to compete and win with this caliber of competition is amazing," says KITV-4 anchor (and MidWeek columnist) Pamela Young, who also sits on the board of the academy's Northern California branch. "To win at the regional level and then to go on to the national level and compete with 600 other high schools really says a lot about the wonderful program that (they) have going at Waianae."
Searider Productions is the media and communications powerhouse lurking out on the Leeward Coast. The high school program began on a shoestring 13 years ago and has gone on to become a bustling media center with drool-worthy gear and more than 200 students who are so good they have their own paying clients.
These teens have a command of the communication biz that can leave their elders gaping. They turn out web pages, music tracks and videos, documentaries, print publications ... and not only is the quality professional grade, but it comes from kids who are hipper than you probably ever will be again.
There is something about the Leeward Coast that has the kids just busting out with this kind of talent. Suiso puts it down to a creativity that emerges from doing stuff with not much.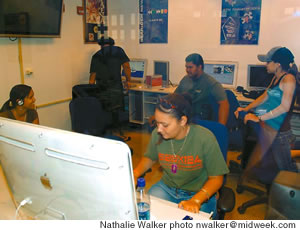 From left in the video lab, Justine Campos, Sean Savini,
Amanda Robinson, James Kapu-Kaaihue and Priscilla
Mathewson
"This is a rural community and growing up they don't always have a lot of material things, so they make their own fun," Suiso says. "Part of that is sitting around talking story and playing musical instruments or drawing."
Combine that with the techie toys and the guidance in the Searider media center and you have something powerful.
Even during the summer break the media center is a hive of activity. There are no classes, but there is a horde of students there just the same, hard at work on personal or commercial projects.
Video adviser John Allen III 'fesses to the real truth. "It's all just play for us," says Allen, a Searider grad who has come back to the program after time downtown with KITV and KHON.
Play, maybe. But Searider Productions has resurrected the high school career of many a student. Even if they're not seeking a career in communications, the program teaches valuable life skills that they can use anywhere, says Katie Hoppe, who reported and wrote A Paddle Through Time.
"There are the writing skills," she says. "It also taught me a lot about time management because it's a deadline-driven program. Now I'm a lot more efficient in other areas, just getting work done and work in school."
For James Kapu-Kaaihue, who prefers to let his camera work do the talking for him, the program opened up a whole new way of seeing the world.
"It's just fun to see what you can do with just a camera," he says. "You see the world from different perspectives, different angles and you get to share that with everybody."
In their just-completed senior year at Waianae High, Katie and James teamed up with Priscilla Mathewson and Justine Campos to produce A Paddle Through Time.
Allen says the students had all reached the point where they're ready for prime time.
"They've come to a level where it's easy to say, 'Here's the story,'and they just go and get it," he says. "All four of them I would hire in a heartbeat if I was still working at KHON."
The paddling documentary is remarkable for its quality, but even more so when you consider that they put it together in just four short days while also juggling school and other commitments.
"We slept over," says Justine, and the others laugh at the under-statement.
The piece, which was initially produced for another competition, tells their paddling story through the frame of a fellow student, Shailyn Ke. They then broadened the subject by scoring an interview with navigator Nainoa Thompson.
"What they did really well was they seemed to really have a grip on the elements of the story," Pamela Young comments. "How to move from point A to point B in a compelling fashion and how to take what is a very personal issue and present it to a general audience."
The look is pure Hawaii with lots of golden-soaked light and rippling water, thanks in large part to James, who took his camera on the water and in the water for some classy footage.
The final night of editing dragged on long after the sun had
Page 1 of 2 pages for this story 1 2 >
Most Recent Comment(s):