Extreme Windows
Anybody can do windows, but doing windows 30 stories above the ground with the wind blowing takes a special kind of person

Wednesday - July 21, 2005
By
.(JavaScript must be enabled to view this email address)
E-mail this story | Print this page | Archive | RSS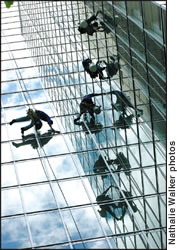 A crew tackles the Banyan Tree Plaza
One look up at the men dangling from ropes some 25 stories above Honolulu and one opinion seems universal: These guys are crazy.
But when taken from the viewpoint of the roof of the Banyan Tree Plaza overlooking Beretania Street — the ground about 350 feet below — while workers hoist themselves over the edge and onto okole-sized pieces of wood, it becomes perfectly clear: These guys are freakin' nuts!
No wonder 18-year-old Jose Fejarang applies the sign of the cross before he goes over the side. Every little bit helps. "The guys who do this are extreme guys. They wouldn't do very good behind a desk," says Dino Pertzoff, president of Worldwide Window Cleaning. "There are only about 50 of these guys in Hawaii."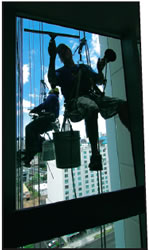 That's Jose Fejarang and
Kawika Smith
For an average of $15-$17 an hour, men and women in search of thrills and the payment of bills go over the side of Oahu's tallest buildings to the shock and dismay of those on the ground. Building tenants can also become a bit freaked when they hear a taught rope slap against their windows in a brisk wind or the sudden appearance of someone outside their 28th floor window. But a call to the building manager is usually enough to satisfy all that the workers are safe and the job soon will be finished. And even if it's true that people in this field do it more for the rush than for the financial reward, there is still a high level of professionalism that goes along with the job. It's simple, really. The tops of buildings are no place to goof around.
"We've had a few who were really gung ho, and those guys don't last very long," says Pertzoff. "It's hard to find extreme guys who will be safe and show up for work on time. It took me a long time to get this group together."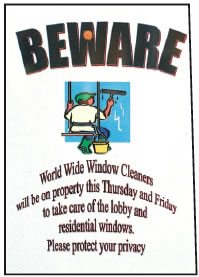 Which satisfies Ron Komine Jr., residential manager of the Banyan Tree, just fine.
"These guys are the classiest bunch of guys, and when it comes to job performance, they are the best," says Komine, who attributes the crew to helping him win "Building of the Year" from the Institute of Real Estate Management two years ago. "My No. 1 concern is safety. We have a lot of older people in this building and they worry about the workers, so if they don't work safely they won't be here."
Pertzoff's crew of 30 range in experience from two years — the minimum time he feels it takes someone to really learn the job — to about 10 years. The number and seniority of those working any particular site varies on size and difficulty of the building.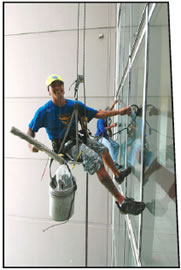 No, it's not Spider-Man, but Joe
Fejarang
But no matter how careful they are and no matter the endorsements of the customers, the job can still be a bit much for the folks back home.
"They told me 'oh you're so young. That's so dangerous,'" says Fejarang of his family's reaction when he first got hired almost two years ago. "But I went for it. Every day I came home and I'd talk to them about it, and they didn't want to hear it."
No wonder. Fejarang's description of his first time over the side on a 38-story building on Mott Smith Drive comes right out of the thrillseeker's handbook.
"I was supposed to be there just to train and watch," he says. "I wasn't supposed to go over the side, but I was ready. It was just me and the guy who was training me. He said 'OK, but if anything happens, it was your choice.' He didn't think I was ready, but I jumped onto the chair and I did it! It was a rush!"
Once on the ground, the feeling of what he had accomplished suddenly hit him.
"I just screamed," he says. "It's hard to describe the feeling when you touch the ground for the first time."

The best answer seems to be a combination of thrill, fear and relief. Something the whole crew feels, no matter how many times they have done it. Leroy Copeland, a 10-year veteran of the business whose quiet demeanor belies his reputation as the ringleader of the fun-loving group, says he still gets nervous.
"I guess that's what keeps you safe, the fear of something going wrong. I always doublecheck my stuff to make sure everything is good."
This system no doubt came into being after one time he found himself off the ground and out of drop rope.
"I was only two floors off the ground. It's kind of funny when I think back about it, but at the time it kind of stopped my heart for a second. It was kind of intense."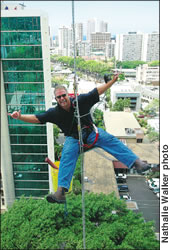 Dino Perksoff is just hanging around
Fortunately for Copeland his safety line was long enough and he was able to slowly lower himself to the ground.
Moving up to the roof of the Banyan with all the gear in tow takes some effort. Every man is loaded down with buckets, ropes, harnesses, his boatsman's chair and other tools of the trade.
Ready to go, workers slide an adjustable U-bracket, called a parapet hook, on top of the wall that surrounds the roof. The drop rope is attached to the bracket and the safety line to an eyebolt or any other such strong anchor on the roof. And that's pretty much extent of it. Over the side goes the seat, the bucket is attached and it's time to get to work.
Climbing over the wall the worker slides himself down onto the chair. First standing, then crouching into a sitting position. A quick check to make sure everything is in place and nothing was forgotten, and away they go. One would think this to be a slow process, but it's surprising the speed at which they work. Completely at ease in their surroundings they swing left to right, from window to window, a small suction cup helping to hold them close to their target.
"It actually takes longer to get the ropes set than it does to wash the windows," says Pertzoff.
At a rate of about one floor a minute it doesn't take long to finish the side, and then it's back up again to begin another section.
"You have to be pretty crazy to do this job," admits Fejarang. "But we are also very safe and look out for each other. When you go over the side of the building it's no time to goof around. Although we still have fun."
Fun that can include swinging themselves 15 feet from the building to the ever-constant trash-talking that seems to occur anytime a group of males gets together.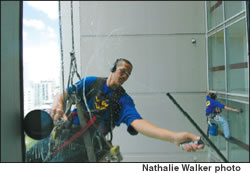 Paul Pasigan swipes away soapy
water from the window
"It never stops," says Copeland. "It begins with trashtalking and ends in fistfights," adds a joking Gilbert Ishizu.
As the saying goes, these adrenaline junkies work hard and play hard. To that extent, Pertzoff purchased two jet skis for his guys to ride on the weekend — just something extra for the guys he wants to bind together and who the boss admits don't make very much.
"There is no union for these guys," he says. "There are no barriers to entry into this business. So you can go get yourself an insurance policy and a bunch of rope and go into business. It's made it hard to raise the standards in the industry so I can get more for the buildings and the guys can get more money for doing this."
If you're interested in joining this group — and they are hiring — the qualifications seem pretty clear. Show up on time, never compromise safety, and, most important, you can't be afraid of heights. Then again, that phobia may not be much of a hindrance after all.
Kawika Smith, a former firefighter who changed jobs to be able to spend more time with his son, admits to some trepidation. "I fought a lot of fires, but I'm really afraid of heights. I've trained people who were less afraid of heights than I am. But I guess it's the fear that keeps me alive."
And it seems that, for at least this one daredevil, the normal 9 to 5 provides more than enough thrills.
"I guess," Smith says, "the fear wears me out."
Page 1 of 1 pages for this story
Most Recent Comment(s):
Commenting is not available in this weblog entry.