From Korea With Love
The Hawaii K-Drama Fan Club not only visited Korea to tour the Korean drama film locations, but is bringing some its favorite Korean drama stars to the Islands this weekend to participate in charity events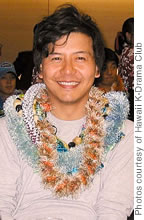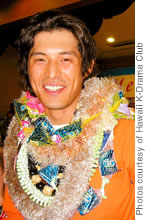 Actors Son Ji Chang and Oh Ji Ho will be participating in
the charity events this Friday and Saturday
It's no secret some of the most passionate fans of Korean dramas on the planet are here in Hawaii, and they're staging their own drama by flying in the largest group of Korean actors and entertainers to ever come to the Islands.
The 20 South Korean actors, singers, models and comedians will be participating in a banquet this Friday and a celebrity basketball game on Saturday. A portion of the proceeds will benefit The Boys and Girls Club of Hawaii.
It's a dream come true for the Hawaii K-Drama Fan Club, which is teaming up with two other sponsors - Beauty Touch, which sells Korean cosmetics, DVDs and CDs, and the UPS Store at Makaloa, to make this happen.
Organizers point out that Korean celebrities travel frequently to China, Hong Kong and Japan, where they have a huge following, so why not Hawaii? It's all part of a phenomenon called the Korean Wave, or Hallyu, which has been sweeping Asia since the late '90s. It refers to the craze for South Korean dramas (televised soap operas), movies and pop music that's catching on internationally.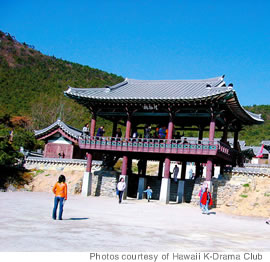 Club members visiting the film location for 'Emperor of
the Sea'
In the United States, Hawaii has been at the forefront of the Korean drama craze, thanks to KBFD TV. In 1989, it became the first station in the world to broadcast Korean dramas with English subtitles.
Inspired by the Korean Wave, Gerrie Nakamura and Nora Muramoto co-founded the Hawaii K-Drama Fan Club in 2002, which now has more than 300 members. Many find Korean dramas more compelling than American soaps or Japanese dramas.
"They're highly emotional. So you cry a lot, you laugh a lot," says fan club member Claire Ajimine.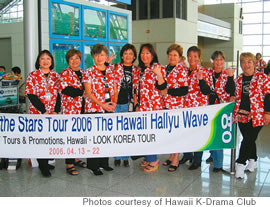 Hawaii K-Drama Fan Club members arrive in Korea on
their Meet the Stars Tour


Club co-founders Nora Muramoto and Gerrie
Nakamura with Korean actress Ahn Yeon Hong
Nakamura, who's of Okinawan ancestry, laments she never saw heroes in American movies who looked like her or with whom she could identify when she was growing up, which didn't help her self-image. Then, in the late '90s, she started watching Korean dramas and got hooked.
"I knew that out there, there were pretty, handsome, and Asian people just like me, that were able to be heroes, the stars and the hunks, and I felt connected to that."
Nakamura, 56, a teacher at Leilehua High School, is drawn to the music, story lines and family values in Korean dramas.
Unlike American soaps, which can run on forever, Korean dramas usually end after 16 to 50 episodes. Another difference is there's no sex or violence, just plenty of good old-fashioned romance and drama about good vs. evil, and love conquering all. That appeals to Muramoto. "As a Japanese American, I'm married to a typical Japanese Samurai guy, who was brought up in the old-fashioned way. We tend to obey, and whatever he says, goes," explains Muramoto, who's 60. "What's different in Korean dramas, the guys are more compassionate, caring for
Page 1 of 2 pages for this story 1 2 >
Most Recent Comment(s):