Full Throttle Fun
Jet skis are the mechanical definition of wet and wild, so it's no surprise that jet ski sales on Oahu are booming at record pace as more folks discover just how much fun they can be

Wednesday - June 16, 2005
By
.(JavaScript must be enabled to view this email address)
E-mail this story | Print this page | Archive | RSS

Whether you call them jet skis, Seadoos or Waverunners, personal watercraft (PWC) are fast, fun and exploding in popularity. As a cheaper alternative to boats — which are more expensive and less responsive — tow-in surfers, lifeguards and even families are finding these powerful little watercraft a great way to liven up the weekend.
"Sales of watercraft in Hawaii are booming," says Bill Kato, sales manager at South Seas Yamaha on Nimitz Highway. "We are seeing twofold growth for general and recreational uses."
For anyone who has ridden one of these small speeders — as I was forced to do in researching this story — it's not hard to understand the attraction. Pushing on the throttle means instant response as the vehicle begins to slide across the water. Exuberance may lead to a spill or two, but that's just part of the fun. You're on the water, after all. You're not supposed to come back dry. Plus, the emergency cut-off switch — attached to your lifejacket — ensures your ride will be where you left it once you wipe the surf from your eyes. So no worries.
Though PWC first came to market in the 1960s, it was not until 1973 when Kawasaki introduced the JS400 — the standup model everyone is familiar with — that the industry began to grow.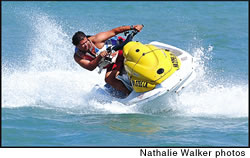 Alex Saldivar, an instructor with South Pacific
Hawaii, races across Maunalua Bay
Today you can get a jet ski for about $6,500, roughly the same price as an entry level motorcycle. From there the price increases to about $12,000. Like the aforementioned motorized vehicles, the cost depends on the features you desire and how fast you want to go. While entry level models produce about 70 horsepower, the highend craft are capable of pushing near 200 horsepower. That means skipping across the water at about 90 mph.
If you're looking to rent before you buy, however, you'll be going a bit slower than that.
"It's all about safety," says June Freundschuh, who along with husband Ben owns and operates South Pacific Hawaii, a watersports rental agency at Koko Marina. A half hour on one of their 700XLs runs $39 for singles and $49 for couples. The crafts are dialed down to max out at about 35 mph, but at that speed it doesn't take long to go between buoys, nose dive into a turn and begin the second leg of your tour.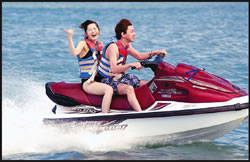 Mari and Ryuta Mukaiyama appear to be
having fun
"The half hour seems to work best," Freundschuh says. "After that they (the customers) tend to get more comfortable with the vehicles and people get a little daring. So a half hour is a good amount of time to get wet and have fun."
State law says a person must be 15 years old to operate a watercraft. At South Pacific Hawaii, Freundschuh says, they push that limit to 16 to accommodate those who are not always truthful when it comes to age. "I don't know why, but some parents will say 'my kid is 15' when they are clearly 12 or 13 years old. So to be safe, we want them to be a bit older," she says.

The author, proving anyone can operate a
jet ski the first time
Safety also means having workers who are certified lifeguards with first aid training. "If anything happens the guys can be there in a minute," says the Kalani High grad.
It does takes a few minutes to get used to controlling the craft. Like Oahu roads, the ocean is full of bumps, and any wave or wake has an effect. So you'll slip a little, slide a little and the craft may not respond exactly as you may hope, but once you get the hang of it, it's no problem. And believe it or not, Mom, more speed means a smoother ride. The craft rises from the water as more throttle is added, and you soon discover that the best way to handle the wake of another operator is to push past them quickly and not to slowly chug in their wash.
A personal watercraft is usually defined as a lightweight vessel less than 16 feet long that uses an inboard water jet pump as its primary source of propulsion. And though the first ones that came to market were rather small, the newer vehicles just keep getting bigger.
"When the industry first began, it was all stand ups and one-seaters, but then the twoseaters began outselling the smaller units, and by about 1998 the three-seaters started outselling all other sizes," Kato says. "The sizes have gotten bigger because they have become more family-oriented and the increase for general use," Kato says.
Some of the biggest "general- use" customers are surely lifeguards and other rescue professionals. Once a neat addition to the inventory, PWCs are now an indispensable tool for pulling swimmers or surfers from dangerous situations.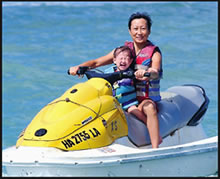 Chieko Kelly and daughter Nayuka, 3
Oahu lifeguards began using the craft in 1991 and, according to Jim Howe, the chief of lifeguard operations for the City and County of Honolulu, the watercraft have been a boon to the lifesaving business.
"It's extended our ability to get to people real quick," he says. "That's been real important because a lot of ocean activities have moved farther off shore. They are very quick and maneuverable and can go places where a boat cannot. It provides for a high rate of service at a lower cost."
No matter the number of lives saved or the amount of father/daughter combos using the craft, old images are hard to break. The original vehicles were powered by two-stroke engines that were loud, and burned a fuel and oil mixture that didn't smell very good. But with public demand and government regulations, the craft are bigger, safer and more environmentally friendly than ever.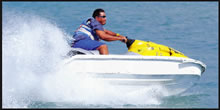 Todd Arakawa kicks up a rooster tail at
Hawaii Kai
"The misconception about the watercraft is that they are loud, they pollute and that they are dangerous. In fact the total opposite is true. They are very safe," Kato says.
The Personal Watercraft Industry Association says the move toward fuel injection and catalytic converters has led to a 70-percent decrease in emissions, while injuries have declined by 17 percent since 1997.
Howe said most PWC accidents involve a collision of some sort.
"Because they are easy to ride and rather inexpensive, people tend to let friends just take off on them, and that's when trouble happens. The vast majority of accidents happen in the first hours when a person is learning how to ride."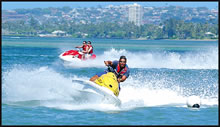 Todd Arakawa races around the course
at Maunalua Bay
And for that very reason, Howe and others in government and safety created a personal watercraft certification course that is jammed with students. It's a good thing, too, because state law demands operators pass the course. Oh, and you have to wear a personal flotation device while riding.
The class taught at Windward Community College costs $100 and is primarily targeted at towin surfers, but anyone can take the course. A shorter class for recreational users is in the works and should be ready in coming months. In the past two years, more than 700 individuals have taken the course that deals with more than just safety issues.
"We're finding that we have a lot of people in the class with a lot of surfing experience, but not much boating experience," he says. "We want them to understand the differences between them."
Howe says this includes legal requirements along with environmental and cultural concerns.
Most of the clients at South Pacific are visitors because state law places restrictions on when they can operate — something they would definitely like to see changed.
"It's so disappointing," Freundschuh says. "We get so many phone calls from locals, and I have to say I'm sorry but we can't take them out. Because of the restrictions, we cannot operate on weekends and holidays, so it makes it kind of hard because most people have to work on the weekdays."
At least for the time being, if you're looking to purchase a craft for yourself, you may just have to be patient. Kato says the popularity of the product has kept the factories busy and the shelves kind of bare. "The manufacturer cannot keep up with the demand," says Kato from a showroom a bit sparse on watercraft.
If you do find yourself in line, you may be surprised by those around you. A 1996 survey showed the average purchaser of a new watercraft was 41 years old, 71 percent were married, and 66 percent had taken or completed college-level course work.
Once back on the barge — where you hop onto the jet ski — it's time for a quick freshwater shower and a ride back to the pier, all the time wondering "How big of a rooster tail could I have made if I buried the throttle on that last turn?"
Page 1 of 1 pages for this story
Most Recent Comment(s):
Commenting is not available in this weblog entry.