Geocaching (Geo what?)
The old-fashioned treasure hunt goes high tech with computers and GPS devices that are required to find secret caches hidden all over Oahu, from the Blow Hole to the North Shore. And it's growing in popularity worldwide

Wednesday - July 19, 2006
By
.(JavaScript must be enabled to view this email address)
E-mail this story | Print this page | Archive | RSS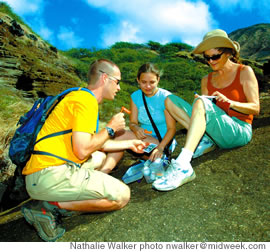 Brasuca, the author (Islandfever) and BootyBum find
treasure
Modern marvels have brought a new twist to the timeless pastime of treasure-hunting. Picture Columbus with Google Earth and a GPS, and you've got "geo-caching."
Geocaching involves using a computer and a GPS to log coordinates to "caches" or "treasure" you have hidden or to hunt down treasure others have hidden - though the real reward is the journey.
Geocaching is what compelled me to set out recently at 6:30 a.m. with fellow novice Vinicius Silva (a.k.a. Brasuca) for a quick morning jaunt in the hills behind my Nuuanu home, GPS in hand, to find a cache. We quickly found ourselves stumbling up an avalanche of loose rocks and dangling from banyan roots as we scaled a 15-foot rock wall, all in the name of following our GPS signal. When we were hanging in a dense criss-cross of bamboo shafts on a vertical slope, we should have known something was amiss. But we pressed on until forced to a sudden halt at a gulch that descended into a 50-foot drop.
Lesson learned: The GPS is no substitute for common sense. Had we simply followed the Nuuanu-Judd trail we would have reached the cache on the other side of the gulch in a mere 20 minutes rather than three hours. We finally found an ammo box hidden in a nest of leaves and roots on the side of the path. It contained various knickknacks including a coupon for a free large pizza, which we took, leaving an offer for free film printing. There was also a log book for recording our visit. Our greatest discovery, however, was a stunning view of Nuuanu Valley that I had never experienced in my three decades as a resident of the neighborhood.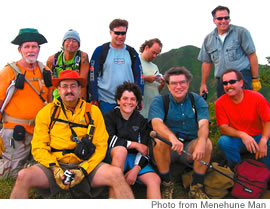 On a team hunt are: (back) Etoa Nrish, Waianae
CRider, Off-Roader, Honupohaku, TeamGeoBlast,
(front) BBWolf+3Pigs, Backwoodlessons2, Ceres,
Menehune Man
Searching for the prize drives the game, but people are drawn to geocaching for numerous reasons.
"It gets you interacting with people locally and from around the world," says Brasuca. "You share great hikes, secret locations and beautiful views. It's also a fun and healthy way for couples and families to get exercise together."
"Geocaching is a great way to explore a new area," adds Michigan_Chris (Chris Keyes), who found more than 100 caches on his recent 10-day visit to Oahu (and more than 2,000 in his world travels). "It typically takes you to interesting places that you won't find in any tourist book."
To get started on your own adventures (which I promise are safe if you follow the directions on the website and not just the GPS arrow), set up an account at www.geocaching.com. Type in your zip code and you will be amazed by the list of caches hidden in your own back yard. Click on one for descriptions and coordinates, which you must punch into your GPS in order to locate a cache, and you are set to go. Techies will want to download maps from Google Earth which can be enhanced with extensions from the geocaching website to get a visual display pinpointing all of the caches in any given area.
There are various types of caches and degrees of challenge to appeal to people of all ages and interests. Urban caches, more readily accessible than the traditional cache, are generally "micro caches," which are little receptacles only big enough to hold a tiny piece of paper to log your name (don't forget to bring a pen).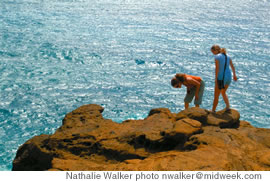 BootyBum and Islandfever on the hunt
"There are two different ways people get into this," says Menehune Man (Jeff Ruddy). "I was already enjoying the outdoors and it got me on the computer. I was computer illiterate and now I know how to do everything on the computer. There are other people that are really into the computer and it gets them outdoors."
For the more brainy individuals, "puzzle caches" add a challenging touch. Fourteen-year-old Backwoodlessons2 (Brendan Webb), who has found 123 caches and hidden 16 since he started almost a year ago, spends time solving puzzles when he doesn't have a ride to an actual location. Puzzles like "Versed Case Scenario" or "The Menehune Zone" involve decrypting text or a barcode to find the coordinates. "Nereus'Nickname" is said to be so tricky that almost a year has gone by and no one has solved it.
Backwoodlessons2 describes one puzzle aptly titled "Aloha, Eh":
"You have to solve the coordinates to find a 'micro' near Castle Junction, which gives you coordinates to a cache in Canada. So, you have to look for somebody in Canada and they have to find the cache that has coordinates for one here in Hawaii."
Page 1 of 2 pages for this story 1 2 >
Most Recent Comment(s):