Getting Up To Speed
At Formula Hawaii racing school, students go from classroom to zoom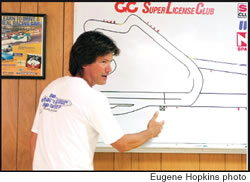 Tom Bryant explains the logistics of navigating
the race track
As American sports fans, we do not like what we do not understand.
In rugby, we are looking for first down markers. In cricket, people keep scoring on foul balls. And in openwheel racing, the vehicles look more like spacecraft than anything a red-blooded American would drive.
But Tom Bryant of Formula Hawaii is trying to change that mindset, at least here in the Islands.
In January of last year, he opened his Formula 1-style racing school out at Hawaii Raceway Park to help educate the public on the hugely popular worldwide sport that has yet to catch on here.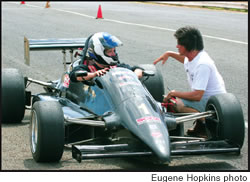 Bryant reiterates the gear-shifting process to the
author
"The U.S. is more of a NASCAR nation and Hawaii itself is more about water sports than motor sports," says Bryant, who has been teaching racing here in Hawaii for the past 15 years.
So he took his three Formula 1-style cars equipped with Mitsubishi 4G6 Inline 4-cylinder, 16- valve twin-cam engines and opened his own school with a vision not of getting rich, but creating some competition.
See, his previous endeavor, Hawaii International Racing School, focused on our out-of-town visitors seeking a thrill while in the Islands, not on creating a local fraternity of drivers.
"The tourists were great for paying the bills, but my true love is racing," says Bryant, who would love to see the local Super Lap Series include open-wheel races.
So to bring this sport to the public eye, MidWeek asked me to take a class and see if Americans really could get into the sport.
The class begins with an introduction to the cars and the course, giving a breakdown of the gears you want to be in at each chicane and off-camber. Those sounded more like activities I'd gotten busted for in high school than turns on a race track to me, but I nodded knowingly as Tom went through the shifting sequence.
The nodding continued, trying to rush to the actual driving. After all, I have been driving cars for 17 years, most of them stick shift. What could he teach me that I didn't already know?
Page 1 of 2 pages for this story 1 2 >
Most Recent Comment(s):
Commenting is not available in this weblog entry.