Pit Boss
There are many 'delicate' moving parts in an opera, and everything starts with the man wielding a baton down in the orchestra pit. For HOT's Figaro, that's Ivan Torzs

Wednesday - January 27, 2010
By
.(JavaScript must be enabled to view this email address)
E-mail this story | Print this page | Archive | RSS
Maestro Ivan Torzs introduced Le Nozze di Figaro to Honolulu Symphony musicians in his first rehearsal with them last Tuesday. HOT's production opens Friday evening
Richard Gere says it best in the movie Pretty Woman: "People's reactions to opera the first time they see it is very dramatic. They either love it or they hate it. If they love it, they will always love it. If they don't, they may learn to appreciate it, but it will never become part of their soul."
Remember that romantic moment in the movie when Gere takes ravishing Julia Roberts, dressed in a red gown and spectacular jewels, to the San Francisco Opera in a private jet? Oh my! Every woman dreams of an opera date like that for Valentine's Day.
Well, as the 50th season of Hawaii Opera Theatre opens Jan. 29, that vision can happen. No corporate jet needed. Just take your mate by the hand, slide into the family SUV and make it a night at the opera.
Let the incomparable music of Mozart stir your soul in HOT's season opener of Le Nozze di Figaro (The Marriage of Figaro). If you miss opening night Jan. 29, go to the Sunday matinee on Jan. 31 or the Tuesday evening performance Feb. 2 at Blaisdell Concert Hall.
Go to show appreciation for the diverse performing arts of Hawaii. Go to marvel at the craftsmanship of locally created sets, costumes and stage logistics that are first-rate. Go because 40 Honolulu Symphony musicians have been hired at a time when work is tenuous with the Symphony.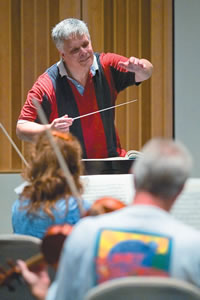 Torzs is happy to escape chilly Germany for HOT
Above all, go because The Marriage of Figaro is one of the all-time great comic operas, and HOT has brought in a world-class maestro in Ivan Torzs to conduct it.
"Ivan has one of the best knowledge of opera and style that I have found in the business,' says HOT artistic director Henry Akina. "He is a great opera conductor and has done many of our greatest productions in Hawaii. Figaro is a chance for him to branch out into Mozart and bring his extraordinary talents to bear again."
As the guy with the baton, directing all those talented musicians down in the orchestra pit that fronts the stage, you could call him HOT's "pit boss" for Figaro. (Because each of the three operas HOT will produce this season are so different and require so much preparation, each requires a separate conductor. Jari Hamalainen of Finland will make his Honolulu debut with Die Walkure and HOT veteran Mark Flint will conduct La Boheme. Here's how the international opera biz sometime works: Hamalainen saw Akina's Don Giovanni in Ottawa 2006 and invited him to direct Madame Butterfly for Finland Opera where Hamalainen is artistic director for the Savonlinna
Festival Opera. Akina saw Hamalainen conduct Turandot at the festival the same year he did Butterfly. Knowing that Hamalainen had extensive experience with German repertoire, Akina invited him to do Die Walkure for HOT.)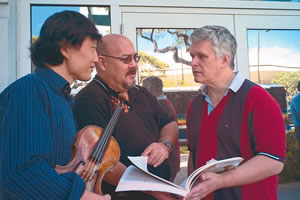 The maestro confers with symphony concertmaster Iggy Jang and HOT artistic director Henry Akina
Regardless of who wields the baton, the relationship between conductor and collaborators on all levels of opera production is "delicate," according to Torzs.
"When you find a situation like Hawaii Opera Theatre that works well, you're happy to stick with it," he says. "Plus, it's a great time to get out of northern Germany," he says with a laugh, referring to his home-town of Hamburg's sub-zero winter weather.
But one expects Torzs will get a warm reception from audiences and performers. He is familiar with the cultural landscape here and hails Hawaii's musicians for their positive nature and highly motivated playing.
"The profile and reputation of Hawaii's opera company has grown immensely," he says.
Born, raised and educated in the United States, Torsz has lived and worked in Europe since 1985, while carving a career as one of the most versatile, cosmopolitan and experienced operatic conductors on the European scene. Fluent in nine languages, he brings to his interpretations a deep understanding of the culture, literature, vocal and musical traditions that shape operatic works.
From 2002 to 2008, Torzs was principal conductor of the Flanders Opera in Belgium. In addition to symphonic concerts, he led performances of numerous operas including Pikovaya Dama, La Traviata, Carmen and Fidelio, crowning his tenure with Wagner's Ring, which ran from 2006 to 2008 to critical and audience acclaim.
In Honolulu, he conducted Tristan und Isolde, an event that Bayreuth Festival director Wolfgang Wagner flew to Hawaii to attend.
When not on the podium, Torzs is in demand as a pianist. He has a degree in mathematics from Princeton University and studied orchestral and choral conducting at Mannes College of Music and the Juilliard School.
We ask him how math
Page 1 of 2 pages for this story 1 2 >
Most Recent Comment(s):