Holiday Jingles
It wouldn't seem like Christmas without special music of the season, and five new Christmas albums from local entertainers will make your holidays merry and bright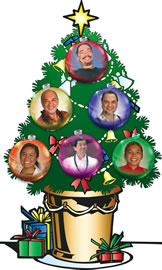 Decking the tree this year are,
clockwise from top, Kealii
Reichel, Roland Cazimero, Lei
Melket, Michael Nakasone,
Mailani Makainai and Robert
Cazimero
Besides the whole spirit of giving, presents, Santa and the birthday boy himself, what's more synonymous with Christmas than music? And especially in Hawaii, where there's no snow to put us in the holiday spirit - there's nothing that makes our bells jingle more than some good old holiday ... well ... jingles.
So deck your deck with some original sounds of Hawaii as well as those all-familiar classics from local artists the Brothers Cazimero, Kealii Reichel, Keahiwai, the Royal Hawaiian Band and others.
Four years since their last holiday album, the Caz are back with a Christmas CD that shows exactly why they have become household favorites for the past 30 years.
Robert and Roland's brand new Christmas CD, Caz Christmas, is in stores now with 14 tracks including Jingle Bell Rock, A Christmas Love Song, The Merriest Hawaiian Christmas, Snow, Snow, Beautiful Snow, Snowfall, Sleigh Ride, Up On The Housetop, 8 Tiny Reindeer, Angels Bear Gifts, I Love Christmas, Christmas Time Is Here, A Christmas Love Song, Carol of the Bells and Go To The Light.
"I think it's a real retro album and goes back to very simple things," says Robert Cazimero. "We take it back, starting all over again in both the selection of the songs and the way it was done. It's vintage Brothers Cazimero; not too many embellishments."
Track 7 on the album Go To The Light, is a great religious song perfectly situated halfway through the album. The song provides a refreshing break in the midst of the holiday tunes, to refocus the listener to the real reason for the season.
It's a nice added gift to an album that embraces the meaning of the holiday season.
To celebrate, Robert and Roland will be in full concert mode at Hawaii Theatre Dec. 21, 22 and 23. Tickets are already on sale for all three nights and can be purchased at www.hawaiitheatre.com or by calling 528-0506.
"What people can expect is a really good family show," notes Robert. "Of course singing and dancing, but it will offer more than anything a more family kind of feeling."
Which is indeed what the holidays are all about.
Winner of an impressive 23 Na Hoku Hanohano awards, Kealii Reichel has outdone himself once again with his release of his first Christmas CD, Maluhia, hitting stores worldwide this week. Fans can rest assured that this album holds true to Reichel's signature sound and embraces Hawaii's unique spirit of giving, which is felt beyond the holiday season.
"More than anything, I wanted to focus on the ideas and themes of family gathering together for Christmas and the holidays," says Reichel. "With this album, I wanted to weave together not only the peaceful spirit of the Hawaiian Islands, but the universal feelings of peace and harmony the Christmas season brings to families across the globe."
The CD features a number of traditional tunes, a hymn, new entries by Puakea Nogelmeier, and a track composed by Ben Vegas called Remind Me of Home. Guest artists include Hookena, Maila Gibson and Grammy winner Jeff Peterson, while guest producer Matt Catingub creates enchanting string arrangements.
Maluhia, which means peaceful, has nine tracks and adds Hawaiian touches to holiday favorites such as Silent Night, Merry Christmas Darling, O Holy Night, Christmas Lullaby and Till the Season Comes 'Round Again.
More than 10 years and five albums since this Maui artist hit the music scene, Reichel continues to retain his goal to perpetuate the Hawaiian culture and present new compositions in the Hawaiian language. Maluhia perfectly blends the Hawaiian and English languages, giving a fresh original perspective of the music reminiscent of the holiday season.
This is a huge month for Keahiwai, releasing not only their first full-length Christmas CD, Merry Christmas, but also their third CD, Changin .
Keahiwai has taken a completely different spin on their Christmas CD with a jazzier sound, almost all covers, and with less harmonizing than on previous CDs. It's a new sound from two maturing young ladies, who have definitely grown
Page 1 of 2 pages for this story 1 2 >
Most Recent Comment(s):